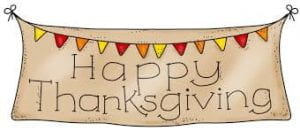 Dear kinder families,
I want to express my thankfulness to you.  I am so grateful to be able to spend everyday with your sweet kinder.  I love what I do!  Thank you so much for sharing your kinder with me.
I wish you the most WONDERFUL Thanksgiving Day and extended weekend with your family and friends. I am looking forward to seeing my awesome kinders on Monday, December 2.
With a grateful heart,  Mrs. Bohl