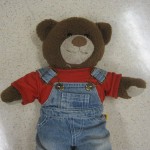 OH ME!  OH MY!  We have begun our 3rd round of our Kool Kinder activities.  The kinders and Snuggles are super excited because Snuggles is inviting himself to be a guest at your house.  Yippee!
Again, we are randomly drawing out a name to see who will be the next Kool Kinder.  When chosen, that kinder will be bringing home an extra backpack which belongs to Snuggles.  Inside you will find….Snuggles, his blanket, his PJ's, his favorite book, crayons, and the Sleep Over journal.  Have fun including your extra guest in your nightly activities.  Before bedtime, encourage and assist your kinder in drawing a picture and writing a sentence about that picture inside the sleep over journal.  (They will be explaining this entry to the class on the following day.)
 Fill out the check list paper and return Sunggles and ALL of his belongings on the next school day.