A fun week in kindergarten…..
MATH:  We practiced comparing numbers using graphs, writing our numbers, especially 1-4, identifying groups of numbers 1-5. We used play dough to work out our fine motor muscles to make numbers 0-5. 
POPCORN WORDS:       IS   HIS   THIS              The kinders found out that when you add a letter (or two) at the beginning of "is" you can create new words.  We also noticed that sometimes the letter s makes a /z/ sound like in "is" and "his" but also makes a /s/ sound in "this".  We highlighted these words in our weekly poem This is us too.  We even combined this week's popcorn words with a few words we already learned to write the sentence "This is a red dog." inside our journals.  
WRITING:  We practiced writing three page stories. Together, we wrote about fun at school…lunch, choices, music class. We drew pictures, added labels and even added a sentence. It is important to make sure that the sentence we write matches our drawings.   We used this week's popcorn words to write and draw about our family and snack time.  This was hard work but we kept reminding ourselves when something gets hard we should say, "I think I can, I think I can, I think I can."  The kinders always enjoy sharing their writings with their partners and by using the microphone. The kinders are amazing writers!!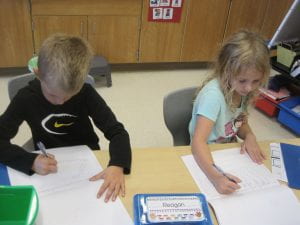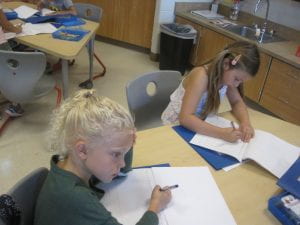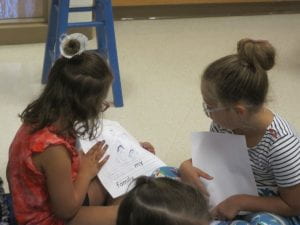 LITERACY: This week we continued to focus on letter identification, letter sounds and rhyming by drawing out apples, matching fun objects to letter mats, playing rhyming bingo and building rhyming puzzles.   ABC Boot Camp letters this week were Oo, Pp, Qq, Rr.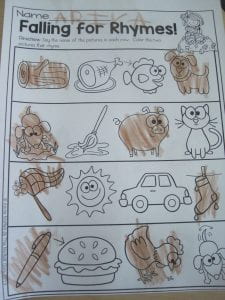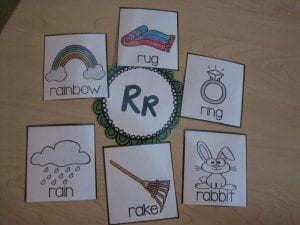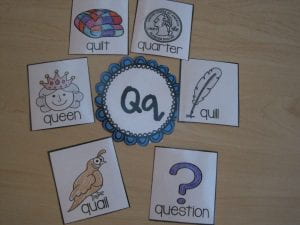 READING WORKSHOP:  The kinders practiced sounding like a teacher when we read. They also started to learn how to be storybook readers.  Storybooks are books that readers may have read before and can enjoy reading again and again.  We also practiced telling familiar stories and making sure our words match what is in the picture.  Sound familiar?  It was pretty cool to make the connection that is what we were doing during writing time too.  One of the stories we had fun practicing this with is the story, The Three Billy Goats Gruff.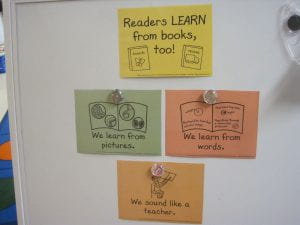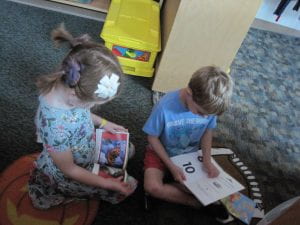 MYSTERY READERS:  On Wednesday, Reese was so surprised to see her older brother, Easton walk into our room.  Easton is a 3rd grader who read Pete the Cat Plays Ball because he likes to play ball himself.  It was very fun to have Easton stop by…he was one of my former kinders!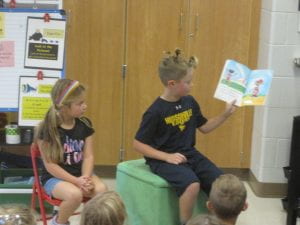 On Friday, Nora jumped up with smiles to see her mom step into the classroom.  Because it had rained this morning, she read A Diary of a Worm.  A fun story from a worm's perception!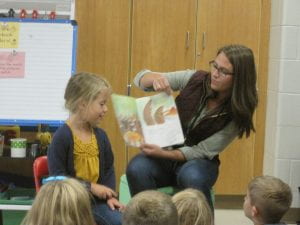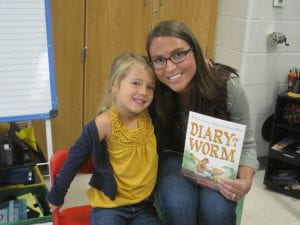 If you would like to be a Mystery Reader, please go to the side bar of our blog and sign up.  We would love to have you read us a story.
EAGLE CRAFT, PEP ASSEMBLY AND WALK-A-THON: We had fun at the pep assembly (until the rain came) and walk-a-thon on Friday! Enjoy some cute pictures from our fun day! We even made an eagle craft with our 5th grade buddies to celebrate our school spirit!!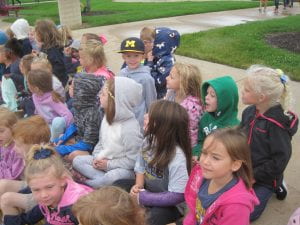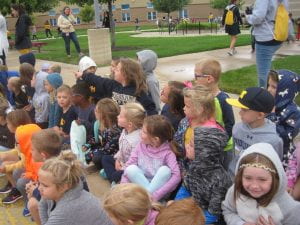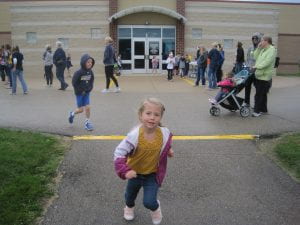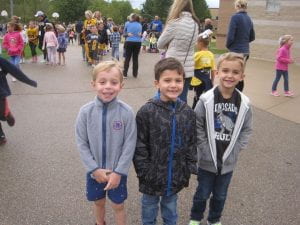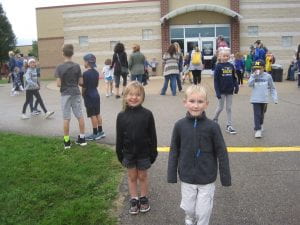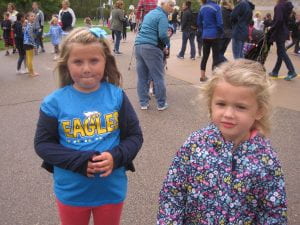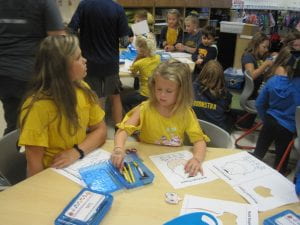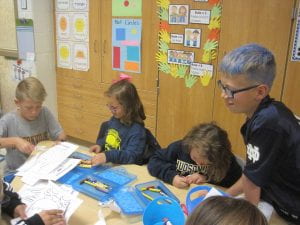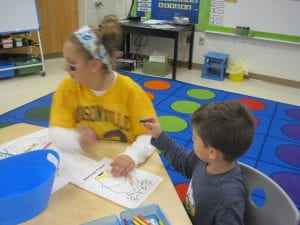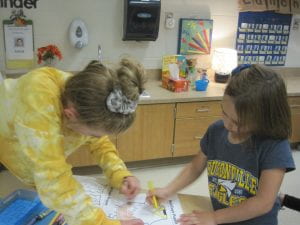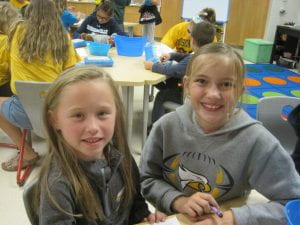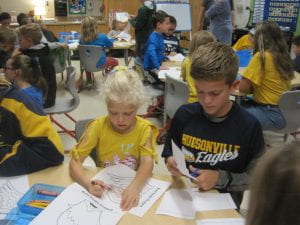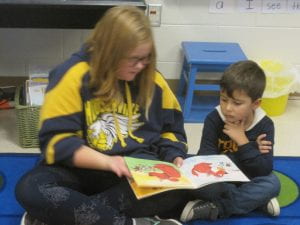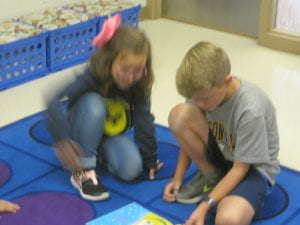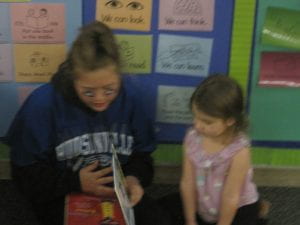 IMPORTANT INFORMATION:
*OUTDOOR CLOTHING….Please continue to send a coat or sweatshirt with your child.  The weather can quickly change so it is good to be prepared.
*BACKPACK SNACK…THANK YOU SO MUCH for being conscientious about sending TWO healthy, NUT FREE snacks…one for the morning, one for the afternoon.  Many kinders are bringing multiple snacks or no snacks at all.  Our snack time is short but enough time to become refueled.
LIBRARY:  We got to go to library each Wednesday and visit Mrs. VandenBurg. It is so much fun to go to library! Please remember to help your kinder return their library book every Wednesday so they can get a new one book!
BLUE FOLDERS:  Please get in the habit of taking out your kinder's blue folder each night and removing the papers, art work, etc.  Please place any notes back inside the folder.  That is the best place for me to find them.  Thank you!
OCTOBER CALENDARS: Please keep the October calendar that was sent home today handy.  It contains special schedules, special events and more.  You can also locate it under SCHEDULES AND CALENDARS at the top of our blog.  The October lunch menu is also available to view under the HOT LUNCH PROGRAM tab on the side bar.
LUNCH MONEY… When sending in lunch money, please place in a baggy or envelope and include your kinder's first/last name and my name on it.  This will make it much easier when passing it on to the lunch staff.
UPCOMING DATES
*Monday, Sept. 23—MUSIC, KOOL KINDER: Reese
*Tuesday, Sept. 24—GYM;  KOOL KINDER: Landon
*Wednesday, Sept 25—ART; Library–Please help your kinder remember their library book.  Homework packet is due;  KOOL KINDER: Isla
*Thursday, Sept 26–STEAM;  KOOL KINDER: Emmie
 *Friday, Sept 27—MUSIC;  Firefighters visit for fire safety    KOOL KINDER: Jude  Wear GREEN
*Monday, Oct. 7: Culver's Night – support Georgetown and eat at Culver's
*Thursday, Oct. 31—Fall Class Party, 2:00-3:00 p.m.  Details coming soon.