Here is what your kinder did at school this week:
POPCORN WORDS:    THE      DOG       The kinders added another popcorn book  to their blue book boxes and highlighted this week's words ;"the" and "dog".  These words were "buttered" (colored with a yellow crayon) so that they popped off the pages as we read it.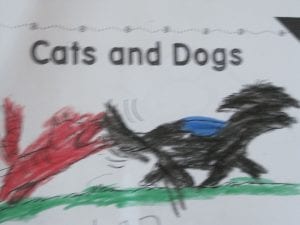 COLOR WORD:        BLUE         We learned about different things that are blue,  practiced writing the word blue, made a blue book, wore blue clothes and made a blue craft of a favorite cat….Pete the Cat because "Kindergarten is a groovy place!" We also read many blue theme books like…Blueberry Mouse, The Little Blue Truck (a sweet, fun story about friends working together to help each other), Blueberries for Sal and Pout Pout Fish.  A few crafts may have come home relating to these fun books.  Of course Mrs. Bohl brought in a surprise blue snack….fresh blueberries this time!  Wearing blue was fun too!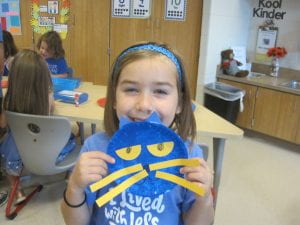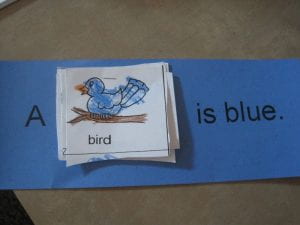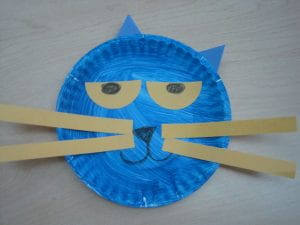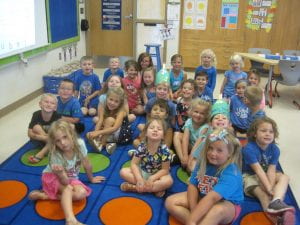 READER'S WORKSHOP:  The kinders practiced rereading their books to try to learn more information. They practiced by noticing things in the pictures the first time through the book and then looked through it again, noticing more things.  Our private read time is up to 5 mintues!  Hooray for the kinders!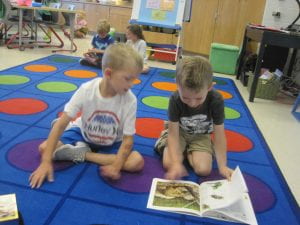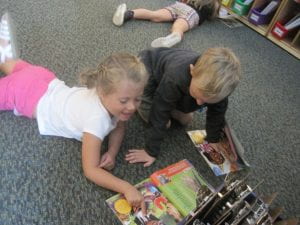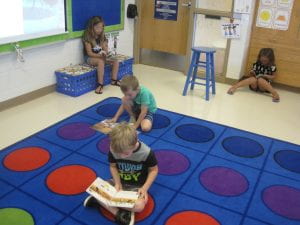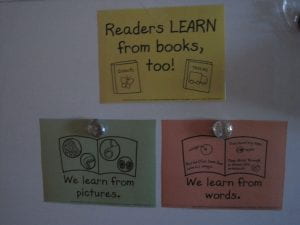 MATH: The kinders used their math toolbox to practice addition and subtraction.  We talked about how it's ok if some of us picked 3 red tiles or 2 blue tiles & 1 red tile to show the number 3.  It may look different but it is still showing the number that we are talking about….3.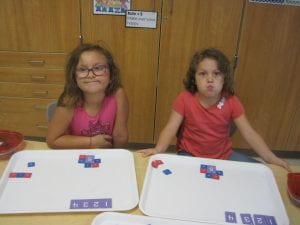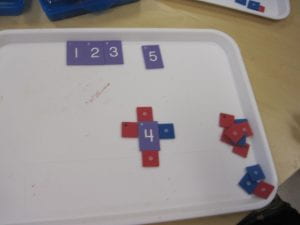 We practiced identifying circles by learning a song…. "A circle is like a button.  A circle is like a button.  Round and round it never stops.  A circle is like a button." (sung to Farmer in the Dell).  The kinders worked as teams to sort shapes into two groups….circles and not circles.  They did a great job recognizing the differences in shapes.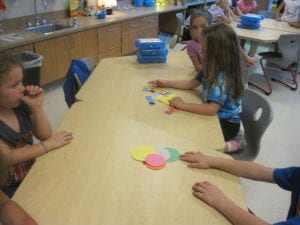 The kinders built towers to compare numbers 1-5 by using their math toolboxes.
LITERACY:  We continued our ABC Bootcamp by studying the letters Kk, Ll, Mm and Nn this week. We also split our class into 2 groups. One of the groups worked on identifying letters and producing their sounds and the other group practiced rhyming words.  We also were word detectives when we found our popcorn word "the" in the poem The Leaves.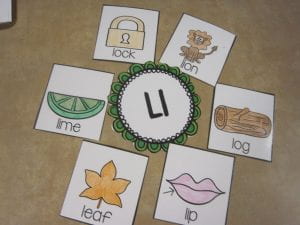 WRITER'S WORKSHOP:  The kinders learned that when they try to draw a picture that is tricky, they can keep going by saying "I think I can."  They used their whiteboards to draw pictures of doing gymnastic stunts.  They added many details and shared their drawings with the class.
Thank you so much!  If you would like to be one of our Mystery Readers, look on the sidebar under VOLUNTEER OPPORTUNITIES to find "Mystery  Reader".  Click on this link to sign up for a date that is convenient for you. There are many to choose from. We would love to have you read us a story!
BUCKET FILLER OR BUCKET DIPPER:  We read How Full is you Bucket? to help us distinguish between being a bucket filler or bucket dipper.  A bucket filler is kind, listens, walks in the hallway, is respectful, etc.  A bucket dipper hits, interrupts, does not let others play, uses toothpaste words, etc.  The kinders sorted pictures to solidify the differences.  All of us took a promise to be a bucket filler at school and at home.  We are all going to work hard to be bucket fillers!  
IMPORTANT INFORMATION:
*OUTDOOR CLOTHING….Please continue to send a coat or sweatshirt with your child.  The weather can quickly change so it is good to be prepared.
*BACKPACK SNACK…THANK YOU SO MUCH for being conscientious about sending TWO healthy, NUT FREE snacks…one for the morning, one for the afternoon.  Many kinders are bringing multiple snacks.  Our snack time is short but enough time to become refueled.
LIBRARY:  We got to go to library each Wednesday and visit Mrs. VandenBurg. It is so much fun to go to library! Please remember to help your kinder return their library book every Wednesday so they can get a new one book!
KOOL KINDER:  Kinder completed an "All About Me and My Favorite Things" pages to share with their classmates.  These pages are being placed in a class book for all to view.  These pages will be given back to the kool kinders at the end of the school year.  Thank you for helping your kinder with these pages as they each get a turn to be the Kool Kinder!
*GYM DAYS..Please consider having your kinder keep a pair of socks either in their cubby or backpack to wear during gym days.  On these warm days, many kinders do not like to wear their gym shoes without socks when they come to school wear sandals or flip flops.
*LUNCH MONEY… When sending in lunch money, please place in a baggy or envelope and include your kinder's first/last name and my name on it.  This will make it much easier when passing it on to the lunch staff.
*BIRTHDAY CELEBRATIONS…Happy Birthday to Emmie (9/17) and Jude and Kieran (9/20)  Thank you so much for ALL of the birthday wishes and small gifts that you bestowed on me.  I am honored and grateful to spend my days with your kinder.
This coming week at our school is SPIRIT WEEK! Please check each day listed below for the way to help us celebrate school spirit leading up to the Hudsonville homecoming football game. 
UPCOMING DATES
*Monday, Sept. 23—STEAM, KOOL KINDER:Major  PAJAMA DAY!
*Tuesday, Sept. 24—MUSIC;  KOOL KINDER: Evelyn  CRAZY SOCK DAY!
*Wednesday, Sept 25—GYM; Library–Please help your kinder remember their library book.  KOOL KINDER: Breckon  CRAZY HAIR DAY!
*Thursday, Sept 26–ART; KOOL KINDER: Ellery  SCHOOL PICTURES!  Come with your smile 🙂 and your sealed picture form envelope if you are purchasing a picture packet.
 *Friday, Sept 27—STEAM; KOOL KINDER: Lucas  BLUE/GOLD DAY andWALK-A-THON!…Wear Blue and Gold or Hudsonville gear;  
*Thursday, Oct. 31—Fall Class Party, 2:00-3:00 p.m.  Details coming soon.
~~~~Have a great weekend.  Mrs. Bohl
We read Have you filled a Bucket today? and learned that we all have invisible buckets.  We can be bucket fillers by saying kind words, helping others without being asked, walking quietly in hallway, etc OR we can be bucket dippers by using mean words, not doing your best, etc.