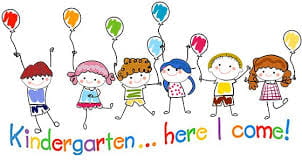 Your kinder's first day of kindergarten is this Monday, August 26! How exciting!  I know this post is long, but it has lots of important information, so please take a few moments to read it thoroughly.   A HUGE thank you to those of you who donated extra supply items. A Kindergarten class can be a very busy place, so we greatly appreciate these items!! 🙂  If you have any donations at home you are welcome to send them into school next week; otherwise, our cupboards are full with your generous donations.  Thank you so much!
Reminders for Monday
**The 2 name tags found inside the folder are to be worn on Day 1 and Day 2 of school.  Send them wearing their name tag.  My name is also on the name tags which will help get them to our classroom on these busy mornings! 🙂
**Your kinder's "ME Bag" with 2 items in it to help us get to know a little something about them!  Be sure to write their name on the bag.
**Gym shoes if you haven't brought them in yet. We need them on Thursday!
**A SMALL cuddle buddy (to stay in cubby at school) to use during rest time for a few weeks.  Please do not take blankets or buddy that will be needed at night.
**TWO snacks for your kinder.  We will take time to refuel in the morning and in the afternoon. Please discuss these with your kinder and have them separate from their lunch.
**A water bottle labeled with your kinder's name.  We want them to stay hydrated.
**A lunch from home or hot lunch choice. Please help your kinder make a hot lunch choice if they are planning on ordering hot lunch. There are 2 hot lunch choices each day (blue or white). See the  Hudsonville Food Service website for payment information including the option of setting up an online lunch account (highly recommended!) and to read the August/September lunch menu. If your kinder will be having home lunch but ordering MILK, please attached a small note on the outside of their lunch box for the first few weeks of school.  This helps me and them remember they would like milk.  Thank you!       
**Any completed paperwork that you have. Please put this in your kinder's blue folder.  I will deliver the papers to the correct places.
**If possible, make sure that your kinder eats a good, healthy breakfast.  I know that butterflies may be fluttering inside of some tummies, so do your best. 🙂
**Extra set of clothes if you are worried about your kinder having an accident or just in case.  Keep these clothes in their backpack for whenever they may need them.
**1 inch binder & 70 count spiral notebook if not brought at open house
Upcoming Dates
Monday, Aug. 26…1st DAY OF SCHOOL; ART; Me Bag due

Tuesday, Aug. 27…STEAM

Wednesday, Aug. 28…MUSIC

Thursday, Aug. 29…GYM  Bring shoes if not already at school.

Friday, Aug. 30…NO SCHOOL

Monday, Sept.2…NO SCHOOL LABOR DAY!!

Tuesday, Sept. 3…ART

Wednesday, Sept. 5…STEAM

Thursday, Sept. 6…MUSIC

Friday, Sept. 7…GYM; Wear RED!
I'm looking forward to a wonderful first day of kindergarten!  If you have any questions please email me at  kbohl@hpseagles.net . 
See you on MONDAY!  Mrs. Bohl