Can you believe it?  Wow!  Where did the year go?  I can't thank you enough for sharing your kinder with me this year.  It has been such a pleasure to be part of their journey!🙂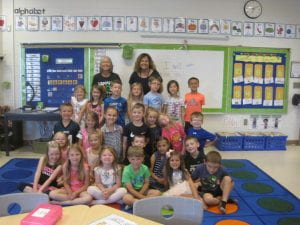 The LAST DAY OF KINDERGARTEN was so much F-U-N!!!  
DAY 1–KICK OFF FOR SUMMER:  The kinders were super excited to kick off their shoes for awhile. Yes, we ALL removed our shoes!  We read books that highlighted how special each kinder is, we celebrated the friendships we made and remembered many of the things we did this year in kindergarten. ALL of the kinders have grown and matured this year in school. That needed to be celebrated and it was a wonderful way to end our time as a class family. The kinders also had fun looking at their Kindergarten Memory Books.  These books are filled with pages of work that they completed along with some special surprises.  I hope that as you look through your child's book you will be filled with memories of the time spent in kindergarten.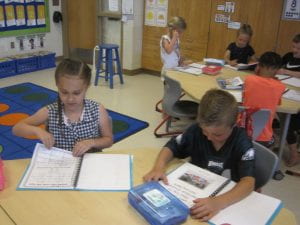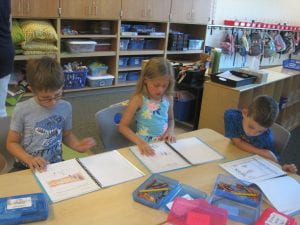 This video showcases what fun memories we created we this year.  I hope that you enjoy watching it. 🙂 We have had an AMAZING year together!   
Thank you for VOLUNTEERING this year!  Whether you were a TAKE HOME reading volunteer, helped with a class party, chaperoned a field trip or a combination of them, THANK YOU!  It takes many who love and care for our kinders to give them the best, fun experiences possible.  I could not have done it without you!
THANK YOU, THANK YOU, THANK YOU FOR SHARING YOUR KINDER WITH ME!! I feel so blessed to be part of your kinder's schooling. I am so grateful for your support and encouragement that you have shown this year. It was a privilege to spend my days with your kinder.  They are so precious and special.  I feel very honored that you entrusted me to care and teach them this year.  They have grown so much….both in height and maturity.  🙂  I am looking forward to seeing the friendships the kinders have made blossom as they continue to learn at Georgetown.  (I have the fantastic privilege of seeing my kinders in the hallways and maybe getting a hug or two next year!  Hooray!!):)
The kinders filled their backpacks this week with things that they have used in school this year.  When there is a rainy day or when your kinder says "I don't know what to do!", encourage them to complete pages in their math workbooks, write more stories, read books, write to 100 and beyond and create a list of popcorn words they know.  Continue to foster their love of learning, even in the summer months by using the whiteboards, marker and eraser that came home today.  We don't want our now FIRST GRADERS to become "board." 🙂
Have a fabulous summer!!!  Report cards will be mailed out on June 14.
Lots and lots of love,  I really do love your kinders! (Can I still call them that now that they are first graders?) Please keep in touch and have a fabulous summer!  Mrs. Bohl