We made it!  Our last week of kindergarten!  Please check your kinder's backpack for gym shoes, books, pictures, class keepsakes, and more!  Many different things have been coming home the past few days.
COUNTDOWN TO SUMMER CONTINUED……
DAY 5–CHALK DAY    It was fun to use our mini chalkboards again.  The kinders unscrambled popcorn (sight) words by writing the correct spelling of the word on their chalkboards.  They did fantastic!  In the afternoon, we took chalk outside to decorate our playground with some pretty cool pictures.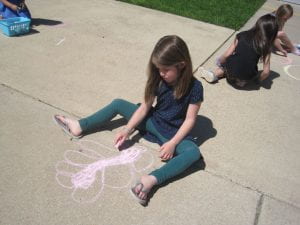 DAY 4—INK PEN DAY  Cheers rang throughout the classroom when the kinders found out that they would be able to write with an ink pen ALL DAY!  We had fun finding a friend who liked different things, such as; cookies, football, ice cream, reading a book, etc and then having them sign their name.  Learning that they were able to take the ink pens home, earned another round of cheers! 🙂
DAY 3–BE A SCIENTIST DAY  We did experiments like Walking Water, Swirly Twirly Milk, Erupting Lemon Volcanco, Mentos and Coke, Water in a bag and Salt and Popcorn.  We were reminded why doing science experiments are so fun. Sometimes the experiments work and sometimes we are not as lucky. Either way we had an absolutely fun day!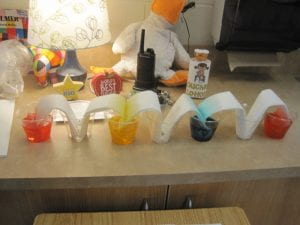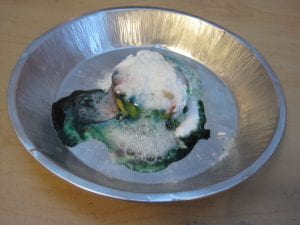 DAY 2—ICE CREAM PARTY DAY    We used our writing and retelling skills after reading Splat the Cat I scream for ice cream. We created an ice cream sundae and then wrote what happened in the beginning, middle and end of the story on each of the ice cream scoops.  We also enjoyed making our own double scoop ice cream cone craft while thinking of a name of our new ice cream flavor. We also solved some addition problems…paddle pop style. 🙂 In the afternoon all of the kindergarten classes met on the playground. What a fun time to play with the friends we made this year. They waited very patiently as the teachers handed out ice cream so they could enjoy a cool dessert.  Yummy, Yum, Yum!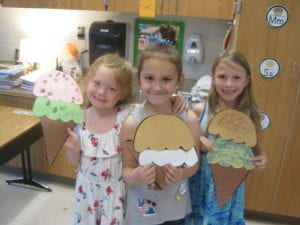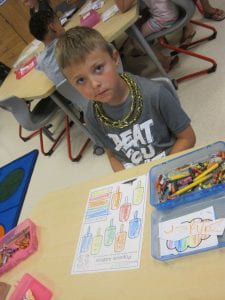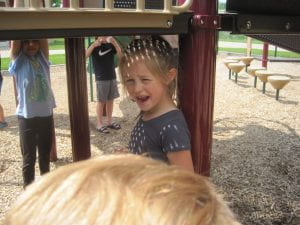 MATH:  The kinders once again dipped their toes into doing some first grade math by learning about odd and even numbers.   We used EVEN STEVEN and ODD TODD to help us understand this math concept better. ( I would love to take credit for this fun game but alas it came from this fabulous website called First Grade Parade.)  This is what we did….
First, I told the story that Even Steven LOVES things to be fair among his friends.  Everyone always needs to have the same amount.  It is all about being fair! 🙂  However, Odd Todd does not care if friends get a different amount.  It fact, he LIKES that! 🙂  We chose a number between 1-20 and a kinder counted out that many "crackers" (mini unifix cubes) to a plate.  We decided who would get the "crackers"…EVEN STEVEN or ODD TODD. Then, a kinder placed the "crackers" ,one at a time, onto each hand until the plate was empty.  This was a great way for the kinders to visually see if  the "crackers" were equal or not equal.  Finally we decided if we were correct in our choice.  Were the "crackers" divided fairly in each of EVEN STEVEN'S hands or was there a different amount in each hand that ODD TODD would like?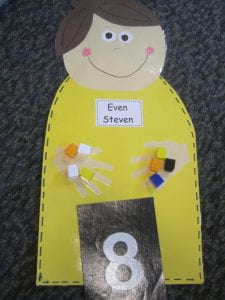 We also practiced solving addition problems by pretending to make a summer time drink…lemonade.
WRITING:  The kinders finished writing their own summer bucket lists.  They wrote a list of  PEOPLE TO SEE.  Get ready to do some of these things and check them off your kinder's "bucket list".  Some of the lists are quite long.  I think that you will stay busy this summer. 🙂 Have fun!
CLASSROOM CLEANUP:  Again, the kinders were amazing helping to get our classroom ready for next year's kinders.  If you need some cleanup done around home this summer….ask your kinder.  They did a FABULOUS job and had fun too!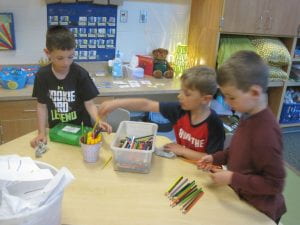 TIME WITH OUR BUDDIES:  We spend some time on Tuesday and Thursday with our buddies.  They ALL had a lot of fun playing on the playground together.  Everyone was ready to enjoy a popsicle on Tuesday too.  We wish them well as they move on to the middle school next year.
Tomorrow is our last day of the school.  It is also FAST FRIDAY!  Fun things are planned for the kinders.  Be there or be square? 🙂 Looking forward to seeing everyone tomorrow morning!  DON'T FORGET TO HAVE THEM TAKE ALONG THEIR BACKPACKS AND FOLDERS!
I can't wait to see my kinders tomorrow!  Mrs. Bohl