COUNTDOWN TO SUMMER:  We hardly start our day before the kinders ask "When can we open the envelope?" We had fun learning and practicing our literacy and math skills through these theme related days.  This week's envelopes held:
Day 9—-WATERMELON FUN DAY   We read stories about watermelons, we sang "Down by the Bay" completed a rhyming book, painted paper plates to look like watermelons, practiced solving addition and subtraction problems using watermelon "seeds" and ate watermelon.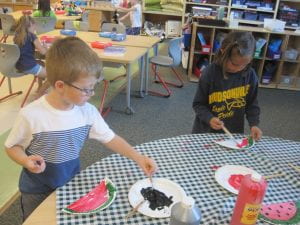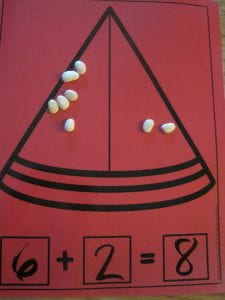 Day 8—BUBBLE DAY    Excitement was heard when the kinders found out that they were allowed to chew BUBBLE GUM in school!  Oh, my!  I think that our neighboring friends could hear us. (gum is not allowed, so what a treat!!)  We chewed & chewed & chewed before some actual bubbles were made by some kinders. We talked about how you can blow a bubble before we wrote out the steps. That writing just needed a fun picture so we made these cutie pie kiddos. We also created a graph that shows if we like or do not like to blow bubbles. We even watched a video of how bubble gum is made in the factory.  Of course we had to relate it to math….it is school!!! The kinders popped up when they heard that math time was going to be playing a math addition game using gum balls. Practicing adding numbers this way is fun!  Listening to a story and taking home our own bubbles filled out this fun day.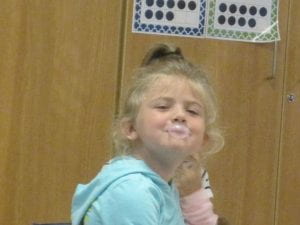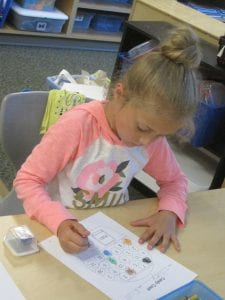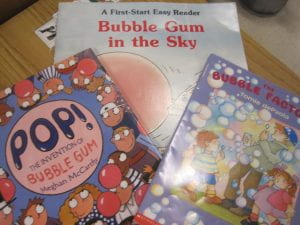 Day 7—-POPCORN AND MOVIE DAY  You should have heard the cheers that filled our classroom.  Oh my!! 🙂  We enjoyed tasting 3 different flavors of popcorn….plain, caramel and cheese after sorting the various flavors.   The class results showed plain is yummy but caramel and cheese were the favorites.  We also incorporated learning into playing popcorn related literacy and math games such as; POPCORN ANYONE?; POPCORN MATH; POPCORN MATCH UP.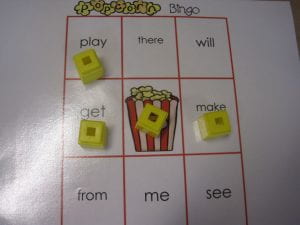 Day 6—GAME DAY   We enjoyed playing games outside in the morning during our Kindergarten Olympics.  We also played games in the afternoon inside our classroom.  The kinders chose from Uno, Top It, CandyLand, Chutes and Ladders, Fiddlesticks, Play Ball, Bingo to name a few.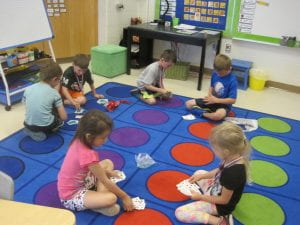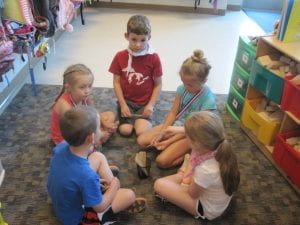 WRITER'S WORKSHOP:  The kinders learned what a bucket list is and have been excited to create their own summer bucket lists.  They have written a list about PLACES TO GO, THINGS TO DO  and FOODS TO EAT.  They will be writing  about another topic next week.  Get ready to read what they have on their "bucket list" next week.  Some of the lists are quite long.  I think that you will stay busy this summer. 🙂
BIRTHDAY CELEBRATIONS:  Thank you so much for the birthday treats!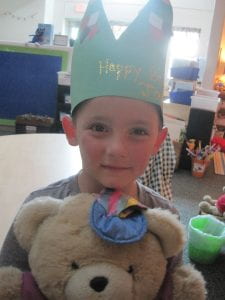 Happy birthday to Jase!
 Happy birthday to Colton!
FOUND….IS IT YOURS?  This cold pack needs to go home with the right kinder.  If you are missing a cold pack from your kinder's lunch box, please email me and I will be happy to send it your way.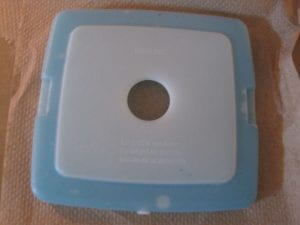 UPCOMING DATES
*MONDAY, JUNE 3:   MUSIC;  Countdown to Summer Day 5
*TUESDAY, JUNE 4:  GYM;  Countdown to Summer Day 4
*WEDNESDAY, JUNE 5:  ART; Countdown to Summer Day 3
*THURSDAY, JUNE 6:  STEAM; Countdown to Summer Day 2;   EMAIL ME OR SEND A NOTE BY THURSDAY (6/6) IF YOUR KINDER WOULD LIKE A SACK LUNCH.
*FRIDAY, JUNE 7: STEAM;  Countdown to Summer Day 1; Last Day of School.  Fast Friday (Early Release Dismiss at 12:15)
~~~Have a great weekend.  Mrs. Bohl