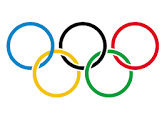 Our Kindergarten Olympics will be held tomorrow, Friday, May 31.   Hooray!!
Here are a few reminders:
*Parent volunteers are asked to be on the Kindergarten playground at 8:45 a.m. for instructions.  Games should be finished around 12:00. Please stop at the office prior to this time for a name tag!
*Don't forget to wear tennis shoes, shorts, and t-shirts.  We will be running and playing lots of games.  NO FLIP FLOPS OR SANDALS PLEASE!!
*Please send a home lunch and drink with your kinder.  THERE WILL BE NO HOT LUNCH.  We will be eating a picnic lunch as a class. at 11:45am-12:00pm  Parents and younger siblings are welcome to join us for a picnic lunch on our playground.
*Please send a water bottle with your kinder's name clearly marked on the outside.  It is going to be WARM and we will want to stay hydrated during our games.
*Apply sunscreen BEFORE coming to school.  
*Please send ONE backpack snack for the afternoon.  The kinder teachers are supplying pretzels for the morning snack.

*Volunteering parents please dress in comfy active clothes.  You will be walking around with the kinders helping them play the games.  If you want to take along a lunch so that you can join us…you are welcome.
We can't wait to enjoy a fun-filled morning with all our kindergarten classrooms!!  Let the games begin!!