Can you believe it?  It is the end of April and next week we are moving into our last full month of school.  Take a look at what was accomplished this week.
SCIENCE:  What is Alive?  Living and Non-Living and Grow, Flower, Grow! were books that assisted us as we began learning about things that are alive and not alive.  The kinders learned that living things need *air, *water, *food, *soil (plants), *space (habitat)  and can *move, *grow.  Sorting living and non-living pictures was a fun activity to do.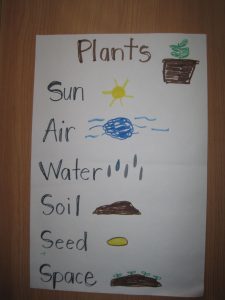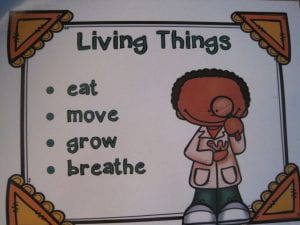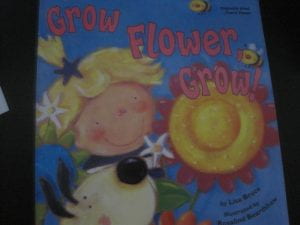 We planted bean seeds and are patiently watering and waiting for them to sprout.  Hopefully the warmer, sunny spring weather helps.  We will keep you updated!
WRITING:   I am so proud of the kinders and their writing. This week we began writing  HOW TO…. stories.  We created a list of what we thought we could teach others to do.  Some examples were: how to ride a bike, how to read a book, how to play football and more.  We practiced telling the steps across our fingers using transitional words like First, Next, Then, Last.  Our writing topics were How to Wash Your Hands, How to Make a Pizza and How to Make a Peanut Butter and Jelly Sandwich.  We will write more HOW TO… stories next week.
MATH:  The kinders practiced determining and writing number partners, writing numbers to 100! and drawing tens and extra ones for teen numbers this week.
The Friday math game was called FLOWER POWER.  The kinders took turns tossing a fly and bumble bee bean bag onto a large flower, using the numbers that the insects landed on to create addition and subtraction number equations.  For example: 1+3=4 or 7-3=4.
POPCORN WORDS:         COME   SOME
READING:  The kinders were introduced to poetry and what it looks like to be Avid Readers of Poetry.   We talked about how poetry is a lot like a song.  We hear songs and they get stuck in our heads and we sing them over and over.  So many of the poems we know are often sung like a song.  Making it easy for us to remember, allowing us to be Avid Readers/Listeners of Poetry.   The kinders were able to practice "How To Read a Poem" by….. 1.We read the words. 2. We think about the poem.3. We make our voices match the beat of the poem.  It was fun to practice this by using three familiar poems…It's Raining It's Pouring, Ring Around the Rosie and Baby Shark. It is fun to get to keep these poems in our book boxes!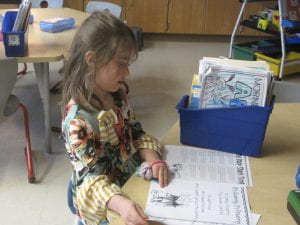 MYSTERY READERS:  Colton and Jase were so surprised to see their mom walk through the door…again. She choose to read Hello, Paws because the boys like baseball and the Detroit Tigers!  A timely story with baseball season in full swing.  
Jacob jumped up excitedly when his mom and younger brother, Austin stepped into the room.  She read a favorite book from when she was a little girl called Mrs. Plug the Plumber.  What a funny, silly story.
KOOL KINDER: We have begun our last round of being the Kool Kinder.  Be on the lookout for the GUESSING JAR!  You will need to fill the jar with some items…but keep the number a secret!
REMINDERS
*BACKPACK SNACK:  Please remember to send TWO daily healthy snacks for your kinder, as we take a moment to refuel each day.  Thank you.
*TAKE HOME Books:  Please help your child to remember to return their book baggie EACH Monday, Tuesday and Thursday so that they are consistent with their read aloud practice and are able to check out a new book each time to build their reading experiences.  Don't forget to sign the parent sheet and include comments or observations you feel may be helpful.  We only have a few weeks left…keep reading!!!
*REDUCE TRASH:  I posed a challenge to the kinders to see if we could reduce the wrappers thrown away during snack and lunch time.  A few of the kinders choose to take their snacks in containers this week instead of inside baggies.  Hooray!  Any more kinders want to join in the challenge?
UPCOMING DATES
*MONDAY, April 29: GYM; reading TAKE HOME BOOKS 
*TUESDAY, April 30: ART; reading TAKE HOME BOOKS 
*WEDNESDAY, May 1: STEAM;  LIBRARY: Please return your kinder's book.
 *THURSDAY, May 2: MUSIC; reading TAKE HOME BOOKS 
*FRIDAY, May 3: GYM
*WEDNESDAY, MAY 8:  Field Trip to Hemlock Crossing Nature Center & Hager Park.   Please feel free to join us for our picnic lunch.  We will be at the park around 12:00pm. Your kinder will need a paper sack lunch LABELED WITH THEIR NAME and water bottle to enjoy during our picnic lunch.  NO SANDALS, FLIP FLOPS OR CROCS. TENNIS SHOES NEED TO BE WORN!!  We will be walking through woods and trails and playing on a big playground.  Please dress your child according to the weather. We will be OUTSIDE for most of the day!  
*THURSDAY, MAY 9:  EMAIL ME OR SEND A NOTE BY THURSDAY (5/9) IF YOUR KINDER WOULD LIKE A SACK LUNCH ON FRIDAY. 
*FRIDAY, MAY 10:  FAST FRIDAY (Early Release  Dismiss at 12:15pm)  Birthday celebration for Lilly (May 11)
*THURSDAY, May 16— Birthday celebration for Alivia (June 22)
*FRIDAY, May 17–Birthday celebration for Sidney (July 8)
*FRIDAY, MAY 24…..Red, White and Blue Day!  Wear your Red, White and Blue to school!!
*MONDAY, MAY 27…Memorial Day, No School
*FRIDAY, MAY 31:  Kindergarten Olympics  Volunteer note (coming home this week) is due Friday, May 17
~~~Have a great weekend.  Mrs. Bohl