Did you ever wonder how pencils are made?  Read your kinder's newspaper this weekend.  We found out!
POPCORN WORDS:     COULD    WOULD   SHOULD (as a bonus word)    The kinders practiced identifying these words in books, in messages and in writings.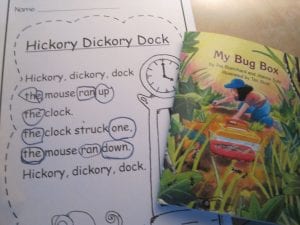 Our shared reading this week.
WRITING:  We began our week by listing facts we knew about goats.  There were a lot of good facts.  Then we read informational books about goats to gather more facts.  The kinders incorporated these facts into their writing as they created another book of All About Goats.  The kinders are doing a fantastic job with their informational writing.  They have made incredible progress this year in their writing. I am so proud of their hard work.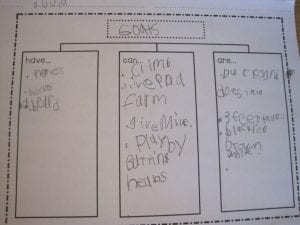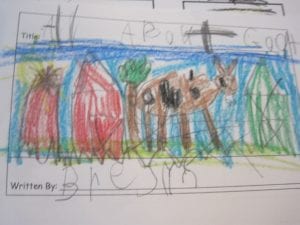 READING: The kinders learned that when they think of a character's feelings, an avid reader will try to use more precise words like "disappointed" or "excited" instead of just "sad" or "happy".  They also learned that avid readers know which super powers they use often and which powers they don't use easily or often. They decide which goals they will use more frequently.  We decided these goals.  1.  To point at each word when reading. 2. To try another vowel sound if the word doesn't sound right. 3. To reread when it doesn't make sense.  These reading goals were sent home so that the kinders could practice using them when reading at home.  We will continue to encourage using these reading goals at school too.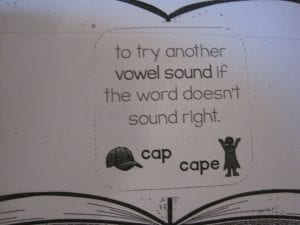 ONCE UPON A TIME….THE THREE BILLY GOATS GRUFF:  Our fairy tale this week was about 3 brave goats who had courage to cross a bridge and deal with a bully, the troll. We read the original story and a few different versions of the fun fairy tale.  Again, we used the SHAPE GO map to help us retell the story, talk about the characters, setting and heart of the story. We discussed words that described the three goats and the troll.  This led into a good discussion about what we can do if we encounter a bully. We also had an awesome discussion about what makes a hero.  We thought the biggest billy goat was like a hero for saving his little brothers. Be sure to ask  your kinder about these talks. We had fun retelling the story using our props. Enjoy playing the game 3 Billy Goats Gruff at home while you practice sight words.
MATH: This week the kinders practiced solving subtraction and addition problems, writing number partner equations up to 10, drawing pictures on whiteboards to match a story problem and identifying and sorting 3D shapes.  We will be reviewing these math concepts and more next week before taking our unit #4 test on Wednesday.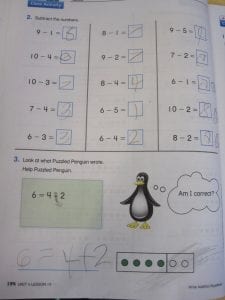 MARCH IS READING MONTH:   We loved listening to Chicka, Chicka, Boom, Boom and had fun making words, from alphabet pretzels, climb up the Chicka tree. We also read The Mixed-Up Alphabet while eating abc cookies.
Oh, my!  What fun it was reading books with the lights off and using our flashlights to put a spotlight on the words and pictures.  Thank you for sending in a small flashlight with your kinder!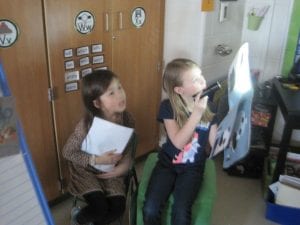 MYSTERY READERS:   Mrs. Houtstra's 3rd graders stopped by on Thursday afternoon to read with us.  We are really enjoying reading books with other classes.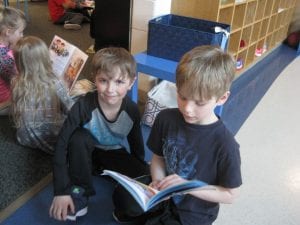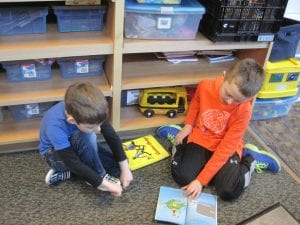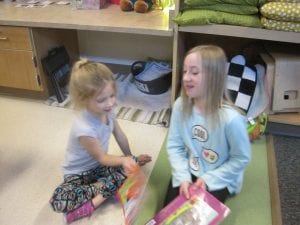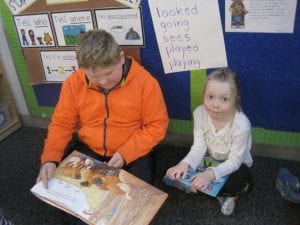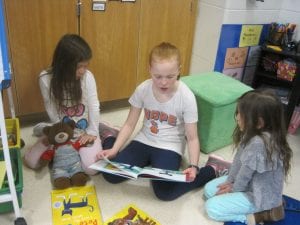 Kinsman was beyond thrilled when he saw his mom (little sister & baby brother) on Friday morning.  She brought the book If I had T-Rex teeth because Kinsman LOVES dinosaurs.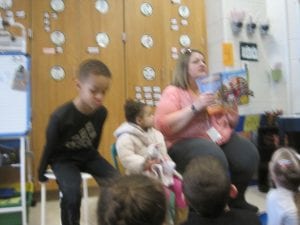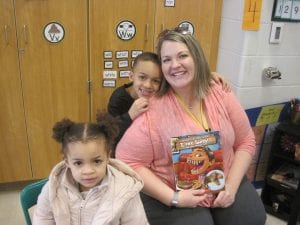 Friday afternoon Mrs. Walenta & the 5th grade buddies came to read books with us.  What a fun time!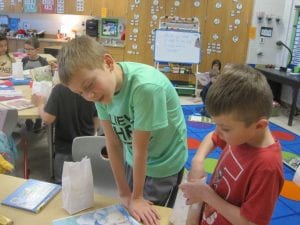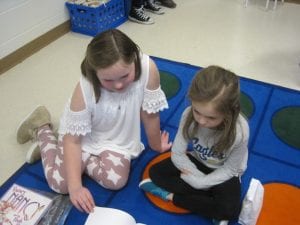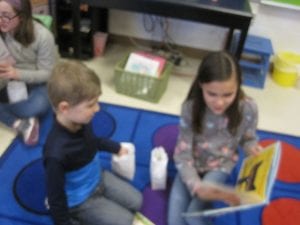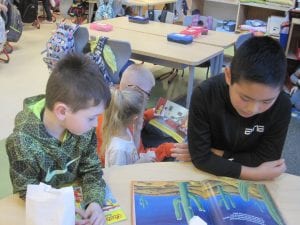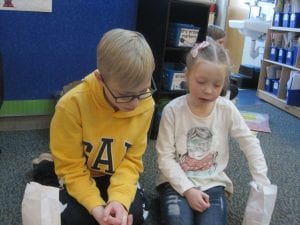 HAPPY BIRTHDAY CELEBRATIONS:
  Adelyne turned 6 on March 18.
Kinsman turned 6 on March 21. (So sorry…Kinsman's picture didn't turn out. Another picture will be taken next week….stay tuned)
REMINDERS
*BACKPACK SNACK:  Please, please remember to send TWO healthy snacks for your kinder, as we take a moment to refuel each day.  Thank you.
*WINTER GEAR: Please keep in mind that even though the season is leading towards spring, some days in the past week reminded us that the rain has left our playground VERY wet.  Please continue to send a hat and mittens, snow pants and BOOTS or different outside shoes with your kinder.  
*LUNCH MENU: The April lunch menu can be found under the food service tab.
*TAKE HOME Books:  We will be reading books ONLY ON MONDAY this coming week.  Your kinder will not take home a book over spring break.  This will give me time to reassess the books that they are taking home.  They will take home a new book on Monday, April 8.
UPCOMING DATES
*MONDAY, MARCH 25––STEAM; reading TAKE HOME BOOKS; celebrate Olivia's birthday (3/24)
*TUESDAY, MARCH 26-—MUSIC; return TAKE HOME BOOKS; celebrate Bronwyn's birthday
*WEDNESDAY, MARCH 27– GYM;  LIBRARY: We will have library so please return your kinder's book.  return TAKE HOME BOOKS
*THURSDAY, MARCH 28—ART;  Kindergarten PJ Day….wear jamies (or comfy clothes) and slippers to school.  Don't forget that shoes/boots are needed for outside play. SMALL STUFFED ANIMALS ONLY PLEASE!!
*MARCH 29-APRIL 7—SPRING BREAK.…NO SCHOOL
*APRIL 8—-SCHOOL RESUMES; new TAKE HOME books sent home
—–HAVE A GREAT WEEKEND   MRS. BOHL