What a crazy, snowy, icy, cold week…..again!! AHHH!  I was so glad to see my kinders on most of the days. We were busy learning when we were at school. 🙂
SPLIT LIT:  The kinders worked on various literacy skills like reading books, building a sentence, "th" brother at the beginning and ending of words, popcorn words, medial sounds in words.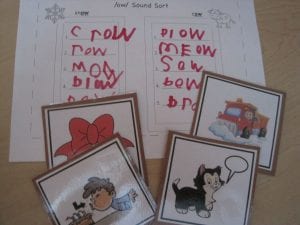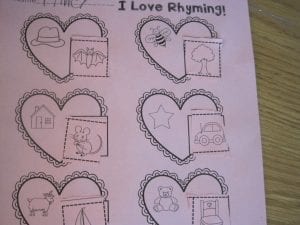 WRITING:  We told small moment stories across our fingers about our morning routine at school and decorating our mail bags. The kinders are doing an amazing job drawing detailed pictures and writing sentences to match.  Many of the kinders are doing these tasks on their own with minimal assistance from me.  Wow!  I am so proud of them!  The kinders practiced their writing skills by creating a valentine card for their family too.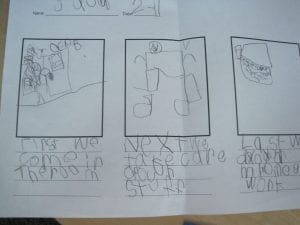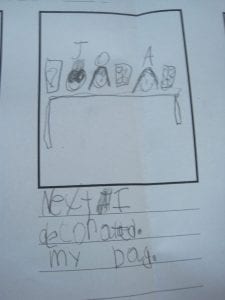 MATH:  We spent Monday reviewing math skills learned in unit #3 before taking the unit #3 math test on Wednesday.  I will share the results soon. The kinders took home their first math workbook. Have fun using this book at home to review skills learned.  Friday math games (all Valentine themed) included skills of addition, naming shapes, number partners.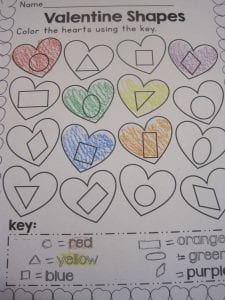 READING: The kinders learned that some books are considered challenging because they have more words and more lines, longer words, new words and surprise endings.  That is when persistent power needs to be activated!  Books that contain patterns makes reading fun! We learned that when readers figure out the pattern it makes reading easier. The kinders were encouraged to use their reading mat to organize their books as they read.  Placing their books on the green dot side to start reading and moving the book to the red dot side when they are finished will allow them to go back and re-read their books again.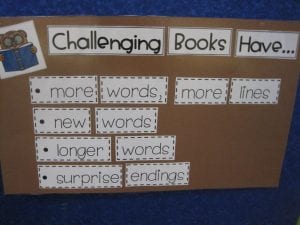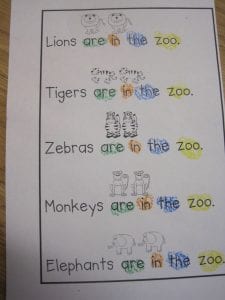 MYSTERY READER:  Wednesday afternoon, Aria jumped up with glee when her grandma and papa stepped into our room.  We heard the story When I Grow Up. An awesome story reminding us the importance of believing in ourselves because we have the power, within ourselves, to achieve any dream we put our minds and heart to.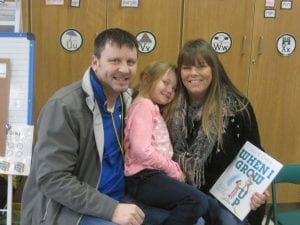 Parker was SO excited to see that his mom was our Mystery Reader again on Friday morning. She read one of Parker's favorite books, My Lucky Day.  A funny story about how a pig tricked the fox into not eating him.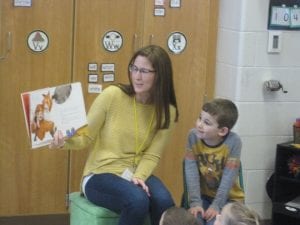 I introduced the kinders to one of my favorite book characters, Love Monster. We read Love Monster and Love Monster and the Last Chocolate and learned about making friends from the stories.  The kinders had fun making their own Love Monsters!
POPCORN WORDS:   BIG     WITH    HOW   NOW   WHO   NOT   I know that I have said it before but….the kinders are doing a fabulous job of learning their sight words.  Each day I try to include the week's words in the daily message and they are able to locate them every time.  Hooray!  There were many words this week..a couple of new words and others from weeks' past.  Thank you for continuing to practice at home.  Ask your kinder (or email me for instructions) how to play "Disappearing Snowman" or "Scrambled up".  These are favorite games we play in school to identify popcorn words.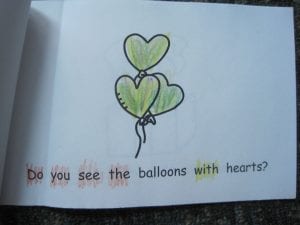 KOOL KINDERS ARE BOOK LOVERS: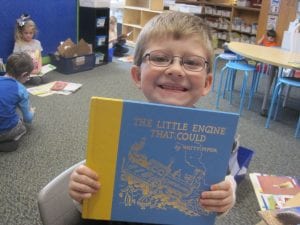 Brooks likes the book The Little Engine that Could because Grandpa gave it to him.
 Jase likes books about dinosuars so he brought in Dinosaur Explorers that is filled with fun facts.
 . Jace enjoys reading Curious George rides a bike because he likes to ride his bike….in the summer.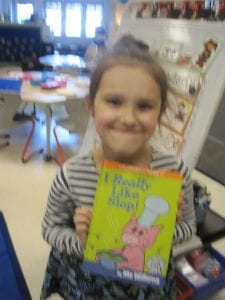 Lila really likes Piggy and Elephant books so she brought I REALLY like slop! 
WHERE IS MRS. BOHL?:  I want to let you know that I will be out of the classroom a fews days this coming week.  On Monday 2/18, I will be screening next year possible kinders.  Mrs. Fredrick will be the teacher.  On Wednesday afternoon 2/20. I will be attending a kindergarten teacher meeting. Mrs. Brock will be the teacher.  Both are amazing substitute teachers that are in our building often. If you have ANY changes to schedules please let the office know, they will pass along the information. Please take a few minutes this weekend to talk with your kinder about showing these new teachers kindness and respectfulness by following our class rules and making green choices throughout the day.
REMINDERS
*TAKE HOME BOOKS: A HUGE thank you for remembering to return your kinder's books on MONDAY, TUESDAY AND THURSDAY for reading.  The kinders are excited to take home new books and read them to you.  Thank you!  I SWITCHED OUT YOUR KINDER'S BOOK FOR A NEW BOOK TODAY.  THEY TOOK THAT NEW BOOK HOME SO YOU CAN READ IT OVER THE WEEKEND. PLEASE RETURN ALL BOOKS ON MONDAY!
*WINTER GEAR:  Thank you for sending your child with all that they need to stay warm outside….snow pants, hats, mittens, boots. Just a reminder, when it warms up, we will be outside for recess if the temperature is above 0 degrees. 
*BOOK IT CALENDAR: Return your completed January calendar soon.  
UPCOMING DATES
*MONDAY, FEB 18—STEAM; reading TAKE HOME books; Mrs. Bohl gone all day  Book orders due (online or paper forms)
*TUESDAY, FEB 19—MUSIC; reading TAKE HOME books
*WEDNESDAY. FEB. 20—GYM;  LIBRARY Please remember to return your kinder's book.  Mrs. Bohl gone in afternoon  
*THURSDAY. FEB. 21—ART; reading TAKE HOME books  
*FRIDAY. FEB. 22—- STEAM
   ~~~~Have a fantastic weekend! Mrs. Bohl