It was a very short week of school but we still did learning when we were at school.
LEARNING ABOUT GROUNDHOG DAY:  We read a newspaper to learn some true facts about groundhogs. We found out that groundhogs CAN eat leaves, berries, bugs, live in burrows, gnaw on wood, whistle and hibernate all winter.  They HAVE fur, sharp claws and teeth. Groundhogs ARE rodents, can be a big as large cat and can be called woodchucks.  We also made a fun groundhog puppet to use when retelling a poem.  A fun day of learning!
DAY 100:  Wow!  Can you believe it? Friday (a day late) we celebrated 100 days of learning in kindergarten.  
All day long we did activities revolving around the number 100!  We read books, we made a special Day 100 hat and badge, we counted to 100, we played math games identifying 100 numbers, we showed our 100 collections, we did 100 exercises and so much more.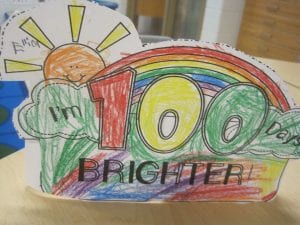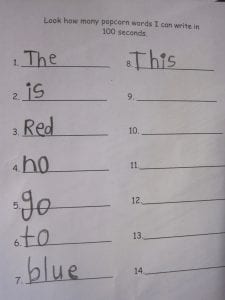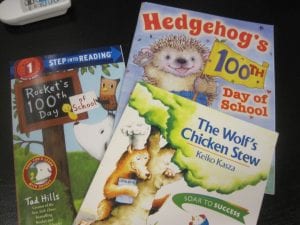 100 COLLECTIONS: Thank you for helping your kinder collect and count 100 items!  They brought in fantastic, creative collections!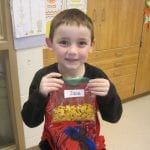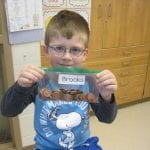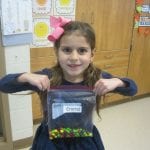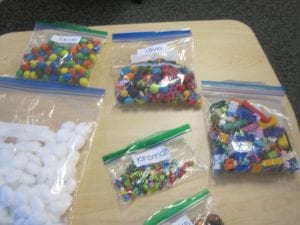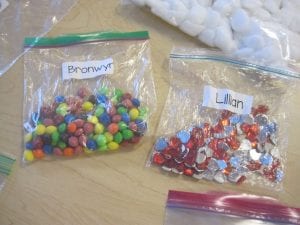 RACE TO 100
The kinders practiced counting to 100 and "counting on" from a given number by playing the Race to 100 game with a friend. They each took home a game board so you can play at home for math review, too!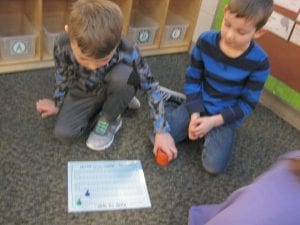 PENNY FLIPS
The kinders learned how to flip a penny, recognize heads or tails, and record the results of the penny toss. They had lots of practice with this skill because they flipped a penny 100 times!!!
100 MINUTES OF PLAY
Throughout the day, our class was able to enjoy 100 minutes of play time (recess, break times, and play centers). Here are some of the play centers the kinders enjoyed.
GUMBALL MACHINE CRAFT: Kinders used do-a-dots to make 100 gum balls. 
100 BLOCKS: Kindes built structures out of 100 wooden blocks and legos
100 CUPS: Kinders made towers & castles using 100 red plastic cups. 
100 PIECE PUZZLES:  Kinders worked to put together puzzles.
100 DAY COLORING PAGE:  Kinders colored a picture.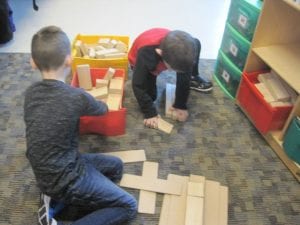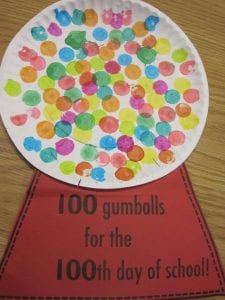 We are excited to have more days of learning in kindergarten ahead of us.
BIRTHDAY CELEBRATION: 
    We finally were able to celebrate Tinley's birthday (1/26).  Thank you for the fun birthday treat bags.
POPCORN WORDS:    BIG    WITH    NOW    HOW   The kinders were introduced to these words this week.  They noticed that WITH has "th" (h brother) at the end while NOW and HOW rhyme. We will continue to work with these words next week. 
MYSTERY READERS:  Rocco was not expecting to see his mom step into the room on Wednesday. He could not stop smiling!  She brought the perfect book to read….The night before Day 100 because we were celebrating Day 100 this week.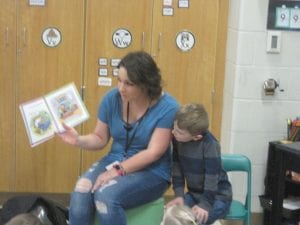 Olivia was the kinder who was surprised on Friday when her mom, along with Marcus and Sophia, was the mystery reader.  She read Aqualicious because on a snowy day it is fun to read a book about sunny days at the beach.  (Sorry I am having difficulty uploading the pictures)
*KOOL KINDERS ARE BOOK LOVERS: 
  Breslyn enjoys reading Clifford the Big Red Dog.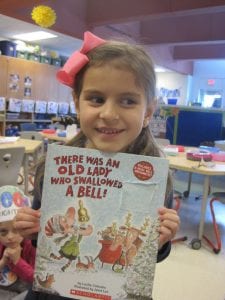 Emma likes to read There was an Old Lady who Swallowed a Bell because it is funny.
REMINDERS
*TAKE HOME BOOKS:  We will begin reading and choosing books again on Monday. Thank you for helping your kinder be responsible in returning their books. Remember reading  books happen on MONDAY, TUESDAY AND THURSDAY.  
*WINTER GEAR:  Thank you for sending your kinder with all that they need to stay warm on the bus ride and while playing outside….snow pants, hats, mittens, boots. Just a reminder, when it warms up, we will be outside for recess if the temperature is above 0 degrees. We play out in the fields, and our playground does not get plowed, thank you for your help. 
*VALENTINE PARTY:  We will celebrate as a class Thursday, Feb 14 from 1:50-3:00pm. Party center volunteers please arrive by 1:40pm for instructions and set up. PLEASE HAVE NON FOOD DONATIONS BROUGHT INTO SCHOOL BY MONDAY, FEB. 11. FOOD DONATIONS DUE ON THURSDAY, FEB 14. Thank you to all the parents who are donating and preparing our activities.   Here is the link to the sign up document 
*MONDAY, FEB 11—ART; TAKE HOME books; Mail Valentines 
*TUESDAY, FEB 12—STEAM: TAKE HOME books; Mail Valentines
*WEDNESDAY. FEB. 13—MUSIC;  LIBRARY Return library book!
*THURSDAY. FEB. 14—GYM; Valentine's Day Party  1:50-3:00pm  *NO TAKE HOME books this day.
*FRIDAY. FEB. 15—- ART
~~~~Have a fantastic weekend.  Stay safe and warm . Mrs. Bohl