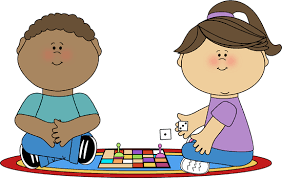 We are busy practicing using 5-groups and 10-groups to make numbers, showing teen numbers as a ten and extra ones and matching partners and total for teen numbers.(10+3 is a match for 13).
The kinders learned a math game called UNKNOWN PARTNER.  This game focuses on identifying sets of partners for numbers.  For example, there are 7 cubes by number 7.  One kinder places the break apart stick (popsicle stick) between the cubes and removes some cubes from a side while the other kinder has their eyes closed.  The kinder opens their eyes and needs to tell what partner of 7 was taken away. 4 + ? = 7  Then together they use the number tiles to create the number equation.  4+3=7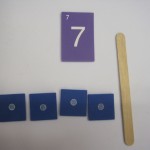 You can play this game at home using lego pieces, Cheerios, Barbie shoes, etc. A pencil works great as a break-part stick too. Start with a small number and work your way up to 10.  A fabulous way to learn and have fun at home….with your kinder being the teacher!
More math learning yet to come this week before we take our next unit test this upcoming week.  Take time on this snowy day and during the weekend to play this fun math game.