Hooray for the hard working kinders!! We are working hard to make smart choices at school (keeping hands, to self, using kind words, following school rules, etc) while being ready to learn AND to listen when others talk. The kinders are also working hard to put their eyes on the teacher so that all directions/instructions are heard. This is what first graders do and we are practicing to do the same.  Thank you for the encouragement from home!  Their choices make the difference in their learning.  
MATH:  This week we worked on teen equations (10+6) and teen totals (16), writing teen numbers, identifying partners of 6,7 & 8 and showing numbers by using 5 groups.  For example: to show 7, we drew 5 circles in a line and then drew 2 more circles underneath.  Telling and solving addition and subtraction problems are also part of our daily routine.  Our Friday math games were TEEN NUMBER MEMORY (matching teen equations to the total); MAKE 5 (number partners of 5); SNOWBALL COVERALL (identifying 1-20 & matching them to 1-20 in ten frames) and BEARS IN THE CAVE (identifying number partners of 6 & 7).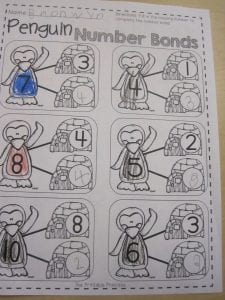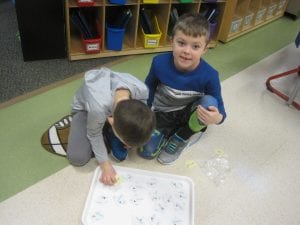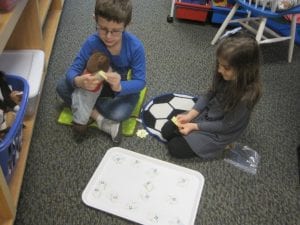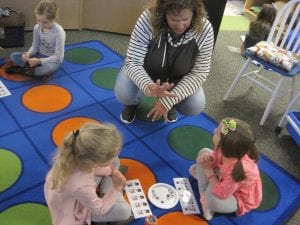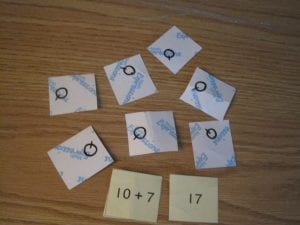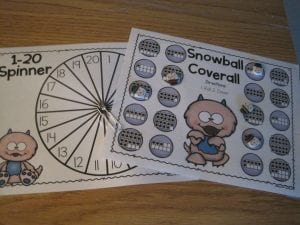 POPCORN WORDS:        MAKE       SAID        We found them in our day's messages and within our popcorn books.  We learned about "Magic e" who quietly tells the hard worker (vowel) to say their letter name (long a) instead of their letter sound (short /a/ sound) in "make". We had fun playing with letters to create more words using -ake.  We also learned to look for "talking" lines (quotation marks) to let us know that a character is talking.  Identifying "said" helped making this task easier.  Many kinders noticed that "ai" in the word said made the  short /e/ sound but in other words like rain, sail, "ai" work together to say a.  How silly and sometimes confusing! 🙂
WRITING:  We reviewed that a small moment is a true story that happened to us and is a small part of a larger story that takes places during one event.  At the beginning of the week we worked together to create a list of "seed" stories about school. Then we chose a small moment story about being the Kool Kinder and enjoying taking Snuggles home. We practiced telling the story over our fingers using the words first, next last.  (First, we draw a stick out of the box. Next I take Snuggles home. Last I tell my friends what I did with Snuggles). Then we drew detailed pictures and worte as many popcorn words as we could and stretched out sounds in unknown words Don't forget that we also work to include spaces between popcorn words and sentence stoppers (punctuation). Wow!!  This is a VERY challenging unit for kinders! I am proud of their perseverance and effort.  We are working to do our best!! ( I will do better next week taking pictures during this time.  We are just so busy that I that forget.  Sorry 🙁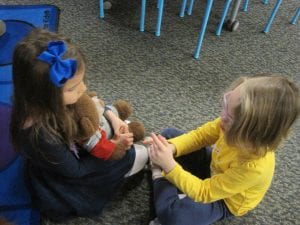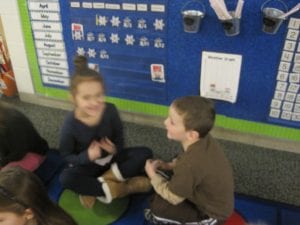 SPLIT LIT:  This week the kinders worked on beginning sounds, rhyming, sorting upper & lower case letters, sentence order in their independent centers.  They worked on identifying the initial, medial and final sounds in words with Mrs. Rossback and read books while I re-assessed kinders on literacy skills.  I am so proud of their progress.  You will find a note listing the skills your kinder will be working on next inside of their blue folder.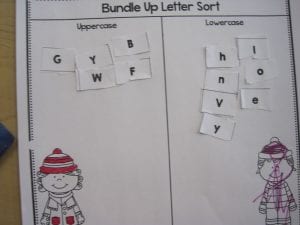 HANDWRITING: The SLANT TO START letters A,Y,V,W,X  was spotlighted this week. This completed learning the formation of uppercase letters.  We will continue to review formation of ALL letters during writing times.  We will begin to write our "full name"  on our papers too….starting next week.  This means ONLY the first letter is capital and the rest of the letters are lower case.  The  kinders are able to write their full name but many of the letters are written incorrectly.  There is a mix of upper and lower case letters within the first and last name. Please begin practicing this new skill at home. Thanks! 🙂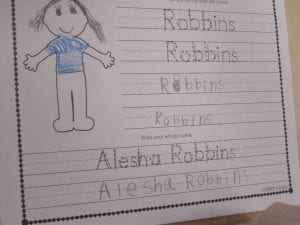 READING:  This week we learned that we can activate our PERSEVERANCE POWER…that means we don't give up! We continue to try to use all of our super powers while we read.  We also learned that readers use their voices to bring a book to life….and to make it exciting and interesting to read. We don't want to sound like a robot but try to read fluently. The kinders are doing an awesome job!  We are increasing our reading time too.  We are averaging 15 minutes a day. Hooray for reading!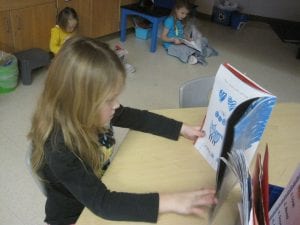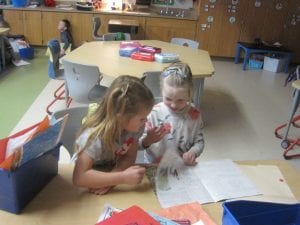 MYSTERY READERS:  Lila was thrilled and excited to see that her mom (and baby sister, Nora ) was the mystery reader on Wednesday afternoon.  We heard There is a Monster at the End of the Book because her mom LOVED hearing this story when she was a kinder and Lila LOVES the book now!  How fun to pass down favorite stories.
Friday morning Lillian's mom & Grandma entertained us with reading the book Not quite Norwhal.  A sweet story about learning who you are and accepting others.
REMINDERS
*BACKPACK SNACK:  Please remember to send TWO snacks each day with your kinder. They would probably enjoy a snack from home. Thanks so much for making these snacks healthy ones!  
*TAKE HOME BOOKS:  The TAKE HOME books will begin Monday! Thank you in advance for reading this book with your kinder and reminding them to return these books in the baggies each Monday,Tuesday and Thursday.   
*WINTER CLOTHES:  Thank you for dressing your child in warm outside winter gear.  Sending an extra pair of mittens or socks inside their backpacks might be helpful.
UPCOMING DATES
*MONDAY. JAN. 21–-ART; reading TAKE  HOME BOOKS; MLK Day
*TUESDAY. JAN 22–-STEAM; reading TAKE HOME BOOKS   
*WEDNESDAY. JAN. 23––MUSIC; LIBRARY Please remember to return your kinder's book.
*THURSDAY. JAN. 24–-GYM; reading TAKE HOME BOOKS 
*FRIDAY. JAN. 25—ART; birthday celebration for Tinley (1/26)
*FRIDAY. FEB. 1—Fast Friday (Early Release)
*MONDAY. FEB. 4 & TUESDAY. FEB 5—Winter Break Day—No School
*WEDNESDAY. FEB 6—School begins again
*THURSDAY. FEB 7—Day 100 Celebration…information coming soon
*THURSDAY. FEB. 14—Valentine's Day Party 2:00-3:00pm A sign up sheet for volunteering and donations will be posted this weekend.  
~~ So many good things happening at school. We are learning a lot!  Have a great weekend!    Mrs. Bohl