What a merry and bright week we had at school.  We had so much fun doing some last minute gingerbread man activities, playing games, singing songs and just learning! 
WRITING:  We wrote a few more books this week too.  We thought of a topic, came up with a patterned sentence, wrote our words and drew detailed pictures.  We learned how to add specific details so that readers can infer more about the story.  Some of the patterns were "____ can fly."  "It is a ____(color) gift." I have been so impressed by their hard work!  Hooray for the kinders!! 🙂 Be on the lookout for these books…they will come home next week.  The kinders are very observant as they read books too…they are on the lookout for these fun patterns. 🙂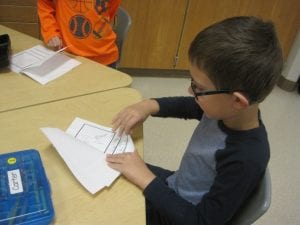 HANDWRITING:  This week COUNTER CLOCKWISE letters of C,G,S,O,Q,U were spotlighted.  Thank you for practicing at home too.  
MATH:  The kinders explored seeing 5 groups and extra ones to make larger numbers….6-10. by playing a fun game using holiday erasers for practice.  We also told some subtraction stories using the erasers too.  We completed a worksheet to practice teem number building as well as looking for number partners in number sentences.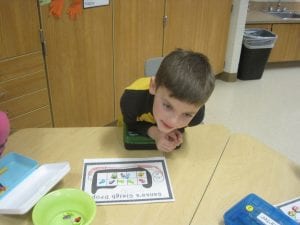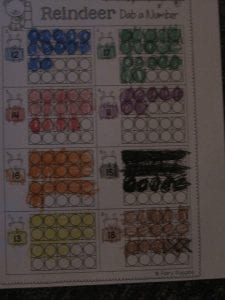 POPCORN WORDS:            WHAT      IT                                                                                  December flash cards will come home next week so you can add them to your collection.  You might want to play Scramble Them Up.   (Use your letter cards to scramble up the letters in popcorn words…and then put the letters in correct order. Example:  okol  is  look)
WHERE IN THE WORLD IS THE GINGERBREAD MAN?:  Gingy (our mini gingerbread man) sent us a big envelope filled with post cards from his latest destination…..SPAIN.  We learned that they like to play futball (soccer), they speak Spanish, they like to eat churros, snails, olives and more. We had fun trying to count to 10 in Spanish too.  Where will Gingy go next?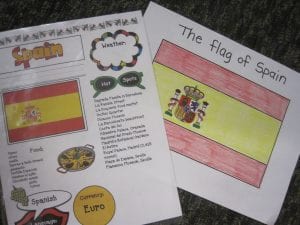 READING:  We learned about more superpowers that Super Readers use when reading….SNAP WORD POWER, PARTNER POWER and PICTURE POWER.  Snap word power is when a reader can find words they know, like sight words, and read those words in a snap.  The kinders explored the classroom for words they knew in a snap.  Partner power is when readers help each other when they are reading.  The kinders worked with their reading partner to read a book together, taking turns to point and read to each other while helping each other with words that might be tricky. Picture power is when readers really look at the picture to see if it matches the words written.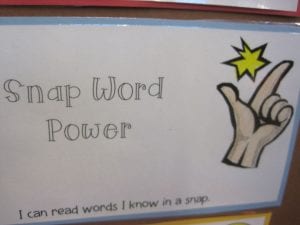 SPLIT LIT:  I am reassessing the kinders on the skills that they are working on in small groups. They made great progress. I am so proud of their hard work in learning. We will begin working on new literacy skills in small groups after vacation along with new independent literacy work. We worked as a whole group to practice hearing syllables in Christmas words. If you have time during our break, please continue to use your flash cards to practice identifying sight words.
MYSTERY READER:  Parker literally jumped up and screamed when his mom stepped into the room.  She read Mooseltoe because she loves Christmas.  What a fun story!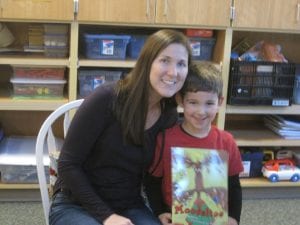 REMINDERS
*WINTER GEAR: Please send appropriate winter gear with your child each day even if there is not any snow.  It keeps them warm when playing outside.  An extra pair of socks, mittens or gloves might be a good idea to keep inside their backpacks if their original pair gets wet.  Please take time this weekend to label your kinder's snow pants and boots if you have not done this.
*BACKPACK SNACK:  Please remember each day to pack TWO quick, healthy snacks for your kinder.
*BOOK EXCHANGE:  Thank you so much for sending in your holiday book exchange wrapped gift. If you would like your kinder to participate, please send a book in next Monday. Please let me know if you have any questions, kbohl@hpseagles.net.
*TAKE HOME BOOK PROGRAM:  I am planning to create a schedule over vacation.  Thank you for volunteering and choosing to be part of this learning. If you still would like to be part of this fun volunteer activity, please email me and I will be happy to include you in the schedule. We will begin this program in January.  It is so exciting to see our kinders become readers.
*HOLIDAY PARTY:  Thank you so much for your donations.  Please send in ALL non-editable donations to school by Monday, Dec 17. Food items can be dropped off in the morning.  Party volunteers can arrive at 1:30pm to set up.  Please be respectful of Mrs. Reagan's request……Due to the large number of parent volunteers attending class parties with in the school, Mrs. Reagan has limited the parent attendees to ONLY those volunteering. You MUST have completed a background check if you wish to volunteer. Thank you for understanding.  Click on this link to see who is scheduled to volunteer.  
UPCOMING DATES
*Monday, Dec. 17–-MUSIC;  ALL non-food party donations are due
*Tuesday, Dec. 18—GYM; Celebrate Jacob's birthday  
*Wednesday, December 19–-ART; LIBRARY…Don't forget to return your kinder's book! Grinch Day—-wear Green, or dress like Grinch characters. We will learn how to make our heart grow!
*Thursday, Dec 20–-STEAM;  Holiday Party  It will be held from 2:00-3:00pm.  Thank you for being part of our second class party. Parent volunteers can arrive at 1:30 for set up.  Food donations should arrive in the morning.  Celebrate Carter's birthday
*Friday, December 21–MUSIC; Polar Express Day…wear pj's!  Come to school wearing your cozy pajamas.  Wear boots and snow pants for outside play but slipper shoes are welcome inside of school.  NO STOCKING FEET ARE ALLOWED. NO STUFFED ANIMALS OR BLANKETS.  Thank you! Be prepared for a fun day of learning.  
*Monday, December 23 – Friday, January 5:  NO SCHOOL, Holiday Break.  School resumes on Monday, January 7!  
~~Have a great weekend!   Mrs. Bohl