Thank you for supporting Georgetown and allowing your kinder to think of family members as they chose gifts at the Holiday Shop.  They had a lot of fun picking 'just the right' gift for their loved ones.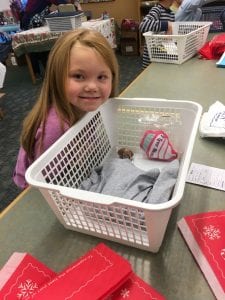 GINGERBREAD MAN: We continued to read many different versions…The Gingerbread Baby, The Gingerbread Girl, The Gingerbread Girl goes Crackers. We are having fun comparing the endings of each of these stories.  More to come next week.
MATH:  We started unit #3 by meeting TEN BUG…a bug that has ten dots on it and helps us look for groups of ten. The Kinders had fun when ten bug flew around and talked to each of us. Looking for partners of numbers 2-6 (ex: 1+3=4,2+2=4,3+1=4 are partners of number 4) were also part of this week's lessons.  The kinders used the "break apart stick" and math tiles to help them visually see this concept. Telling addition and subtraction math stories are becoming part of our daily math practice. Ask your kinder about how we like to act out our stories. 
Math games played were GINGERBREAD MEN PATTERNS (making patterns) and WHERE IS THE ELF? (identifying numbers 1-20)  Math is so much fun!! 🙂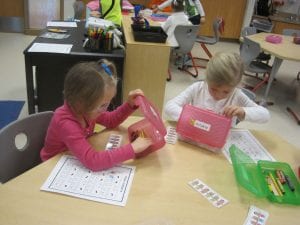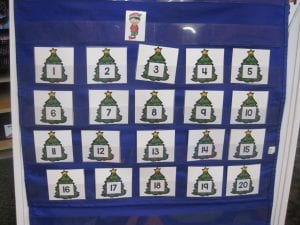 WRITING: We continued to write pattern books have repeating words on each page, but one word changes. Sometimes the word that changes is at the beginning of the sentence, at the end of the sentence and in the middle of the sentence. This week we wrote four pattern books! All of the kinders are doing an excellent job!  I am so proud of them.  
WEEKLY NEWSPAPER:  The topic was HIBERNATION.  We read a fiction book that helped us identify animals that sleep during the winter.  Then we read our newspaper that gave us true facts about how bears get ready for the winter.  
READING:  The kinders learned that readers have SUPER POWERS!
This week it was all about POINTER POWER.  By pointing under each word, making sure that what they say matches what is written and remembering that even longer words get one tap, help to strengthen their super powers. We practiced using our pointer power by reading a Gingerbread Man book filled with popcorn words and by using some very cool googly eyes. Pointer Power….activate!!  You can practice using pointer power at home too!
HANDWRITING:  We worked on writing CLOCKWISE family letters,     Encouragement to write neatly and slowly is stressed as we work on these letters. Thank you for your continual practice at home. 🙂 
WHERE IN THE WORLD IS THE GINGERBREAD MAN?:  Gingy (our mini gingerbread man) sent us a big envelope filled with post cards from his latest destination…..FRANCE.  We learned about the Eiffel Tower, the Louvre Museum, Palace of Versailles, etc.  We agreed that we would like to eat a chocolate souffle, baguette, crepes but escargots would not be tasty.  Mrs. Rossback has had them and she said "they are a bit slimy".  🙁 . It was fun to see that their flag had the same colors as ours….red, white and blue.  (Sorry….no pictures….we were so busy learning that I forgot! 🙁 )
MYSTERY READERS: Lila jumped up with glee and a small shout when she saw her grandma walk into the room on Wednesday.  She read a Piggy and Elephant book…There is a bird on your head!  What a silly, fun story.
Thursday Aria ran to greet her mom.  She read The Giving Tree.
Elliot was so surprised to see her mom and baby sister come into the room.  We heard Elliot's favorite story, An Awesome Book.  A sweet story about dreams.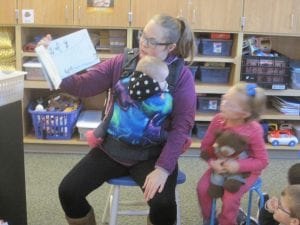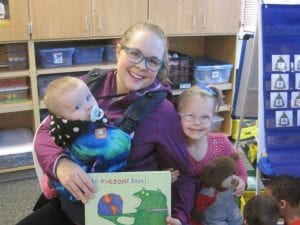 It is always fun to have grandparents & parents come and read to us.  Thank you!!
POPCORN WORDS:     LOOK      RUN       FROM                                    Like always, we used them in the our writing and found them in books!
REMINDERS 
*WINTER GEAR:  Please continue to send winter gear each day (when necessary) with your child.   It has become cold and snowy outside and we want our kinders warm.  They may wear their gym shoes every day or you can send a pair of shoes.  Wearing snow boots in our room is not a good option.  
  Refer to earlier posting for more information.  PLEASE LABEL YOUR KINDER'S CLOTHING!
*BACKPACK SNACK:  Thank you for packing 2 quick, healthy backpack snacks each day!
*PARTY DONATIONS:  Thank you so much for your donations.  Please send in ALL non-editable donations to school by Monday, Dec 17. Food items can be dropped off in the morning.  Party volunteers can arrive at 1:30pm to set up.  Please be respectful of Mrs. Reagan's request……Due to the large number of parent volunteers attending class parties with in the school, Mrs. Reagan has limited the parent attendees to ONLY those volunteering. You MUST have completed a background check if you wish to volunteer. Thank you for understanding.  Click on this link to see who is scheduled to volunteer.  
*5th Grade Candy Canes:  Mon. Dec 3 thru Fri Dec 14. The cost for each candy cane is $1.00 and they will be delivered the same day they are ordered.  Please enclose the money inside a labeled envelope, listing the number of candy canes needed.
UPCOMING DATES
*Monday, Dec 10—MUSIC  
*Tuesday, Dec 11—GYM  
*Wednesday, Dec 12—ART;  LIBRARY…Don't forget to return your child's book!  
*Thursday, Dec 13–-STEAM; HOLIDAY MUSIC PROGRAM  Georgetown Holiday Music Program  6:30pm at Fair Haven Church, 2900 Baldwin Street, Hudsonville.  Kinders arrive by 6:15pm;    Sack lunch orders (by note in kinder's folder or email) due for tomorrow's Fast Friday
*Friday, Dec. 14— GYM;  Fast Friday Dismissal at 12:15pm
*Monday, Dec. 17–ALL non-food party donations are due at school
*Wednesday, December 19–Grinch Day—-wear Green or dress like Grinch characters. We will learn how to make our heart grow!
*Thursday, Dec 20–-Holiday Party  It will be held from 2:00-3:00pm. Parent volunteers can arrive at 1:30 for set up.  All donations should be brought to school by Monday, Dec. 18.  Food donations should arrive on party day in the morning.  If you would like your kinder to participate in the class book gift exchange, please send a  wrapped book (suited for either a boy or girl) with tag on the outside. (TO A FRIEND   FROM (YOUR KINDER'S NAME)  ALL BOOKS ARE DUE BY FRIDAY, DECEMBER 14 but can come into school anytime.   
*Friday, December 21-Polar Express Day…wear pj's!  Come to school wearing your cozy pajamas.  Wear boots and snow pants for outside play but slipper shoes are welcome inside of school.  NO STOCKING FEET ARE ALLOWED. NO STUFFED ANIMALS OR BLANKETS.  Thank you! Be prepared for a fun day of learning.  
*Monday, December 23 – Friday, January 5:  NO SCHOOL, Holiday Break.  School resumes on Monday, January 7! 
~~Have a great weekend!   Mrs. Bohl