I hope that you enjoyed the extra day home with your kinder.  The kinders were VERY excited about playing in the snow during recess.  Here a just a few pictures to enjoy!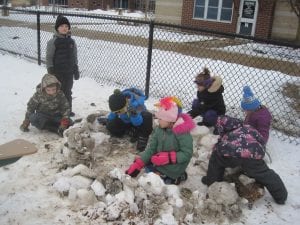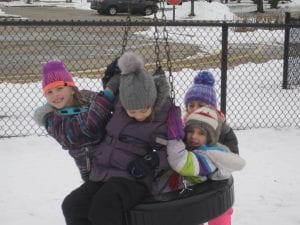 Take a look at what your kinder in school this week.
GINGERBREAD MAN:  He likes to run!  The gingerbread man has many ways of avoiding being caught! We found this out by reading  The Gingerbread Man by Karen Schimdt.  All month we will be reading different versions of this story, comparing the endings of each book.  Will he get caught?  Will he escape?  Wait and see! Even our newspaper was about how to make a gingerbread man!
I hope that you had fun decorating your gingerbread boy/girl at home.  They are fantastic and special.  Hopefully, these gingerbread men won't run away!! 🙂  For now they are on our hallway board. You can send your decorated gingerbread boy/girl in next week too, if they are still at home.
WRITING:  All month long we are DISCOVERING PATTERNS in books. During writing time, we are learning how to write simple pattern books. We already wrote 2 books…Foods I ate (for Thanksgiving) with the pattern….I ate ____.; I can do stuff with the pattern…I can _____.  I am so proud of their hard work.  They are stretching out sounds in words, writing popcorn words and using fantastic penmanship.  The kinders are so excited about this new writing adventure.  
HANDWRITING:  We began learning the proper formation of the upper case letters starting with the STRAIGHT LINE family of L,T,I,E,F,H. 
SOCIAL STUDIES:  The Gingerbread Man is on the Loose!  Gingy (our mini gingerbread man) is traveling the world, helping us learn about some different countries. 
We are boarding an imaginary airplane and flying the globe learning different fun facts about that country. This week he landed in Australia…the land down under.  Upon landing in the new country, each kinder has their own passport stamped as they de-board the airplane.  Gingy sent us some postcards with neat pictures of various landmarks.  The kinders are drawing their favorite fun fact in a book.  We also watched 2 videos, learning more facts about landmarks and animals that are indigenous to Australia.  The kinders enjoyed the animal video so much they wanted me to share the link so they could watch it again at home. Mrs. Rossback visited Australia so she also shared what she saw and did there.  Very cool! It was neat to learn that Australia's flag has the same colors as American flag….red, white and blue….only in a different design.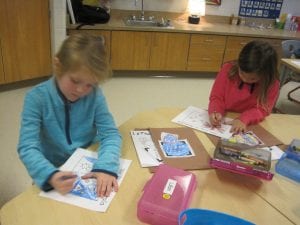 READING: The kinders dove deeper into learning what to share with their reading partners.  They shared their favorite part of the story, something that is cool,  I didn't know that? fact and that happened to me! connection with their reading buddy.  Our time of reading continues to become longer.  We are making progress! 🙂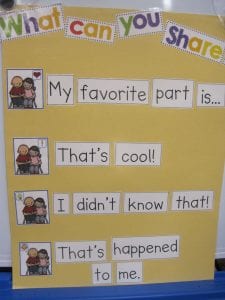 MATH:  The first part of the week was wrapping up on learning and reviewing some math skills.  At the end of the week, the kinders  used their individual "offices"again when they took the unit #2 math test.  After I finish grading the tests I will send them home with the kinders.  Next week we move on to unit #3.   
SPLIT LIT:  I am so proud of the kinders!  Tuesday the kinders were re-introduced to different tasks (worksites). The activities at the stations will focus on writing, rhyming, beginning sounds and sight words. The kinders will be identifying letters/sounds, blending/segmenting sounds in words and recognizing sight words while working in small groups with Mrs. Rossback or myself when not working independently.  
*POPCORN WORDS:   AN      CAN     MAN     RAN                                                      How fun it is to be able to make more words if  you can identify 'an'. We enjoyed using a gingerbread man slider to this.  We used these words many times in our writing and reading this week. I am so proud of how well the kinders are doing in identifying popcorn words. Thank you for practicing at home…..keep it up.  
MYSTERY  READERS:   On Wednesday, Amelia quietly and sweetly greeted her mom.  We enjoyed hearing Thidwick the big hearted moose by Dr. Seuss. It was her dad's favorite story when he was younger and now Amelia loves it too!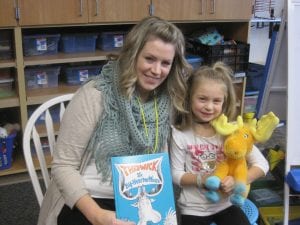 Friday, both Jase and Colton ran across the room to give their mom and dad a hug as they entered the room with their younger sister, Chloe.  Mom read Zip Line, a sweet story about a little girl having a zip line (scar) on her chest from having heart surgery and how we are all different. It is Colton's favorite story because he too has a zip line from heart surgery when he was younger.  Thank you for coming in.
REMINDERS 
*WINTER GEAR:  Please send winter gear each day with your child.   It is cold and the snow is here.  We want our kinders warm.  They may wear their gym shoes inside of school every day or you can send a pair of shoes. Please consider buying velcro closings on boots if you need to purchase new ones this year. Wearing snow boots in our room is not an option.  🙂 . DON'T FORGET TO LABEL YOUR KINDER'S CLOTHES!
*BACKPACK SNACK:  Thank you for packing 2 quick, healthy backpack snacks each day!
*5th Grade Candy Canes:  Mon. Dec 3 thru Fri Dec 14. The cost for each candy cane is $1.00 and they will be delivered the same day they are ordered. Please enclose the money inside a labeled envelope, listing the number of candy canes needed. See earlier posting for more details.
UPCOMING DATES
*Monday, Dec 3—STEAM
*Tuesday, Dec 4—MUSIC
*Wednesday, Dec 5—GYM;  No Library due to Holiday Gift Shop.  Enjoy your kinder's book another week;  HOLIDAY GIFT SHOP: We are scheduled to shop at 2:00pm  If you would like your kinder to participate, please provide the necessary information for family members they need to shop for on the outside of the envelope.  Enclose your kinder's money inside. Please make checks payable to GEORGETOWN PTC.
*Thursday, Dec. 6—-ART
*Friday, Dec.7— STEAM 
*Thursday, Dec 13–-HOLIDAY MUSIC PROGRAM  Kinders arrive at 6:15pm, program begins at 6:30pm at Fair Haven Church 2900 Baldwin Street, Hudsonville.  
*Wednesday, December 19–Grinch Day—-wear Green or dress like Grinch characters
*Thursday, Dec 20–-Holiday Party  It will be held from 2:00-3:00pm.  We have enough volunteers for the party but  opportunities to donate snack items are available.  Go to this google document to sign up.  Thank you for being part of our second class party.  If you would like your kinder to participate in the class book gift exchange, please send a  wrapped book (suited for either a boy or girl) with tag on the outside. (TO A FRIEND   FROM (YOUR KINDER'S NAME)  ALL BOOKS ARE DUE BY FRIDAY, DECEMBER 14.  Ordered books will arrive in time for the party.
*Friday, December 21-Polar Express Day…wear pj's!
*Monday, December 23 – Friday, January 4:  NO SCHOOL, Holiday Break.  School resumes on Monday, January 7!
*TAKE HOME BOOK PROGRAM:   This exciting program will begin in January.  If you are interested in listening to the kinders read, this volunteer opportunity is for you!  A note explaining this program will be sent home soon.  
~~Have a great weekend!   Mrs. Bohl