We have a very busy December planned! Below is a detailed list of everything you need to know for the main events leading up to winter break. December calendars will also be sent home with your kinder this week. Please take a few moments to read through this entire post – lots of details are on this page!
   (1) Holiday Party
Our Holiday Party will be held on Thursday, December 20 from 1:50-3:00 pm. If you would like to volunteer to lead a station (game or craft),plan the snack/drink or bring a snack/drink, please sign up on this Google sheet.  Due to the large number of parent volunteers attending class parties with in the school, Mrs. Reagan has limited the parent attendees to ONLY those volunteering. You MUST have completed a background check if you wish to volunteer. Thank you for understanding.
    (2) Penguin Patch Holiday Shop
Georgetown's Holiday Shop is next week, and our class is scheduled to shop on Wednesday, December 5 from 2:00-2:45 pm. An informational page and envelope will be coming home in your kinder's folder with more details about the items in the shop.
     (3) Book Exchange
We will be doing our holiday book exchange during the last week of school before break. Please send in a gender-neutral book (less than $5) with your kinder by Friday, December 14. Please wrap the book and include a tag that says who the gift is from (ex: To a Friend, From Mrs. Bohl). These can be sent in at any time. 🙂 Book orders (online or paper forms) due by Tuesday, Nov 27.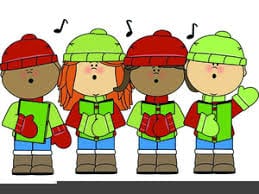 (4) Holiday Music Program
Georgetown's Holiday Music Program will be held at Fair Haven Church on Thursday, December 13. Our kinders need to arrive by 6:15pm and they will be performing at 6:30 pm. They have been practicing so hard and are ready to impress you with their musical talent!
  (5)  December Calendars
The December lunch menu can be found here.  Be sure to read the December calendar to view all of the events happening in this month.  I will send home a paper copy of the December calendar soon.
Please don't hesitate to contact me if you have any questions regarding these plans – I hope I didn't miss anything!  Thank you so much for your continued support of our little learners!  Mrs. Bohl