A busy week of learning…..
WRITING:  The kinders really put their writing skills to the test this week.  We finished our unit of 'Writing like Scientists' by looking closely at seashells and Indian corn, drawing and labeling exactly what we saw and finally writing sentences using popcorn words to describe what we saw. The kinders will be bringing home their writings next wek. Just in time for them to read their writings to family members.
SPLIT LIT:  The kinders continued to practice what it looks like to work independently in small groups while other kinders work with a teacher. They worked on ending sounds, beginning sounds, popcorn words, handwriting letters. They did a fabulous job working quietly, asking a friend for help and staying in their spot. 
A very late introduction of….Mrs. Rossback.  We are blessed to have Mrs. Rossback join us during our morning learning.  The kinders work with her during our Split Lit, math and writing lessons.  
SOCIAL STUDIES:  We our learning about what it was like for Pilgrim children back then  (cooked food over a fireplace, didn't go to school, etc) and children now (buy food at a store, boys AND girls go to school, ride in cars,etc).  We found out that we both love and live in America, have chores and are thankful for many things.
We also continued our learning about wants and needs.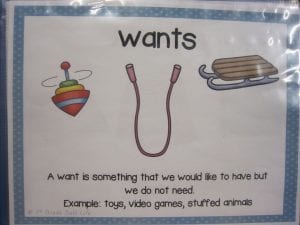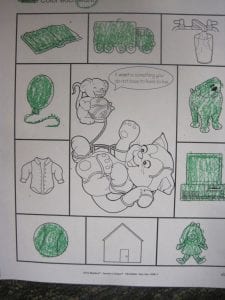 MATH:  We worked on identifying shapes, especially triangles and hexagons, compared and wrote numbers 1-10 and practiced telling addition and subtraction math stories. We will continue to work on these skills this week in preparation for our unit #2 just after Thanksgiving break. Thank you for your support.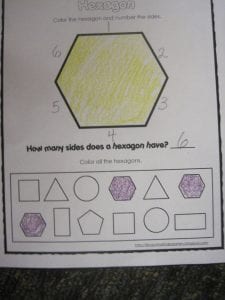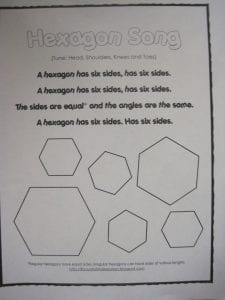 During Friday math games, the kinders needed to look closely and count various Thanksgiving foods and write the number. They practiced drawing 5 groups and more within a 10 frame by counting Thanksgiving objects.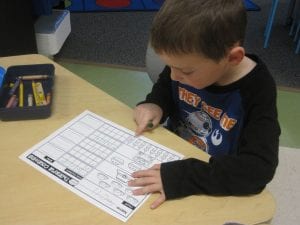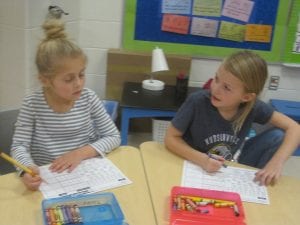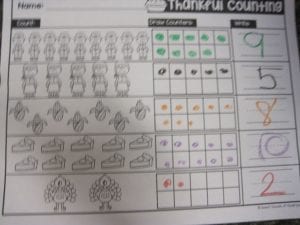 READING:   It was all about LABELS this week.  The kinders learned that labels help readers remember important characters and parts of the story.  Working together we wrote the sounds we heard onto to label.  Our read to self reading time is increasing!  We have built our reading stamina to 8-10 minutes.  WhooHoo!! 🙂      
MYSTERY READERS:  Jase was full of smiles when he saw his mom walk into our room.  We enjoyed hearing Clifford's Good Deeds.  Thank you so much for taking a break out of your day to stop by. 
Lily jumped up and ran into her mom's arms while the kinders said "It's Lily's mom!"  She brought a fun book about a Boston Terrier called Twinky the Dinky Dog because they have a Boston Terrier named Indy at their home.  She even brought a picture of their dog, Indy.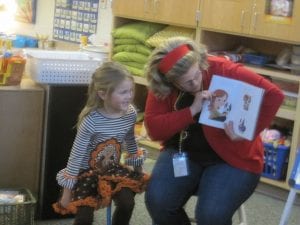 POPCORN WORDS:         FOR     OR       It was fun to learn that "for" can also be spelled "four" to mean the number 4.  The kinders are doing so good at finding these words in our daily message and inside their books when reading to self.  They are excited when they notice them!  This month's popcorn books and flash cards will come home soon.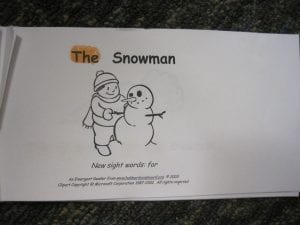 PE CARES:  Thank you so much for donating food during the PE CARES food drive.  Our class collected 50 food items.  Thank you!
REMINDERS
*BACKPACK SNACK:  Thank you for sending two quick, healthy snacks each day!  It helps your kinder be refueled for more learning!
*BLUE FOLDERS:  Please check your kinder's blue folder each night for notes, work, homework.  
*WARM OUTSIDE CLOTHES:  Please continue to send a warm coat for your kinder to wear while playing outside.  The weather is changing and we want our kinders to stay warm and healthy this year.
UPCOMING DATES
*Monday Nov 19—MUSIC;   I am Thankful for…show and tell due
*Tuesday Nov 20–GYM; Thanksgiving Fun Centers (Volunteers please arrive at 1:40pm for instructions)
*Wed, Nov 21, Thurs. Nov. 22, Fri. Nov 23—NO SCHOOL  Thanksgiving Break  Enjoy the time with family.
*Monday, Nov 26—Book orders due (online & paper forms) 
*Dec 4-7—PENQUIN PATCH HOLIDAY GIFT SHOP: We are scheduled to shop on Wed. Dec 5. More details soon
*Thursday, Dec 13–HOLIDAY MUSIC PROGRAM  6:30pm . More details soon
*Thursday, December 20–Holiday Party  A sign up sheet will be available soon. Thank you for being part of our second class party.
*Monday, December 24 – Friday, January 4:  NO SCHOOL, Holiday Break.  School resumes on Monday, January 7!
~~~Have a great weekend!  We only have school on Monday and Tuesday next week.  Mrs. Bohl