Look what we did this week in school.  We were busy!!!!
MATH: This week we focused on learning some new math routines.  The kinders learned how to count the teen numbers by showing fast freeze 10 and some more.  For example, they say "10 is 10 plus 1 more."   We also added 1 to numbers 1-9 to make numbers.  The kinders loved using blue dots to practice adding 1 to numbers on our blue math mats. They noticed the pattern that occurs when you add these numbers, seeing that each number sentence has a + 1, each answer increased by 1.  One kinder said, "Hey it looks like stairs!"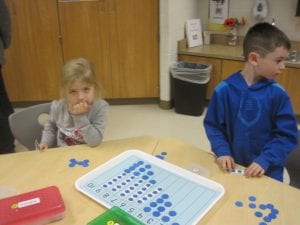 During Friday math games the kinders identified numbers 1-10, sorted and counted fall leaves, counted turkeys in ten frames and wrote numbers 1-20 and used pattern blocks to create a turkey.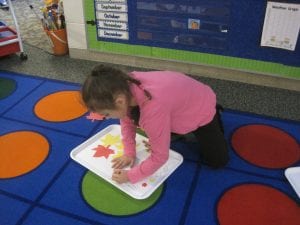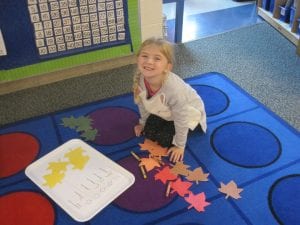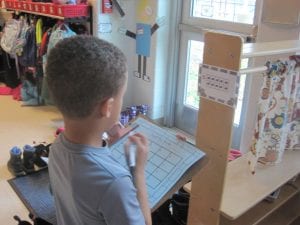 WRITING: We looked closely at two fall objects….gourds and acorns. We drew exacting what we saw and then stretched out the words by writing sounds we heard in own booklets. We practiced writing simple sentences using popcorn words when writing about our object.  For example: This is a gourd. I see green and orange.  It is bumpy. This was challenging for the kinders but I am proud of their efforts and hard work.  We can be scientists and draw and what we see!  Hooray!
READING:  The kinders are doing a fabulous job practicing private reading and each skill that we learned this week.  They learned that readers work hard to help themselves solve problems.  Using pictures to help remind them of the story they are reading is very helpful.  Many are noticing there are words we might know to help us tell the story. They also enjoyed reviewing emotions from last week and looking for how the characters showed their emotions and putting a sticky note by that character. We are becoming great readers!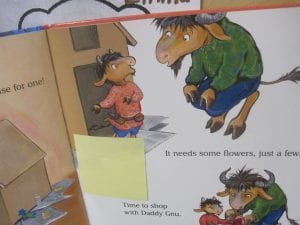 SOCIAL STUDIES:  We read Berenstain's Bears get the Gimmies to help us learn the difference between wants and needs.  Wants are things that we wish we had.(doll, baseball, Xbox games, ipad)  Needs are things that we need to have.(food, water, clothes, shelter) Then we sorted pictures of wants and needs.  We began our discussion on who the Pilgrims were and their journey on the Mayflower. We worked together and "shared the marker" to write why the Pilgrims left England, who was on the Mayflower and where they landed.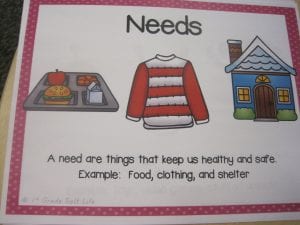 We looked at the parts of the Mayflower ship, stretched out the sounds in the words and wrote them on our paper.
We finished the week by thinking of things that we would need if we packed our bags and went on the Mayflower.  This lead to a deeper discussion about wants vs needs.  The kinders "packed their own trunks" with items they would take along if they were on the Mayflower by creating a list and drawing pictures to match.
SPLIT LIT:   This week we have done a great job of starting our new Split Lit. center activities.  After getting a chance to assess and re-assess the kinders, I was able to create a group of activities that enables them to work on the skills they need to practice the most.  The kinders spend this time with working in small groups either with Mrs. Rossback( our para pro) or myself or working independently on literacy activities such as identifying and writing letters, reading emerging books, rhyming words, beginning sounds and more. On Friday the kinders played two literacy games….GOBBLE, GOBBLE (identifying letters) and SPIN A PICTURE (practicing writing letters and beginning sounds).A good start to learning!
POPCORN WORDS:               AM          ARE           LITTLE                                                     Our list of popcorn words is growing.   It is amazing how the kinders are seeing these words in books, messages and papers.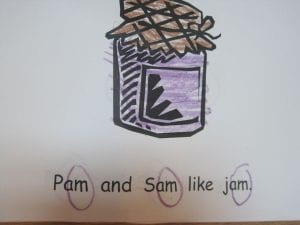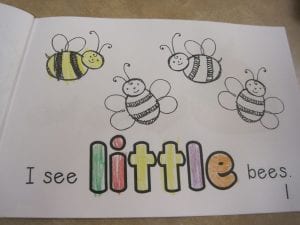 MYSTERY GUEST READER:  It was so sweet to see Bronwyn jump into her mom's arms on Wednesday.  She read us Groovy Joe Ice Cream and Dinosaurs.  It was fun to join in the reading.
 Jacob sprang up when his grandma "Amma" and younger brother Austin arrived on Friday.  She read us Froggy gets dressed.  A perfect book for the first day of snow!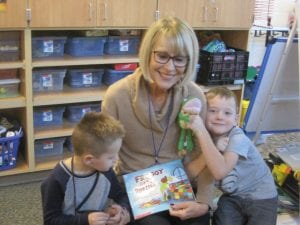 Thank you so much for coming in!  We love our guest readers!
  REMINDERS
*WINTER CLOTHES:  Please remember to send a warm, winter clothes for your kinder to wear when we play outside.  The snowy weather has arrived and it is more fun to be warm when it is recess. Looking ahead….If your child has outgrown their winter boots, PLEASE CONSIDER PURCHASING BOOTS THAT FASTEN WITH VELCRO CLOSINGS!!!  LACES TAKE TIME AND ARE DIFFICULT TO TIE/UNTIE WHEN WET. 
This unclaimed scarf and black snow pants stayed at school today.  They arrived to school on a kinder but did not go home on a kinder.  If they belong to your kinder, please let me know so that I can return them. Don't forget to….. LABEL YOUR KINDER'S SNOW PANTS. A lot of the kinders have black snow pants and they all look alike to the kinders and me! :). Thank you!
*BACKPACK SNACKS:  Don't forget to place two quick, healthy snack inside your kinders backpack.
*PE CARES FOOD DRIVE: ends on Nov. 15.  Your donations of canned or non-perishable food items can be brought into school anytime.   Thank you for your donations and thinking of those in need this season.  We have brought a lot of food so far. Thank you!  Thank you!
UPCOMING DATES
*Monday, Nov. 12–STEAM 
*Tuesday, Nov. 13–MUSIC
*Wednesday, Nov. 14–GYM;  Library  Many books have already been returned – due to the Fall Party and Book Fair, we have not checked out books in a few weeks.
*Thursday, Nov. 15--ART;  Last day to bring in PE CARES food donations.
*Friday, Nov. 16–STEAM;  Stone Soup Day!  Drained, chopped vegetables are due.  See note that will come home Monday.
*November 21-23—NO SCHOOL…Thanksgiving Break
*Dec 4-7—HOLIDAY GIFT SHOP: Details coming soon on our shopping day!
*Thursday, Dec 13–HOLIDAY MUSIC PROGRAM  Save the date—-Georgetown Holiday Music Program  More information to come!
~~~Have a great weekend!  Mrs. Bohl