An amazing week of learning and fun at school
POPCORN WORDS:   
They were 'popping' up all the time this week in our daily messages and in books. We learned that sometimes "E" is quiet and tells other hard worker letters (vowels) to do a flip and say their letter name. We saw this happening in "like" and "here"
COLOR WORD:     BROWN    The kinders had fun reading brown bear books like Bear's Loose Tooth, Bear feels scared Many of the kinders had connections to these stories.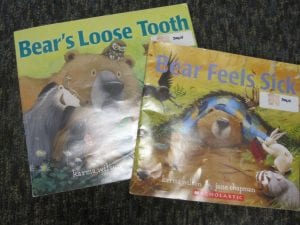 We also read Brown Bear, Brown Bear, What do you see? .  We continued to practice our storytelling skills as we retold (and sang) the story many times this week.  Enjoy having your kinder practice their skills at home when they retell the story for you using their storytelling strip.  We made a brown bear hat for our last color craft while wearing brown. Thank you for helping your kinder participate in our color days by wearing particular colors.  The kinders (and I) looked forward to these fun days. The kinders enjoyed eating teddy grahams for the surprise brown snack.
MATH:  This week the kinders found out that they can tell math stories and solve the answers to their math stories. For example:  3 teddy bears came and sat at a table.  2 more teddy bears joined them.  How many teddy bears are at the table?"  3+2=5  In addition, they practiced drawing pictures of math stories on super cool gel boards.  
READER'S WORKSHOP:  We continued to learn how to read storybooks.  We used The Three Billy Goats Gruff ,The Carrot Seed and favorite songs/poems to practice reading more and more words, using words like "and then…" "next…" and pointing to the words as we read.  They are doing a great job of looking at these books quietly during our readers' workshop time every day. Sitting back to back with their reading buddy and practicing private reading. Then sitting side by side with their partner to show details in their books.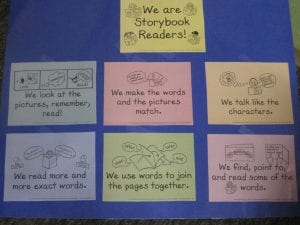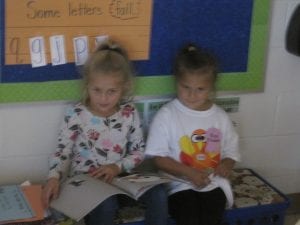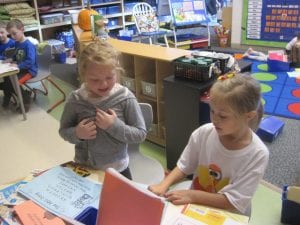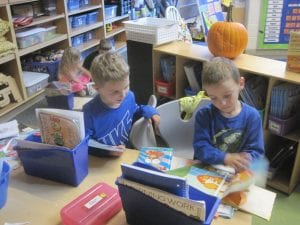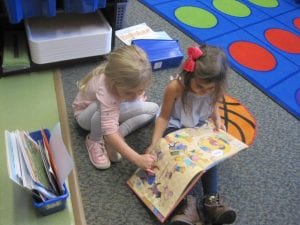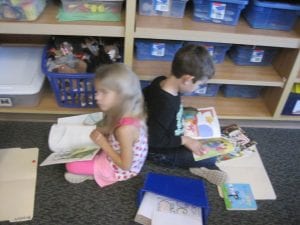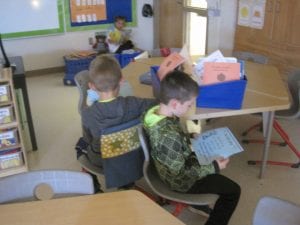 WRITER'S WORKSHOP:  We completed our Launching writing unit by drawing and writing about what costumes we like to wear, brown things, Pete the Cat and playing on a slide.  The kinders have made FABULOUS progress and are feeling excited to be writers.  I will share ALL of their writing pieces with you at parent teacher conferences.  You will be amazed! We will begin to learn how to write like a scientist next week.
SCIENCE:  We read our weekly newspaper to learn if squirrels take other squirrels' nuts.  Enjoy looking over the newspaper with your kinder to learn the answer.
HANDWRITING:  We learned how "clockwise letters" of h,r,n,m,b. Keep up practicing at home….it is helping!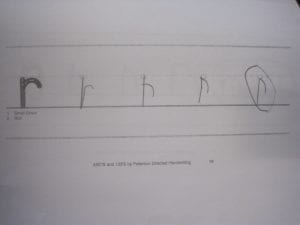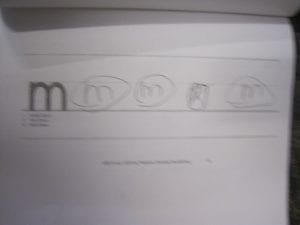 LITERACY: This week the kinders worked as a whole group to decorate paper bags to look like fall houses.  They used their rhyming and phonemic skills when they put various pictures in the house as they sang a fun song.  I hope that you will enjoy playing around with the fall house that your kinder took home.  They can practice identifying letter sounds and popcorn words at home too.  We also went on a letter hunt for Jj, popcorn words and rhyming words when reading a poem together.
MYSTERY READERS:  On Wednesday, Tinley sprang up to hug her mom and younger sister.  She and Tinley love to read books together, so she choose two of their favorites Fancy Nancy and Brown Bear, Brown Bear, What do you see?  It was really fun to read along with her mom for Brown Bear.
Rocco jumped up to welcome his mom into our room on Friday.  She knew that we like Little Blue Truck stories so she read Little Blue Truck's Halloween.  A fun story for fall time.  The book even had flaps on each page that exposed the mystery picture.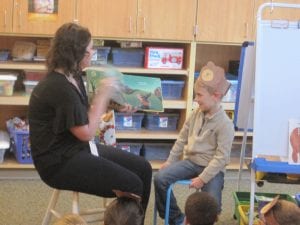 BUDDY TIME:  We ended our day on Friday with spending some time with our buddies.  The buddies and the kinders turned pumpkins into jack-o-lanterns.  It is always fun when we get together.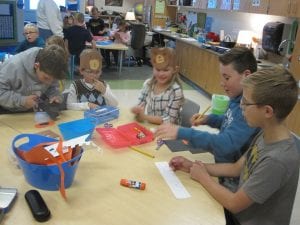 REMINDERS 
*CONFERENCES:  Conference dates and times have been sent home.  Conferences will be Monday, November 5 and Wednesday, November 7 after school.   I look forward to meeting with you and discussing your kinder's progress. I will give you their first report card during our meeting.  I am excited to be sharing their literacy, math, writing and social skills progress with you. I will try to keep each conference to 15 min. long so I stay on time for the evening. Please come with any questions and arrive on time to my classroom. I ask that if your kinder does attend that they wait in the hallway while we have our conference in the classroom. Thank you! 🙂
*KOOL KINDER:  Please continue to review with your kinder about the information that they will be sharing. They are doing a nice job!
*OUTSIDE CLOTHES: We enjoyed playing outside this week.  Unfortunately the weather is turning colder.  When that happens please dress your child in warm outside clothes…warm coat, hat/headband, mittens/gloves.  We go outside to play in the morning, lunch recess and at the end of the day.  Looking ahead….If your child has outgrown their winter boots, PLEASE CONSIDER PURCHASING BOOTS THAT FASTEN WITH VELCRO CLOSINGS!!!  LACES TAKE TIME AND ARE DIFFICULT TO TIE/UNTIE WHEN WET.  Thank you!
UPCOMING DATES
*Monday, Oct 29—ART
*Tuesday, Oct 30—STEAM
*Wednesday, Oct 31—MUSIC;  NO LIBRARY due to party activities (enjoy your kinder's book for another week);  Fall Party and Parade 10:15-11:30am.  
*Thursday, Nov 1—GYM;  Sack lunch orders (by note in kinder's folder or email) due for tomorrow's Fast Friday
*Friday, Nov 2—GYM;  FAST FRIDAY Dismissal at 12:15pm
*Monday, Nov. 5—BOOK FAIR BEGINS…Preview books at the Book Fair; Parent Teacher Conferences
*Wednesday, Nov. 7— Book Fair:  We are scheduled to purchase books on Wednesday, Nov 7 from 2:00-2:30pm.  Please send your kinder's money in an envelope labeled with YOUR KINDER'S NAME and BOOK FAIR if you wish them to purchase books. The book fair will also be open during conference times. This is optional.  The proceeds go towards purchasing books for use in school. Thank you!  Parent Teacher Conferences
*November 21-23—NO SCHOOL…Thanksgiving Break
~~~Have a great weekend!  Mrs. Bohl