The weather is changing from summer to autumn, from warm to cooler days, from sunny to cloudy and rainy.  Thank you for sending your kinder in layers.  We go outside to play in the morning, at noon and in the afternoon. We love our playground! 🙂
Here is what your kinder did at school this week
POPCORN WORDS:     ME    BE    WE    WILL        The kinders were excited to see that our popcorn words rhymed (at least 3 of them).  We found these words inside our daily message, we unscrambled the letters to spell them correctly and found them in books.
COLOR WORDS: BLACK    WHITE       We read Harry the Dirty Dog, Harry and the Neighbor, Harry goes to the sea, Please, Mr. Panda and Thank you Mr. Panda as our color theme books.  We also watched a non-fiction video about panda bears. We all agreed they are cute black and white bears so it was obvious that we needed to make panda bears.  It was fun to use a fork as our paint brush.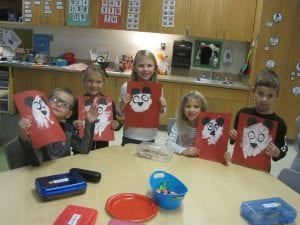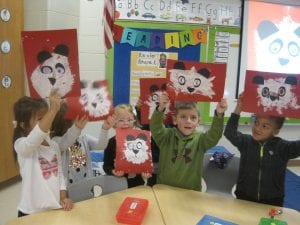 Our newspaper this week was all about spiders so we just had to read The Very Busy Spider by Eric Carle.  We were surprised to learn that half of the us LIKE spiders and half of us DO NOT LIKE spiders.  It's always good to include some math into our learning!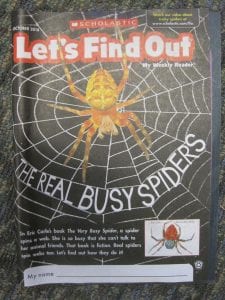 Thanks for participating by wearing black and white! 🙂 Our surprise black & white snack this week was OREO cookies.  Not very healthy, I know but very tasty.  
 MATH:  We continued to practice writing our numbers, especially 1-5 and identifying groups of numbers 1-5. This coming Tuesday, Oct. 16 we will be "office workers" as we take our very first math unit test.  The children will be assessed on number writing 1-5, identifying and drawing groups of numbers 1-5, identifying shapes and completing dot to dot pictures.  I know that they will do a fabulous job!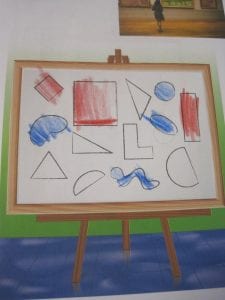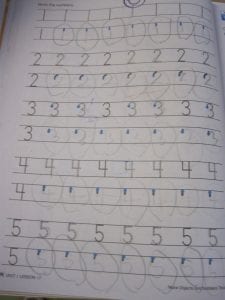 WRITER'S WORKSHOP:  Sharing stories and writing was all about our time in our special classes….music, gym, art, STEAM.  I am amazed at the details the kinders are including in their drawings, with many kinders adding labels. We are working hard to stretch out sounds as we trace the words in the sentence that tells about the picture.
READER'S WORKSHOP: We are enjoying reading/looking at the books in our book boxes. Each kinder received a READING MAT.  They stack their books and put them on the green dot side and beginning reading. When they are done with a book, it moves to the red dot side.  When all of the books are on the red dot side, the kinders can read them back to the green side. We practiced getting right to work during our private read time. The kinders also worked hard on staying quiet the whole time, reading the whole time, and staying in one spot the whole time during this private read time.  After private read time, the kinders LOVE picking a favorite part in a book and sharing with a partner.  Mini lessons taught the kinders that there are 3 Ways to Read a Book. We are doing an awesome job!  WE ARE BECOMING READERS!
CHOICES:  It is one of our favorite times of our day.  The kinders enjoyed creating structures out of big and small Legos, putting puzzles together, building with wood blocks, drawing and writing on white boards, exploring with playdough and more.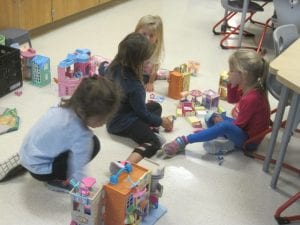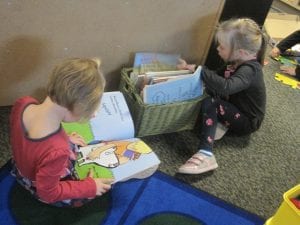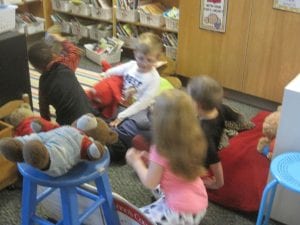 LITERACY: This week the kinders worked in groups with either Mrs. Rossback or myself to strengthen their literacy skills such as letter ID, letter sounds, rhyming and hearing syllables in words. As the year progresses, the kinders will continue to work in small groups, as a whole group and independently with specific literacy skills such as listed above as well as  popcorn/sight word practice and beginner reader skills. In addition, we read our Hh poem together, hunting for capital and lower case letter Hh, rhyming words and even popcorn words.  Ask your kinder to read and explain their Hh poem paper to you.
HANDWRITING:  We started working on the "counter clockwise" lower case letters of f,c,a,d.  More "counter clockwise" letters next week.  You can help at home by encouraging your kinder to write their letters with proper formation.  Using various writing tools like markers, watercolors, chalk or even pudding wax paper makes practice very fun.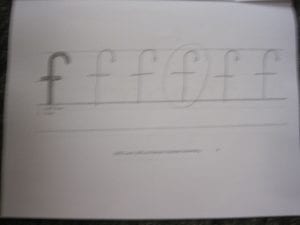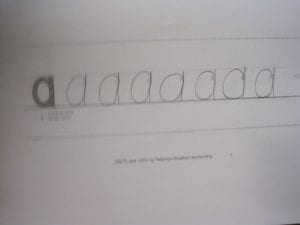 MYSTERY READER:  Lillian was the one who was surprised this week.  Her mom came in to read Hedgehugs Autumn Hide and Seek.  A sweet book about making new friends.  Thank you so much for taking the time to read a story to us.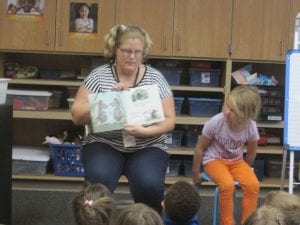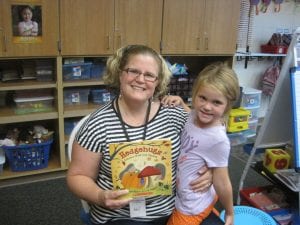 REMINDERS  
*HEADPHONES FOR STEAM CLASS:  Mrs. Totten is asking the each kinder bring in a pair of headphones to use during class when they are working on the computer.  The headphones do not need to be fancy, but easy to put on and labeled with your kinder's name.  We will keep these headphones at school until the end of the year.  Please try to have them to school by the first of November.  Thank you!
*TWO BACKPACK SNACKS AND WATER BOTTLES: Thank you for sending 2 healthy snacks each day and water bottles.  I do have graham crackers available if you forget. 🙂
*MYSTERY GUEST READERS:  There are many dates available to be a Mystery Guest Reader. Please go to the side bar under VOLUNTEER OPPORTUNITIES and click on "Mystery Guest Reader" to sign up.  Please do not let the date or time hinder you from volunteering, we can alter that if needed.
*NOVEMBER PARENT TEACHER CONFERENCES:  Please complete this survey as soon as possible.  SURVEY CLOSES OCTOBER 19 at 11:59pm.  This will help us schedule your kinder's conference. 
*WARM SWEATSHIRTS OR COATS:  Please continue to send your kinder to school based on the weather. The mornings and days are becoming cooler, but we still go outside to play.
   HAPPY BIRTHDAY TO EMMA. She turned 6 on Wednesday. Thank you for the birthday treat bags!  
UPCOMING DATES
*Monday, Oct. 15—MUSIC; KOOL KINDER-Breslyn
*Tuesday, Oct.16––GYM;
*Wednesday, Oct. 17—ART;  LIBRARY BOOKS due
*Thursday, Oct. 18––STEAM;  
*Friday, Oct. 19—MUSIC;  COLOR DAY: Wear ORANGE
*Tuesday, Oct. 23—Turkey Trot  Go to the PE blog on our side bar for more information
*Tuesday, Oct. 30—School Picture Retake Day Please return the original picture package during retakes. Absent students pictures will be taken at this time.
*Wednesday, Oct 31—FALL PARTY AND PARADE— The kindergarten parade will begin at 10:15am. Our classroom party will follow. NOTE THE TIME CHANGE!!  Fun activities are being planned. Your kinder is welcome to wear the basics of their costume to school and/or the under layers.  We will then add the accessories and the outer layer of costumes before the parade. Otherwise they can bring their costume to school in a labeled bag.  They will be putting on their costumes OVER their school clothes prior to the parade. WE WILL NOT TAKE TIME TO REMOVE CLOTHES AND PUT ON OTHER CLOTHES.  If your kinder's costume is regular clothes (farmer, cheerleader,etc ) they are welcome to wear them all day if it will not hinder their movement and learning.  PLEASE DO NOT INCLUDE WEAPONS OF ANY KIND OR SCARY, GORY MAKEUP/MASKS.  Please be respectful of others. 
~~Have a great weekend,  Mrs. Bohl