Fabulous fall is here!  The weather this week has been fall like….cool mornings and some warm up during a few of the days. Thank you for sending a coat/sweatshirt along with your kinder each morning.  
Here is a peek of what your kinder did at school this week
POPCORN WORDS:         DO   TO   YOU      While stretching out the sounds in our popcorn words, we noticed that letter O can sound like /oo/ while containing either one O or OU. We could also hear that they rhyme.
COLOR WORD:    PURPLE     Harold and the Purple Crayon was just one of many puprle themed books we read.  It was a great book to inspire imagination.  The kinders used their imagination to draw their own purple crayon adventures.  We LOVED hearing an old favorite song of Mrs. Bohl, the song "One Eyed, One Horned Flying Purple People Eater".  They really enjoyed making their own one eyed, one horned flying purple people eater monsters.  Here is the link to the "Purple People Eater" video we watched. They are decorating our room for a bit Once again, it was fun looking at the way the kinders chose to wear this week's color purple.  We have 3 more colors to learn.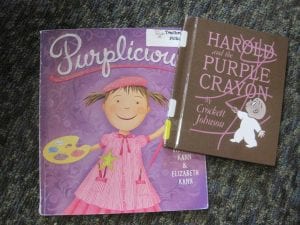 HANDWRITING:  We started learning the proper formation of lower case letters.  This week it was the "straight line" letters of l,t,i.  These booklets were sent home.  Please refer to this booklet as your kinder continues to practice writing at home.  They are doing great but some upcoming letters are more difficult than others to form properly, so extra practice is always beneficial.  Writing with markers, chalk, bathroom crayons and even in shaving cream are some fun different ways to inspire your kinder.  
READER'S WORKSHOP: The kinders are learning to love books. The kinders practiced how to "lean and tell" and "turn and talk" during this time too. The kinders found out that every book includes the same parts…..front and back of book, title, author & illustrator names, title page, pictures and words. This week they selected "good fit" books to keep inside their own blue baskets.  A "good fit" book is a book that sparks their interests or books that are familiar to them personally.  We read quietly for 4 whole minutes and they wanted to read longer.  We have a room full of beginner readers!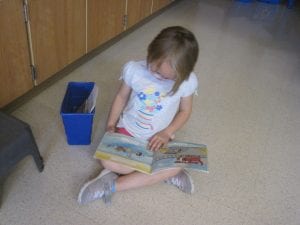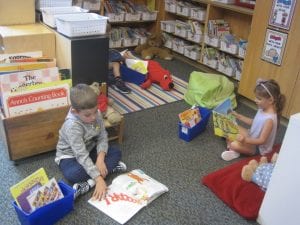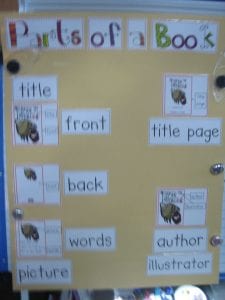 MATH:   We also continued to practice writing our numbers, especially 1-4, identifying groups of numbers 1-4 and practiced telling addition and subtraction stories. Friday math games (for the most part) related to fire safety, by playing RACE TO THE FIRE (number writing 1-6), PUT OUT THE FIRE (1 to 1 correspondence, counting and number identification), ROLL AND COVER (number identification) and explored making patterns with lacing beads.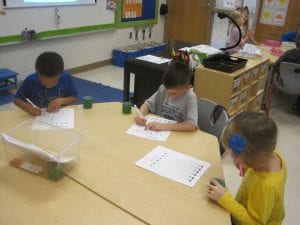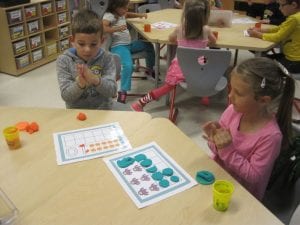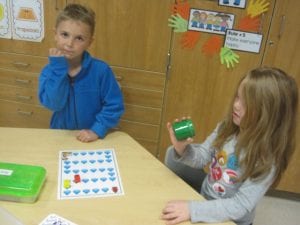 LITERACY: We started diving into the structure and function of letters.! We learned about the three different handwriting lines and how some letters are small, some are tall, and some fall below the lines. We also distinguished between letters / numbers and letters / words / sentences.  We incorporated this learning into our handwriting time too.  Learning to identifying our alphabet letters and practicing the sounds these letters make has been our focus.
WRITING WORKSHOP:   We focused on continuing to draw events that we experienced. We worked on adding as many details as possible to our pictures to tell where we were and who we were with. We also focused on the importance of labels. Our topics this week included: math time, time spent with our buddies, the firefighters' visit and wearing purple.  We will explore more story writing next week by continuing to work on sounds as we attempt to write a sentence that matches our picture.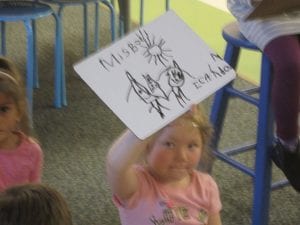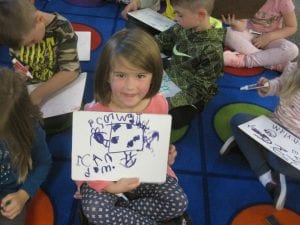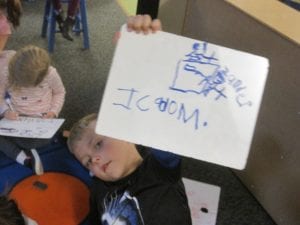 MYSTERY READERS:  Jase and Colton were SO surprise to see their babysitter, Phyllis walk into the room with their younger sister, Chloe.  She read a favorite book of theirs called Aliens in Underpants Save the World.  What a fun, silly, giggly book.  
Jacob jumped up and said "Mom" when she came in.  It was so fun to see his mom and younger brother, Austin again. They came and read a book last week too.  This time we heard We're going on a bear hunt!.  A great story with rhythm and rhyme.
WALK-A-THON:  We were unable to walk outside due to the rain so we did what we are learning to do as kinders…..we problem solved.  We met Mrs. Elders in the multi-purpose room.  She put on some 80's music and led us in zumba dance.  What fun!  We also did some dancing and moving in our room throughout the morning.  Thank you for ALL of your donations and support of our school.  WE DO APPRECIATE IT!  Remember…donations are due Monday, Oct 8.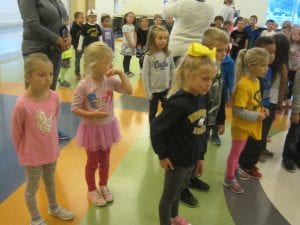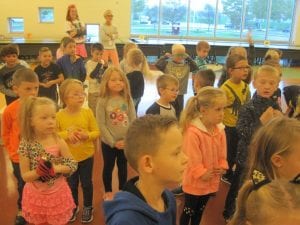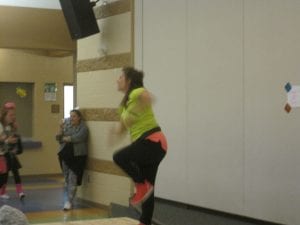 REMINDERS
*BACKPACK SNACKS AND WATER BOTTLES: Thank you for sending healthy backpack snacks each day and water bottles. 
*BOX TOPS:   Make sure you are collecting your Box Tops and  attaching them to the paper sent home.  When the paper is full, complete the information and send it back to school. Thank you!
*FAST FRIDAY (Early Release): If your kinder would like to order a sack lunch on Fast Friday (early release) Oct 12, please either send a note inside your kinder's folder OR send me an email by Thursday, Oct. 11.
UPCOMING DATES
*Monday, Oct. 8—MUSIC; KOOL KINDER-Rocco
*Tuesday, Oct. 9––GYM; KOOL KINDER-Tinley
*Wednesday, Oct. 10—ART; LIBRARY BOOKS due; KOOL KINDER-Adelyne; Celebrate Emma's birthday
*Thursday, Oct. 11––STEAM; KOOL KINDER-Olivia;  Sack lunch orders due for tomorrow's Fast Friday
*Friday, Oct. 12—STEAM; FAST FRIDAY  Dismissal at 12:15; COLOR DAY: Wear BLACK and WHITE;  
*Tuesday, Oct. 23—Turkey Trot  Go to the PE blog on our side bar for more information
*Thursday, Oct. 30—School Picture Retake Day
*Wednesday, Oct 31—FALL PARTY AND PARADE  We will be having our first class party on Oct 31. The parade of costumes will be at 2:00pm with our party following.  It will be a center rotation style with the kinders playing games and making a craft, ending with a party snack.  Planning is done.  Go to this link to sign up to volunteer.  Donations are filled. Please let me know if you have any questions about this fun day.
~~Have a great weekend.  Mrs. Bohl