Fall weather has arrived…at least for this week.  Thank you for sending your kinder in appropriate clothing AND for labeling their outer wear.
Here is a peek of what your kinder did at school this week.
COLOR WORD:    GREEN        We enjoyed reading Little Blue and Little Yellow, a sweet story about friendship and differences.  The kinders found out for themselves what happens when you mix yellow and blue.  It makes GREEN! Check out the play dough that came home today.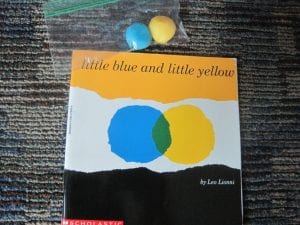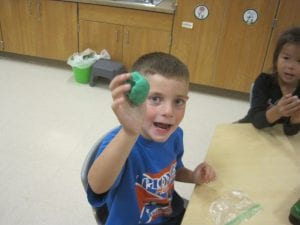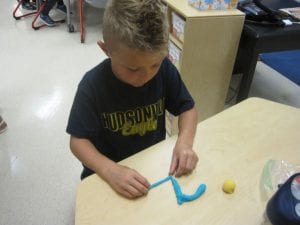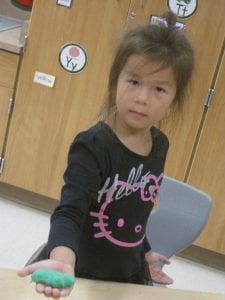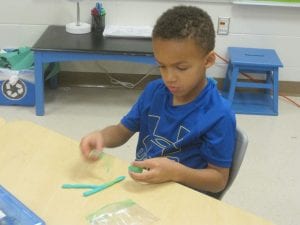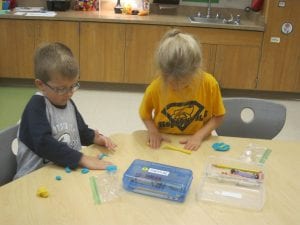 We also read many Froggy books by Jonathan London, enjoyed many giggles and made a lot of connections. We even read a non-fiction about frogs.  Making a green Froggy was fun too! Ribbit!  Ribbit! 🙂 . The surprise green snack was…..green grapes!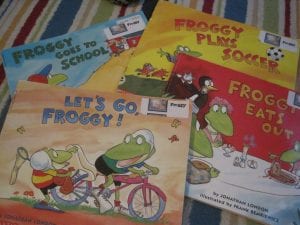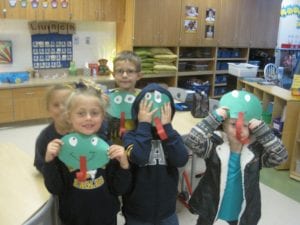 Of course, wearing GREEN was a great way celebrate.
POPCORN WORDS:       IS   HIS   THIS              The kinders found out that when you add a letter (or two) at the beginning of "is" you can create new words.  Noticing that these words rhyme was pretty cool too! 🙂
MATH:  Daily we wake up our Math brains by checking out our 100 chart.  Counting and pointing to the numbers helps our brains remember the numbers.  Please practice this important skill at home too. The kinders continued to learned that they can write numbers, count objects, identify and sort shapes (circles, and not circles), draw groups of items and use mini tiles and their fingers to show a group of 5 and extra ones to make larger numbers.  Ex: 5 and 1 more make 6.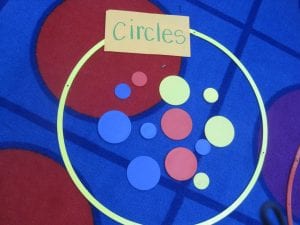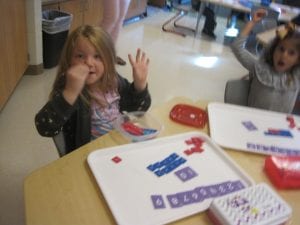 WRITER'S WORKSHOP:  We worked together to make drawings and to try to write words and even sentences.  Sometimes we worked on whiteboards and other times we used paper and pencils.  We wrote about hanging up our backpacks, lining up in number order, our family and snack time.  We have awesome kinders who are working hard to draw detailed pictures!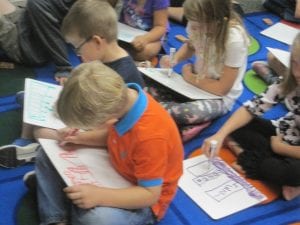 HANDWRITING:  We practiced writing numbers 8, 9 & 10 using mini chalkboards, whiteboards and in our handwriting books. They are doing great but some numbers are more difficult than others to form properly, so any extra practice at home would be appreciated. Please refer to the number writing books that arrived home this week. We are also working hard to improve on writing our names correctly and neatly.  Remember to encourage your kinder to write ONLY the first letter capital and the following letters lower case.
READER'S WORKSHOP:  The kinders learned that we want to be a Book Lover and NOT a Book Bully.  Book Lovers choose books carefully, turn each page, read every page in order, treat books with care. We also learned what it looks like to have Reader Respect.  That means we read quietly, stay in one spot, read the whole time and get started right away.  The kinders are so excited when they notice popcorn words in books.  We are becoming great readers!
SHARED READING:  All week we read our Ff poem together, hunting for capital and lower case letter Ff, rhyming words and even popcorn words.  Ask your kinder to explain their Ff poem paper to you.  (Apologies for the blurry picture)
MYSTERY READERS: We had 2 mystery readers!  How exciting!  On Wednesday afternoon, Jacob was surprised to see his mom and younger brother, Austin walk into the room.  It was fun to hear Put me in the zoo, especially because it included a lot of color and rhyming words. 
Friday morning it was Emma's turn to be surprised.  Her mom and younger brother, Flynn read us 2 books. Chicka Chicka Boom Boom because we are learning about the alphabet and I like myself! because we are all special.  
Thank you to everyone for taking a break out of your day to come and read us a story.  If you are interested in being a Mystery Guest Reader, there is a link on the side bar under VOLUNTEER OPPORTUNITIES that will allowed you to sign up on our calendar.
HUDSONVILLE SPIRIT:  Dressing in Hudsonville gear of blue and gold was so fun on Friday.  We were treated to some football players, cheerleaders, pep band members and the Eagle to bring football spirit to Georgetown.  Go Eagles!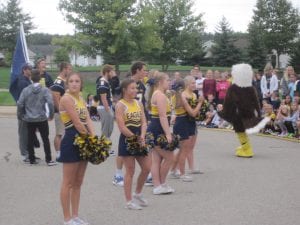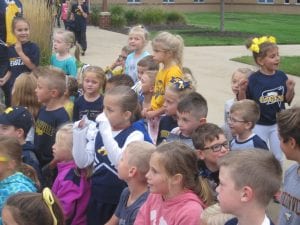 BUDDY TIME:  Our 5th grade buddies came and helped us make eagle puppets.  It was fun to spend some time together.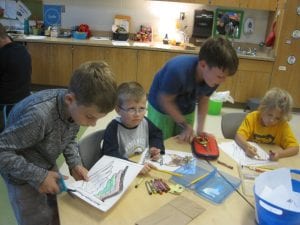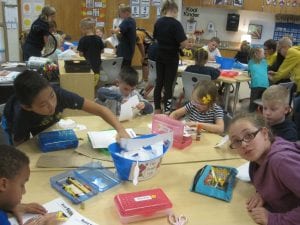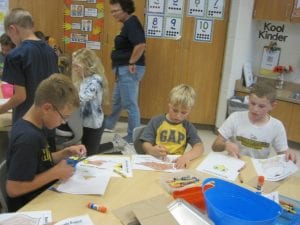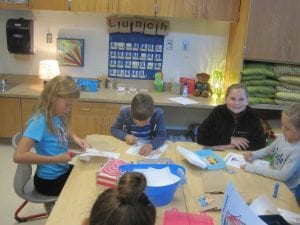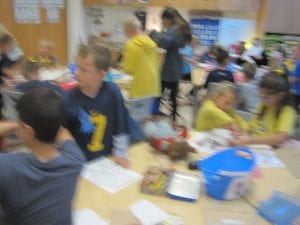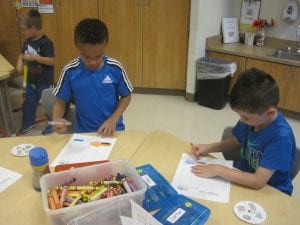 REMINDERS
*BACKPACK SNACKS AND WATER BOTTLES:  Don't forget to pack TWO quick, healthy snacks.  Your child needs to be refueled each morning and afternoon.  🙂  Thank you so much for keeping the snacks NUT FREE!  Please send your kinder with a water bottle with a snap spout so that they can stay hydrated throughout the day.  We take frequent water breaks.
*LIBRARY BOOKS:  Please return your kinder's book when you are finished reading it.  We have a basket in our room to collect the books as they are returned.  Remember that your kinder will be able to check out another book ONLY after the prior one is returned.  We have library EACH WEDNESDAY.
*CALENDARS: Click on this link or go to the side bar Hot Lunch–Food Service to view the October lunch menu.  Be sure to read the October calendar  inside your kinder's folder or you can find it under CALENDARS on the side bar to learn about special events, birthdays, specials, etc.
UPCOMING DATES
*Monday, Oct 1—STEAM, KOOL KINDER: Addison
*Tuesday, Oct 2—GYM;  KOOL KINDER: Alesha
*Wednesday, Oct 3—MUSIC;   LIBRARY;  Firefighters visit to teach us about fire prevention;  KOOL KINDER: Sidney
*Thursday, Oct 4–ART;  KOOL KINDER: Lillian; COLOR DAY….Wear PURPLE (note change of date due to Walk-a-thon)
 *Friday, Oct 5—STEAM;  KOOL KINDER: Lila;  Walk-a-thon…You are more than welcome to come walk the track with us from 9:45-10:30am! Our theme this year is "Lovin' the 80's". Dress like it was in the 80's or in Hudsonville blue or gold.  Please consider donating as this is Georgetown's ONLY fundraiser.  Thank you for your support!!  Click on this link for more information.
*Friday, Oct 12—Fast Friday (Early Release Day….Dismissal at 12:15pm).
*Tuesday, Oct. 23—Turkey Trot  Go to the PE blog on our side bar for more information
*Tuesday, Oct. 30—School Picture Retake Day
*Wednesday, Oct 31—FALL PARTY AND PARADE:  We will be having our first class party on Wednesday, Oct 31. An email will be sent to parents who showed an interest (on the kindergarten survey) in assisting with planning this party.  Thank you for your willings to make our first party a success.  Please let me know if you have any questions about this fun day.
~~~~Have a great weekend.  Mrs. Bohl