Here is a peek at what your kinder did at school this week:
POPCORN WORDS:      I       SEE                                                                                        The kinders searched for the popcorn words in books and in a poem.  They were so excited to be readers of these words.   
COLOR WORD:         YELLOW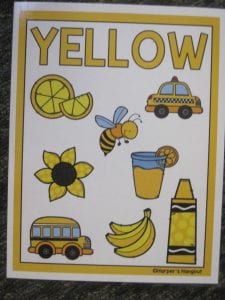 We learned another song to sing to help us spell yellow.  We read many books with yellow characters such as Pete the Cat…The Wheels on the Bus , The Seals on the Bus and Curious George books. We learned about different things that are yellow, practiced writing the word, made a yellow book and made a yellow craft. We had a lot of fun making a bus craft to end our week of yellow!  Stop by and see them decorating the back of our classroom.  The kinders were happy to hear that I had another surprise color snack for them….yellow bananas this week.  Yummy!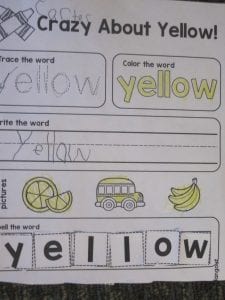 .       
SHARED READING:  We have been practicing our reading skills by doing shared reading each day. Shared reading is a time when the kinders and I all read a poem or story together at the same time. This helps build fluency and some important concepts of reading for our little ones! This week, we read poems about the letter Cc , the letter Dd and the popcorn words I & see. We were detectives when we searched for those letters/words in our shared reading poems!  It was fun to hear how the some of the words in the poems rhyme!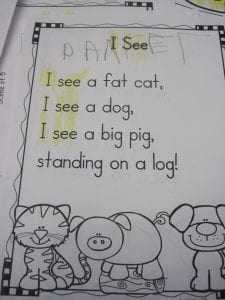 STAYING SAFE AT SCHOOL AND ON THE BUS:  This week was filled with learning some of our school's safety drills.  The kinders practiced exiting the school and learning where our meeting spot is located during a fire drill.  They also practiced sitting criss cross applesauce with their hands on their head in a safe room within school during a tornado drill.  In case it was unsafe to be in the hallways, we practiced how to sit quietly in a safe place inside our locked room. Oh my!!  The kinders did an AMAZING  job during ALL of these practice drills! I was so proud of them!  We are learning that "we don't need to be scared, we need to be prepared". Do you practice your safety drills at home?
We had a visit from Mrs. DeZeeuw and Mrs. Reeves, who are "real" bus drivers. They shared bus safety tips with us. For example: No eating on the bus, keep our feet/legs out of the isle, use quiet voices.  We learned the " 4B rules". for sitting safely on the bus….back to back and bottom to bottom and more. We really enjoyed watching an old favorite video of Mrs. Bohl's to review the bus safety rules.  Here is the link if you want to watch it too.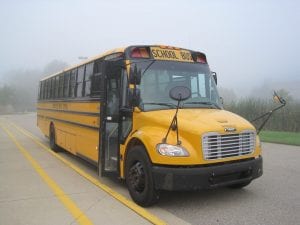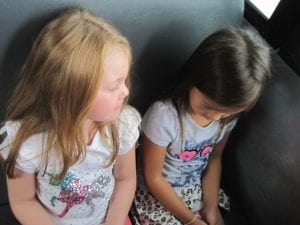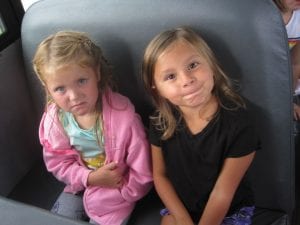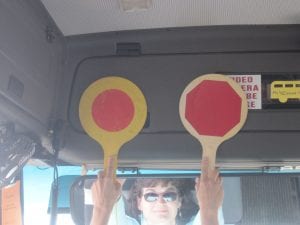 COOL TOOLS:  We finished learning about the last two cool tools and then read two more books to help us know how we can further use our cool tools. 
  We read Hurty Feelings and learned that the tone of your voice and how we say words is very important.  The microphone helps us remember this. 
   We read Mine-a-saurs and learned that we can tell a friend to STOP in a kind way by saying "It bugs me when ______, I wish that you would stop."  A ladybug and a wishing wand helps us remember this.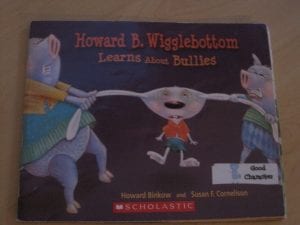 We read Howard B. Wigglebotttoms learns about bullies and learned about what bullying is.  The kinders were reminded about how important and useful it is to use our cool tools. We talked about how we need to care of our friends and stand up for them when someone teases them.  We are a class family….inside our room and on the playground.  We have very caring kinders.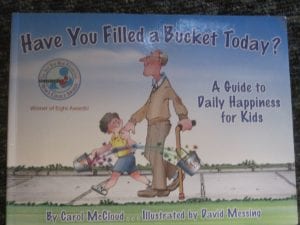 We read Have you filled a Bucket today? and learned that we all have invisible buckets.  We can be bucket fillers by saying kind words, helping others without being asked, walking quietly in hallway, etc OR we can be bucket dippers by using mean words, not doing your best, etc. We will be learning more about how we can fill our buckets next week.
WRITER'S WORKSHOP:  The kinders found out that writers draw pictures and do their best to label their drawings in addition to telling stories about what they know. We enjoyed singing "Mat Man", a song that helps us learn our body parts. click on this link if you want to watch it again. The kinders had fun labeling me.  Yes, they actually stuck sticky notes onto my leg, foot, hand, arm, mouth, eye, tummy and hair.  Lots of giggles and smiles, for sure. 🙂
The kinders then drew a picture of a person and we labeled the hair, tummy and leg.  We also drew and labeled drawings of riding the bus, being ready to learn on the rug and eating at our lunch table.
READER'S WORKSHOP: The kinders learned what jobs the teacher and kinders do during Reader's Workshop time.
They learned that we can read print anywhere…not just in books.  They walked around the room reading print in classroom.  It was so exciting to hear them say "We are readers!"  "I can read that!"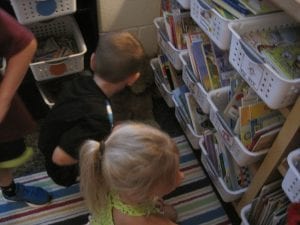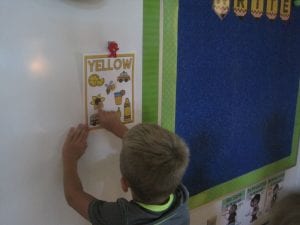 MATH:  We read Anno's Counting again to help us better understand "number scenes," which are pictures that have a specific number of objects (3 buildings, 3 people, 3 birds, 3 bridges, etc.)  before we drew our own scenes of 2,3,4 & 5.
We also used foam tiles to represent different numbers (1-5). The kinders practiced writing numbers 4  & 5 on chalkboards, whiteboards and in their number books.
CHOICES:  During this time of our day, the kinders are able to choose various activities to play with.  Some of their choices are: legos, kitchen area, coloring, playdough, wooden blocks, play town, etc.  The kinders LOVE choices!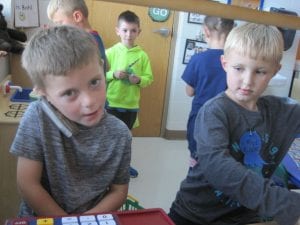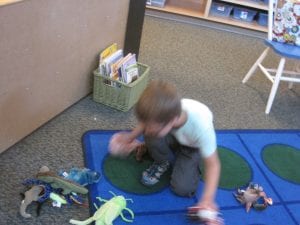 REMINDERS:
*OUTDOOR CLOTHING….Please continue to send a coat or sweatshirt with your child.  The weather can quickly change so it is good to be prepared.
*BACKPACK SNACK…THANK YOU SO MUCH for being conscientious about sending TWO healthy, NUT FREE snacks.
*GYM DAYS..Please consider having your kinder keep a pair of socks either in their cubby or backpack to wear during gym days.  On these warm days, many kinders do not like to wear their gym shoes without socks when they come to school wear sandals or flip flops.
*MYSTERY READER…Would you like to be a mystery reader in our classroom this year? Follow this link to sign up to surprise your kinder.
UPCOMING DATES:
*Monday, Sept. 17–GYM;    Kool Kinder: Elliot
*Tuesday, Sept 18—ART;     Kool Kinder: Alivia
*Wednesday, Sept 19—STEAM; Library….Don't forget to return your kinder's library book;  Kool Kinder:  Zander
*Thursday Sept 20—MUSIC;   Kool Kinder: Colton
*Friday, Sept 21—GYM;  COLOR DAY…Wear BLUE!    Kool Kinder: Amelia  
*Thursday, Sept. 27—School Pictures….ordering information will be sent home soon.  
~~~Have a great weekend.  If you have any questions or concerns, please contact me at kbohl@hpseagles.net  YOUR KINDER IS SPECIAL TO ME! 🙂   Mrs. Bohl