COUNTDOWN TO SUMMER:  We hardly start our day and the kinders ask "When can we open the envelope?" This week's envelopes held:
We read stories about watermelons, we sang "Down by the Bay" and created a new rhymes for the song, we made watermelons and ate watermelon.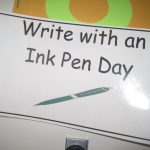 Cheers rang throughout the classroom when the kinders found out that they would be able to write with an ink pen ALL DAY!  We had fun finding a friend who liked different things, such as; cookies, football, ice cream, reading a book, etc and then having them sign their name.  Learning that they were able to take them home, earned another round of cheers! 🙂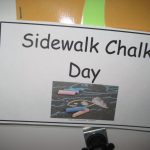 It was fun to use our mini chalkboards again.  The kinders had to solve addition and subtraction problems by writing the answer on their chalkboards.  They did fantastic!  In the afternoon, we took chalk outside to decorate our playground with some pretty cool pictures.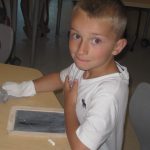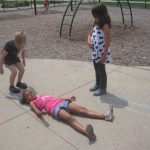 WRITER'S WORKSHOP:  The kinders learned what a bucket list is and have been excited to create their own summer bucket lists.  They have written a list of THINGS TO DO AND FOODS TO EAT.  They will be writing  more topics next week.  Get ready to read what they have on their "bucket list" next week.  Some of the lists are quite long.  I think that you will stay busy this summer. 🙂
MATH:  The kinders have been working on learning what makes a number be called odd or even.  We used EVEN STEVEN and ODD TODD to help us understand this math concept better. ( I would love to take credit for this fun game but alas it came from this fabulous website called First Grade Parade.)  This is what we did….
First, I told the story that Even Steven LOVES things to be fair among his friends.  Everyone always needs to have the same amount.  It is all about being fair! 🙂  However, Odd Todd does not care if friends get a different amount.  It fact, he LIKES that! 🙂  Next,  a kinder chose a number between 1-20 and counted out that many "crackers" (mini unifix cubes) to a plate.  Then we decided who would get the "crackers"…EVEN STEVEN or ODD TODD. Then, the kinder placed the "crackers" one at a time onto each hand, counting each one,  until the plate was empty.  This was a great way for the kinders to visually see if  the "crackers" were equal or not equal.  Finally we decided if we were correct in our choice.  Were the "crackers" divided fairly in each of EVEN STEVEN'S hands or was there a different amount in each hand that ODD TODD would like?
Another day we practiced identifying even and odd numbers by completing a fun math worksheet.  I hope that you asked them to explain what they did to you.  We remember we learn better when we become the teachers and need to explain what we did.  🙂
READING VISITORS:  Mrs. Burdis' 3rd grade class is having fun counting down to summer too.  It was "read with a friend" day for them on Tuesday, so they asked to come and read books with us.  Thank you for stopping by.  We had fun!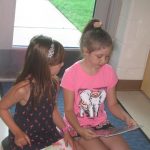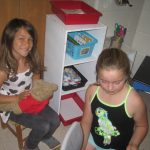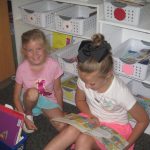 Happy Birthday celebrations for….
 Thank you Alex for the birthday rice krispy treat.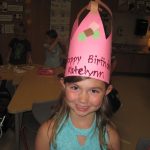 Thank you Katelynn for the tic tac toe game.
 Thank you Jonathan for the pencil and starbursts.
UPCOMING DATES
*MONDAY, JUNE 4:   GYM;  Countdown to Summer Day 5
*TUESDAY, JUNE 5:  MUSIC;  Countdown to Summer Day 4
*WEDNESDAY, JUNE 6:  ART; Countdown to Summer Day 3
*THURSDAY, JUNE 7:  STEAM; Countdown to Summer Day 2;   EMAIL ME OR SEND A NOTE BY THURSDAY (6/7) IF YOUR KINDER WOULD LIKE A SACK LUNCH.
*FRIDAY, JUNE 8: STEAM;  Countdown to Summer Day 1; Last Day of School.  Fast Friday (Early Release Dismiss at 12:15)
~~~Have a great weekend.  Mrs. Bohl