This is a long posting so please read to the end.  We were busy this week!
OUR AMERICAN SYMBOLS:  Hooray for the U.S.A! This week the kinders began to learn about some of our most popular American symbols. Reading a Let's Find Out newspaper about American Symbols was informative too.
First, we learned what a symbol is (it is a picture that stands for something). Next, we practiced identifying some common symbols for popular spots such as Dairy Queen, Target, Jet's Pizza, etc.
The Statue of Liberty and The White House were the first two symbols studied.  After reading non-fiction books and watching an informational video about each symbol, the kinders did some informational writing by choosing 3 facts to write on their paper. It was fun to make a craft relating to the symbols too.
Some fun facts we learned about the Statue of Liberty were it was a gift from France, it is made from copper, she is called "The Lady of Liberty", she holds a torch in one hand and a table in the other.  We did an experiment to see if we could turn copper pennies green like the Statue of Liberty did.  We put pennies in a bowl of vinegar and salt for 10 minutes then took them out to dry.  Can you see the green on them?  How cool!
We are keeping all of our work inside our American Symbols story pockets. The story pockets will come home next week after we learn about more American symbols.  
WRITER'S WORKSHOP: The kinders wrote their opinion about which sport they like to play (football, basketball, baseball, soccer), what kind of pet they would like (dog, cat, hamster, fish, lizzard), and stating why Georgetown is awesome.  The kinders always enjoy sharing their writings with their friends too.
At the end of the week, they wrote their ON DEMAND on the topic of their favorite restaurant. This is when they do all of their writing independently, without teacher assistance. The kinders did an AMAZING JOB!  I am so very proud of them. I am in the process of grading them and will send home the writings home soon.
We were invited to Mrs. VanKovering's first grade to listen to her students read their realistic fiction narrative writing pieces.  It was good for the kinders to see what they will be writing next year.  Thank you for inviting us.  We really enjoyed coming!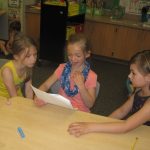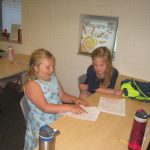 MATH:  After reviewing various math skills, the kinders used their individual office spaces to take their last math test, Unit #5.  They are becoming very good mathematicians solving addition and subtraction problems, comparing items using terms longer, shorter, taller and showing teen numbers as tens and extra ones.  What a good job they have done!!! 🙂  Their tests will be coming home soon.
READER'S WORKSHOP:  We are Readers and we LOVE to read.  We are working on staying focused on reading for 18-20 minutes.  What an accomplishment as the kinders move into first grade.  Friday was "the best" according to the kinders as they eagerly read with their flashlights and tried to spotlight popcorn words.  Thank you for helping to supply your kinder with a flashlight.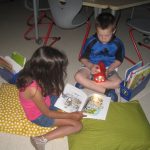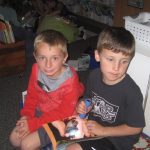 MYSTERY GUEST READER:  It was Dominic's turn jump up and cry "Dad" as our mystery guest reader walked into our room.  He brought the book The Legend of Jake, the Salty Dog because Hilton Head a favorite vacation spot for their family.  Thank you so much for stopping by today.  We love your visits.
OUR 5TH GRADE BUDDIES:  In preparation for our buddies going on their "sleep over field trip" (actual term is 5th grade camp), the kinders made them a card.  They also gave them a fun bag filled with a mini game booklet and a package of starbursts because "we hope they had "bursts" of fun at camp."  Another way to spread random acts of kindness.  Our buddies were surprised!  Yeah!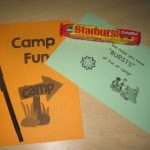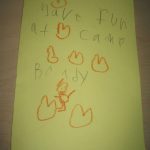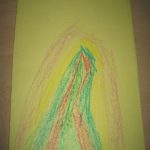 POPCORN WORDS:          TODAY    PLAY     AWAY      UP                                                  Thank you so much for working with your kinder to learn their sight words.  They know soooo many words!  Oh my goodness!  I am so proud of them!  
NOTES FOR MOM AND DAD
*PLEASE RETURN….TAKE HOME books and LIBRARY books   Please return your library book if you still have it at home.  Inventory has began.  Please consider checking out library books from the public library throughout the summer.  Please return your TAKE HOME books.  
*BACKPACK SNACK:  Please remember to send TWO daily healthy snacks for your kinder, as we take a moment to refuel each day.  Thank you.
UPCOMING DATES
*MONDAY, MAY 21: STEAM;  
*TUESDAY, MAY 22: GYM;  
*WEDNESDAY, MAY 23: MUSIC;    WEEKLY HOMEWORK IS DONE FOR THE SCHOOL YEAR.  Thank you so much for supporting and encouraging your kinder to complete their homework each week.  It made an impact in their learning.
*THURSDAY, MAY 24:  ART
*FRIDAY, MAY 25: STEAM; Red, White and Blue Day!  Wear your Red, White and Blue to school!!
*MONDAY, MAY 28…Memorial Day, No School
*TUESDAY, MAY 29:  Birthday celebration for Alexandra
*WEDNESDAY, MAY 30:  Birthday celebration for Katelynn (June 20)
*THURSDAY, MAY 31:  Birthday celebration for Jonathan (Aug 12)
*FRIDAY, JUNE 1:  Kindergarten Olympics 
*FRIDAY, JUNE 8:  Last Day of School.  Dismissal at 12:15 p.m.
~~~Have a great weekend.  Mrs. Bohl