See what we did and learned about this week in kindergarten
SCIENCE:  We finished our learning about Living and Non-Living this week by making a mini booklet entitled Animal Needs. Have your kinder read and tell about what animals need to live. See the previous posting about the fun we had learning the parts of a plant. We also learned that not all plants grow at the same rate but thank goodness they all sprouted!  We watered  and journaled about the growth of our bean plant and you now have the responsibility of caring for that plant. Be sure to continue to write in the journal about what you do! 🙂 I hope that  you can find a good spot in your yard for planting the bean plant.  Science is so much fun!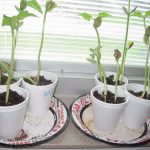 READER'S WORKSHOP:  This week we focused on increasing our reading stamina while defining the setting in books.  We made it to 18 minutes a few days.  Whoo Hoo!   We continued to celebrate becoming readers on Friday by reading with stuffed animals.  Reading to and with friends is always fun!!!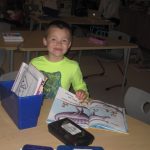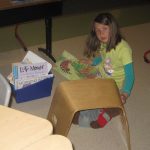 Next Friday, we will be reading with flashlight, looking to see if we can spot popcorn words within our books. The kinders are asked to bring in a flashlight on Friday, May 18.  All flashlights will be sent home on the same day.
WRITER'S WORKSHOP: More topics were introduced, more opinions were given, more reasons were written and more writings were shared with friends this week.  These topics included playing at the beach or at the pool; eating ice cream in a bowl or a cone; deciding which special class (art, STEAM, gym or music) they like best.  I am very proud of them. We will write a few more opinion writings as a whole group before ending the week with the kinders writing their ON DEMAND Opinion writing next week.  This is when the kinders use all of the strategies they have learned and write with teacher assistance.  I know that they will do awesome job!
MATH:  We used mini cubes and 10 cube sticks to show tens and extra ones for teen and twenty numbers.
The kinders compared objects using math terms such as longer than, shorter, heavier than, lighter than. 
The kinders will be reviewing various math skills the first part of the week and taking their LAST math test…Unit #5 towards the end of the week. Please encourage your kinder to do their best.  The test will cover addition & subtraction problems; comparing numbers using terms shorter, longer, heavier, lighter; showing tens & extra ones for teen numbers; and  more.
MYSTERY GUEST READER:  Jaxon literally jumped up from sitting on the floor and into his grandma's arms.  How precious!  She brought his dad's favorite book, Hamilton to read to us  A fun story about a pig and how he tricked the wolf from eating him. Thank you for stopping by.
POPCORN WORDS:       BY           MY           ONE                                                       What smart kinders I have!  I am working on the end of the year assessments and so far EVERYONE has been able to increase the amount of sight words they can identify.  Hooray for them! I am so very proud of the kinders!! 🙂 I encourage you this summer to continue to practice & review the popcorn words flash cards that have been sent home this year.  Sliding can often happen with basic skills and review is needed to ensure that the concepts are mastered.
NOTES FOR MOM AND DAD
TAKE HOME books:  This is the last week for the kinders to read and take home new books.  Please return their books on Monday,  Tuesday and Thursday.
BACKPACK SNACK:  Please remember to send TWO daily healthy snacks for your kinder, as we take a moment to refuel each day.  Thank you.
SPRING WEATHER:  Please take a moment each morning to check the daily weather report.  It changes from day to day.  We want our kinders to be prepared to play on the playground.
UPCOMING DATES
*MONDAY, MAY 14:  ART;   Birthday celebration for Dominic
*TUESDAY, MAY 15: STEAM   
*WEDNESDAY, MAY 16:  GYM;  HOMEWORK DUE….literacy and math
*THURSDAY, MAY 17: MUSIC;  Birthday celebration for Parker
*FRIDAY, MAY 18:  ART; Celebrate being READERS:….Read with a FLASHLIGHT.  Bring a flashlight to school;  Kindergarten Olympic volunteer note due
*FRIDAY, MAY 26: Red, White and Blue Day!  Wear your Red, White and Blue to school!!
*MONDAY, MAY 28:  Memorial Day, No School
*TUESDAY, MAY 29:  Birthday celebration for Alexandra
*WEDNESDAY, MAY 30:  Birthday celebration for Katelynn (June 20)
*THURSDAY, MAY 31:  Birthday celebration for Jonathan (Aug 12)
*FRIDAY, JUNE 1:  Kindergarten Olympics  A note asking for parent volunteers came home.  Volunteers will be notified shortly with details.  This special day would not be possible without your help.  Thank you so much.  If you still would like to be part of this fun day, please let me know before Friday, May 18
*FRIDAY, JUNE 8:  Last Day of School.  Dismissal at 1:00 p.m.
~~~Have a great weekend.    Mrs. Bohl