Look what your kinder did at school this week.
SCIENCE:  Hooray! We have learned that not all plants grow at the same rate but thank goodness they all sprouted!  The warmer spring weather helped so much.  We are watering  and journaling about the growth of our bean plant.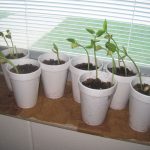 We explored each part of flower by reading informational books, labeling the various parts (seed, roots, stem, leaves, petals) and creating a craft which is hanging in the back of our room.  
We also read and discussed two different Let's Find Out newspapers, both relating to seeds and the growth cycle of a plant.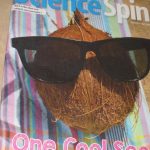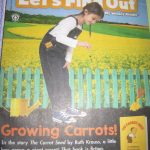 It was fun to review previous knowledge of fairy tales when we enjoyed reading Jack and the Beanstalk.  We read the original version and one with a favorite character, Little Critter, who pretended to be Jack.  The kinders were excited to paint their beanstalk so that we could retell the story today.  Enjoy hearing your kinder retell the story to you.
 MATH:  The kinders compared numbers and identified if they were Greater than or Less than other numbers by writing G or L.  They also practiced showing teen numbers using ten and extra ones as well as writing partner equations for numbers 7-10.  We are getting to the end of our last unit in math learning.  Thank you for your continual support and encouragement towards your kinder in completing their weekly homework.  It is so beneficial to solidify their learning.
READER'S WORKSHOP:  The kinders continued to dive deeper in learning about characters.  We looked at the main characters, noticing that they can be in more than one book.  For example, the Little Critter character (books by author Mercer Mayer) is in many different books. We noticed that Little Critter does different things in different stories.  We also explored the difference between 2 main characters in books.  The Kinders loved comparing the characters of Hansel and Gretel in the classic tale Hansel and Gretel.  Noticing that Hansel and Gretel each do different things in the story.  The kinders have done a great job!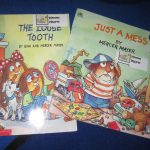 We are constantly celebrating being READERS!   Reading everyone's clothing today was a lot of fun.  It soon became a challenge to see how many popcorn words were on each others' clothing.  Thank you for helping your kinder participate. 
TAKE HOME BOOKS:  Thank you  so much for encouraging and supporting your kinder this year as they participated in our TAKE HOME book program.  We have two more weeks of reading.  Then we will begin to collect all of the books for summer inventory. Thank you so much to all of the volunteers who came into school each Monday, Tuesday and Thursday to listen to the kinders read.  It would not have been possible without your assistance.  I am so grateful for your help!
WRITER'S WORKSHOP:  The kinders began learning how to write their last style  of writing…..Opinion writing.  We started with learning the difference between fact and opinion.  Then we sorted statements into an opinion or fact column.  Reading a fun book called Duck! Rabbit! helped us verbally practice giving our reasons to why we felt that way. 
Each day they need to give their opinion about a topic, write two reasons to support why they feel that way and write a closing sentence such as "_____ is my favorite." or "I really like _______."  WOW!  WOW!  The kinders are writing like first graders!  They are including popcorn words, spaces between words, sentence stoppers as well as giving awesome reasons. Our topics this week were 1. playing on the swings or slide  2. like winter or summer  3. enjoy eating home lunch or hot lunch.  In honor of Cinco de Mayo, the kinders tasted chips and salsa before writing their opinion if it was yucky or yummy.  Have I said lately, how proud I am of them! 🙂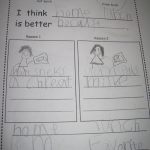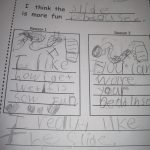 MYSTERY GUEST READERS:  We were lucky to enjoy two visits this week.
 Jonathan has been wishing his mom would stop by and this week she did.  His baby brother, Christopher came along too.  She brought a big book of The Little Old Lady who swallowed a Fly AND an Old Lady puppet with all of the characters she swallowed.  What a fun way to listen and enjoy a story. 
Victoria jumped up and gave her mom a big hug as she entered our room. Her mom brought along her favorite book when she was younger,Dr. Seuss' Green Eggs and Ham. It is one of our favorite books too.  It was fun to help Victoria's mom read many of the pages.  Thank you so much for stopping by this morning.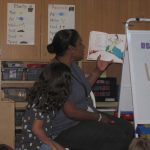 POPCORN WORDS:        HAVE     ON      OF                                                                     It is amazing.!  Before a kinder can move the letter magnets to spell our popcorn words, the class is shouting out the word.  The kinders are beginning to SPELL the words in addition to identifying them.  How amazing!
NOTES FOR MOM AND DAD
*BACKPACK SNACK:  Please remember to send TWO daily healthy snacks for your child, as we take a moment to refuel each day.  Thank you.
*PLAYGROUND:  Our playground is very wet and muddy and then it is dry and dirty.  Please keep this in mind as you send your kinder to school. Rain boots or outside play shoes might be a good idea until the spring weather clears.  Thank you for being considerate of helping to keep our inside floors and rugs clean.
*BOOK ORDERS: On Monday, the last book orders for this year will be sent home.  You will be able to order online or send in the paper form along with a check to school.  All orders are due on Friday, May 11.
UPCOMING DATES
*MONDAY, MAY 7:  ART; reading TAKE HOME books
*TUESDAY, MAY 8: STEAM; reading TAKE HOME books; LIBRARY…Return you library books.  NOTE CHANGE IN DAY DUE TO OUR FIELD TRIP
*WEDNESDAY, MAY 9:  Field Trip to Hemlock Crossing Nature Center &  Hager Park  HOME LUNCH WITH DRINK INSIDE OF LABELED PAPER BAG IS NEEDED. We will not be ordering hot lunch. Please feel free to join us for our picnic lunch. Younger siblings are welcome. We will be at the park around 12:00pm. Your kinder will need a home lunch and water bottle to enjoy during our picnic lunch.  NO SANDALS, FLIP FLOPS OR CROCS. TENNIS SHOES NEED TO BE WORN!!  We will be walking through woods and trails and playing on a big playground.  Please dress your child according to the weather. We will be OUTSIDE for most of the day!; HOMEWORK DUE….literacy and math  
*THURSDAY, MAY 10:  MUSIC;   EMAIL ME OR SEND A NOTE BY THURSDAY (5/10) IF YOUR KINDER WOULD LIKE A SACK LUNCH.
*FRIDAY, MAY 11:  ART: FAST FRIDAY (Early Release  Dismiss at 12:15pm); Book Orders due (online or paper forms); Celebrate being READERS:  Bring a small stuffed animal to read with
*MONDAY, MAY 14:  Birthday celebration for Dominic
*THURSDAY, MAY 17:  Birthday celebration for Parker 
*FRIDAY, MAY 18:  Volunteer note (coming home Monday) is due Friday, May 18; Celebrate being READERS:  Bring a small flashlight to read with
*FRIDAY, MAY 26: Red, White and Blue Day!  Wear your Red, White and Blue to school!!
*MONDAY, MAY 28:  Memorial Day, No School
*TUESDAY, MAY 29:  Birthday celebration for Alexandra
*WEDNESDAY, MAY 30:  Birthday celebration for Katelynn (June 20)
*THURSDAY, MAY 31:  Birthday celebration for Jonathan (Aug 12)
*FRIDAY, JUNE 1:  Kindergarten Olympics  A note asking for parent volunteers came home.  Volunteers will be notified shortly with details.  This special day would not be possible without your help.  Thank you so much.  If you still would like to be part of this fun day, please let me know soon.
*FRIDAY, JUNE 8:  Last Day of School.  Dismissal at 1:00 p.m.
~~~Have a great weekend.    Mrs. Bohl