EARTH DAY: We enjoyed making and wearing our Earth Day hats today. We read Just a Gum Wrapper and It's Earth Day! by Mercer Mayer  among other books to assist in our learning about Earth Day.  We learned how we can take care of the earth and "go green" by recycling paper, cans and bottles, turning off lights when leaving a room, turning off the water while brushing teeth and using containers instead of plastic baggies for snacks. The kinders used this information to create a craft that is hanging in our hallway.  Having a chance to marble paint was part of the fun.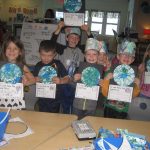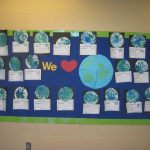 We took a few minutes to find out where the 4th graders each week take our bags of scraps of paper.  The kinders were surprised to learn that we have a big recycling bin in our school parking lot.  Looking inside at all of that paper was pretty cool too. (Sorry…no pictures of that.  I was too busy lifting 24 kinders up to look inside) Many kinders said that they recycle at home.  Keep working to keep our earth healthy and clean.
Cheers were heard when I explained what we would be doing with blue & green frosting, a popsicle stick and a cookie……making an Earth Day cookie. Who knew that frosting and cookies make kinders explode with cheers?  🙂 Love it!!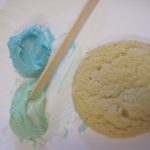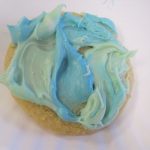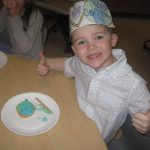 SCIENCE…IT ROCKS!:   This week we focused our learning on rocks.  We investigated our rock collections by sorting them to be either rough or smooth.  We also lined them up by size….from smallest to biggest. We continued to investigate our rocks by the look of them, the height, the texture and if whether they would float or sink in water.  Be sure to take a look at their booklet for their answers.  Don't forget to read the previous posting to learn about our 3 types of rocks experiments.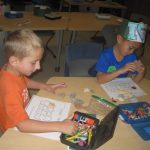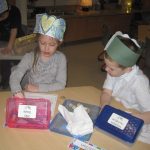 WRITER'S WORKSHOP:  The kinders are busy writing steps about how to do something. This week we wrote How to make a birthday wish, How to eat an orange and How to marble paint.They are working so hard remembering to use everything that a good writer uses….popcorn words, put spaces between their words, include sentence stoppers, detailed pictures.  I am so proud of them.  They are amazing writers!!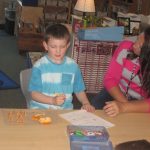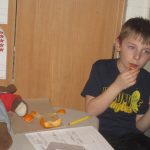 MYSTERY GUEST READERS:  This morning Peyton quickly popped up to hug his dad and say "hi" to his little brother, Chase, when they walked into our room.  He brought along a book that they enjoy reading at home called There's a Wocket in my Pocket by Dr. Seuss.  They enjoy reading all of Dr. Seuss' books.  Thanks for coming in.
Later in the morning, Hunter was surprised to see his mom and little sister, Kenzie stop by.  We were happy to hear How to become a pirate.  A story that made us giggle and laugh.  We hearing new stories.
READER'S WORKSHOP:  Our focus was all about learning more about characters.  We explored what characters look like, how they act and what they are doing in books.  The kinders searched their books for characters as they read, talking to their partners about what the characters were doing and how the characters looked in these books.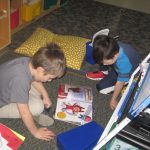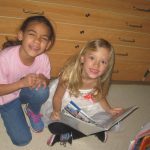 POPCORN WORDS:         THEY          THESE.                                        Be sure to ask your kinder the song that we sing to help us remember the spelling for "they".  
SPLIT LIT (literacy time):  A few pictures of the kinders working on their literacy skills…reading sight words, building reading fluency, phonics building skills and more while having some fun.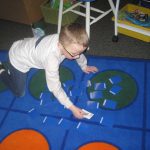 HAPPY BIRTHDAY to Caleb. He turned 6 on Monday. Who would have thought he would celebrate at home because of a snow day. 🙂  Thank you for the gift bags.
NOTES FOR MOM AND DAD
*OUTSIDE SHOES:  THANK YOU for sending your kinder in outside shoes or boots on rainy days.  Please remember that…..OUTSIDE SHOES CAN NOT BE WORN IN THE GYM AS MUD AND DIRT GETS ON THE GYM FLOOR.  PLEASE MAKE SURE THAT YOU CHILD HAS GYM SHOES TO WEAR THAT ARE NOT THEIR OUTSIDE SHOES.  Thank you!
*BACKPACK SNACK:  Please remember to send a daily healthy snack for your kinder, as we take a moment to refuel each day.  Thank you.
*TAKE HOME books:  Please help your kinder to remember to return their book baggie EACH Monday, Tuesday and Thursday so that they are consistent with their read aloud practice and are able to check out a new book each time to build their reading experiences.  Don't forget to sign the parent sheet and include comments or observations you feel may be helpful.  We only have a few weeks left so let's end strong! 🙂
*LUNCH MENU:  The May/June lunch menu is available under Food Service tab on the side bar of our blog.
UPCOMING DATES
*MONDAY, APRIL 23: GYM;  reading TAKE HOME BOOKS; 
*TUESDAY, APRIL 24: MUSIC;  reading TAKE HOME BOOKS; GES Art Reception 5:30 p.m. Anderson's birthday celebration
*WEDNESDAY, APRIL 25: ART;  HOMEWORK DUE….math and literacy  LIBRARY: Please return your kinder's book; 
*THURSDAY, APRIL 26: STEAM; reading TAKE HOME BOOKS and Rainbow word lists 
*FRIDAY, APRIL 27:  GYM; FUN CENTERS…Parent volunteers please arrive at 1:40pm for instructions
*WEDNESDAY, MAY 9:  Spring Field Trip to Hemlock Crossing Nature Center and Hager Park Park.  Note come home this week.  Return ASAP if you would like to chaperone…FIRST COME FIRST SERVE.  All welcome to Hager Park lunch and playtime. It would be helpful if you would please return the bottom portion of the orange note so that your kinder and I know of your plans. 
*FRIDAY, MAY 11….Fast Friday (Early Release Day dismissal at 12:15pm)
*Friday, May 25…..Red, White and Blue Day!  Wear your Red, White and Blue to school!!
*Monday, May 28.. .Memorial Day, No School
~~~Have a great weekend.     Mrs. Bohl