Welcome back to a 5 day week of learning!
The kinders are full of excitement for learning which is becoming so evident as we learn new things each day and week. Did you like hearing about Love Monster?  We had a lot of fun making our own Love Monsters after reading Love Monster  and Love Monster and the last chocolate by Rachel Bright. Another way to celebrate friendship and Valentine's Day.
MORNING WORK:  After unpacking their backpacks and sitting in their seats, the kinders have begun a new activity.  Each morning they complete one page of their February morning work packet.  After lunch count and attendance are taken, as a class, we review the work discussing the day's concept/skill such as identifying 3D shapes of sphere, cube, cone, locating popcorn words, sequencing popcorn words so that the sentence makes sense and more. The kinders are enjoying 'waking up their brain' in this fun learning way.
MATH:  We told math stories using our fruit  from our 'fruit & vegetable market' adding written equations.  Remembering what each symbol (+ – = ) means and using them correctly is challenging but the kinders are doing a great job.  They learned that you can write a teen number equation two different ways but they mean the same thing.  One way is to write the partners first and then the total (10+4=14) or write the total first and then the partners (14=10+4).  The kinders practiced this skill by playing a memory game to match these equations.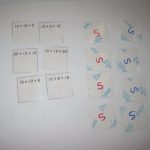 Friday math games helped the kinders review the math skills of patterning, measuring with non-standard objects and seeing number partners in addition equations.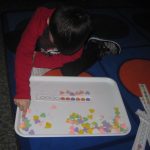 READER'S WORKSHOP: The kinders learned how our voices to bring our books to life! We talked about how it sounds when we read like a robot compared to how it sounds when we read smooth. Then they had opportunities to practice sounding like a smooth reader when they read!
SPECIAL VISITORS:  On Wednesday, Mrs. Suttorp and her 2nd grade friends came into our room.  They  read us the fiction stories they wrote during their writing time. We enjoyed listening to their stories!  It was exciting for me to see how some of my former kinders are now accomplished writers.
WRITING WORKSHOP:  We continued to write about small moments that are true life, one time events such as writing about one of our party centers. The kinders are gradually doing more and more of the writing on their own.  I am so proud of them!!  This is a hard type of writing for these little ones.  In celebration of Valentine's Day we created a pattern book about Things I Love.  Creating and writing a special valentine card for their family was also enjoyed.
POPCORN WORDS:         WHO               NOT                                                                            They noticed that the word "how" has the same letters as "who" only they are in different order.  A great learning moment about how the order of letters and the sounds they make are so important. The kinders practiced handwriting and spelling while playing UNSCRAMBLE THE POPCORN WORD.
SCIENCE:  The kinders like being scientists so we did a science experiment with candy hearts.  We predicted what would happen if you put candy hearts inside of a glass filled with water.  Most of us predicted that the candyt would sink and they were correct.  However….the longer they stayed inside the water the candy hearts began to float to the top.  Wonder why? Dropping hearts inside water was fun so why not try other liquids.  So….candy hearts went into  soda (Sprite) and vinegar.  We found out that bubbles floated around the hearts in the soda like fizz and vinegar made the hearts brighter.  
As we talked about our observations we began to wonder what would happen if candy hearts were dropped into other kinds of liquids like milk, lemonade, apple juice and warm water (not just room temperature water we tried before).  All of the liquids changed from being clear to colored as time went on.  
Ask your kinder for more information and be prepared…some of them might want to try some experiments at home.
MYSTERY GUEST READERS:  On Thursday, Katelynn was thrilled to see her mom come into the room.  She brought The Day my Mom came to Kindergarten.  It was a fun book to remind us about school rules and how hard we work at school.  
On Friday, Hunter literally jumped up and ran to give his mom a hug.  She brought along his younger sisters Kendall and Kenzie.  We were able to enjoy Too Many Toys by David Shannon. A very fun story about having a lot of toys and deciding which ones to give away….or not. 
KOOL KINDERS ARE BOOK LOVERS: 
 Makenize likes to read Clifford's Family in this two story book.
 Katelynn likes to read Pinkalicious The Flower Girl.
 Dominic likes to read The Day the Crayons came home.
 Jayce likes to read Bad Kitty's Christmas.
 Tristan likes to read Super Powers Bad Weather.
NOTES FOR MOM AND DAD
*WINTER GEAR:  Thank you for sending your child with all that they need to stay warm outside….snow pants, hats, mittens, boots. Just a reminder, we will be outside for recess if the temperature is above 0 degrees.  The playground is VERY WET with melting snow & ice.  Please continue to send all of their snow gear.
*BACKPACK SNACK:  Please continue to send 2 healthy, quick snacks with your kinder each day.  Your kinder needs to be refueled so that they be ready to learn.
*JUMP ROPE FOR HEART:  Due Feb. 28. A form was sent home with your kinder. Check out the PE blog for more information. 
UPCOMING DATES
*MON. FEB. 19—STEAM;  reading TAKE HOME BOOKS
*TUES. FEB 20–GYM;  reading TAKE HOME BOOKS;  
*WED.FEB. 21––MUSIC; Valentine's Day!! HOMEWORK DUE….math and literacy;  LIBRARY Please remember to return your child's book. 
*THURS. FEB.22––ART; reading TAKE HOME BOOKS & Rainbow word list;
*FRI. FEB. 23—STEAM;  celebrating Mia's birthday!
*FRI, MARCH 9–FAST FRIDAY (Early Release Dismissal at 2:15pm)
*MARCH 12 & 14–Parent-Teacher Conferences: Parent slips stating your specific date and time (same as in Nov)  will be sent home soon.
Enjoy your weekend!  Mrs. Bohl