We had a fabulous 2 day week working and learning together.  Look what happened in kindergarten.
WRITING WORKSHOP:  Small moment writing continues!  Adding how you feel and adding extra words makes the writing more exciting to read was our focus this week.  I surprised the kinders with a treat of gummy bears so we wrote about that experience. We also wrote about when it is recess time. The kinders are doing a FABULOUS job remembering to include words like FIRST, NEXT, LAST in their writing. It sounded something like this:  First Mrs. Bohl had a surprise for us. I was excited! Next she gave me gummy bears. Last I ate my gummy bears.
MATH:  We told math stories using our fruit from our 'fruit & vegetable market' adding written equations.  Remembering what each symbol (+ – = ) means and using them correctly is challenging but the kinders are doing a great job.  Playing the game UNKNOWN PARTNER to learn number partners and noticing that 12=10+2 OR 10+2=12 means the same, it is just written differently were math lessons taught this week.  
READER'S WORKSHOP:  The kinders are working hard to use their "super powers" as they read so PERSISTENCE POWER was introduced.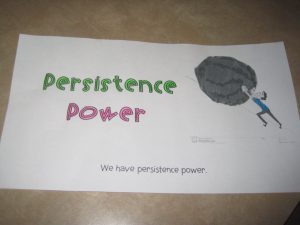 "Persistence Power"  means that we will not give up….we will keep trying, using all of our super powers!  
The kinders are also working on increasing their reading stamina. It can be very challenging for a kinders to keep to themselves, stay in one spot, look at a book the whole time, and not talk to friends. We will work on increasing this time each day.  I am so excited to see how they have progressed as readers.
*POPCORN WORDS:         HOW           NOW                                        The kinders are doing a fabulous job of learning their sight words.  Each day I try to include the week's words in the daily message and they are able to locate them every time.  Hooray! This week we talked about the different sound /ow/ can make like in 'cow' or in 'snow'. We had to work hard to hear which /ow/ sound we heard when sorting pictures.   Please keep reviewing and working on learning the list of popcorn words that come home.  Identifying sight words will help your kinder become a better reader!  Remember each Thursday we review their rainbow word list and exchange it for a new list.  Your support and work at home is making an impact on your kinder's learning!  Thank you!!! 🙂
*KOOL KINDERS ARE BOOK LOVERS:  
  Alexandra likes spending time with her family just like Clifford did in Clifford's Thanksgiving Visit.
NOTES FOR MOM AND DAD
*WINTER GEAR:  Thank you for sending your child with all that they need to stay warm outside….snow pants, hats, mittens, boots. Just a reminder, we will be outside for recess if the temperature is above 0 degrees.
*BACKPACK SNACK:  Please continue to send 2 healthy, quick snacks with your kinder each day.  Your kinder needs to be refueled so that they be ready to learn.
*JUMP ROPE FOR HEART:  Due Feb. 28. A form was sent home with your kinder this week.  Check out the PE blog for more information. 
UPCOMING DATES
*MON. FEB. 12—ART;  RESCHEDULED DAY 100 CELEBRATION! BRING IN 100 COLLECTIONS;  reading TAKE HOME BOOKS
*TUES. FEB 13–STEAM; Valentine's Day Party  1:50-3:00pm  Parent volunteers who are working at a party center, please arrive by 1:40pm for instructions & set up;  NO reading TAKE HOME BOOKS;  
*WED.FEB. 14––GYM; Valentine's Day!! HOMEWORK DUE….math and literacy;  LIBRARY Please remember to return your child's book. 
*THURS. FEB.15––MUSIC; reading TAKE HOME BOOKS & Rainbow word list; celebrating Blake's birthday!
*FRI. FEB. 16—ART; Scholastic book order forms due (they are coming home on Monday, Feb. 12)
*FRI. FEB. 23—celebrating Mia's birthday!
*FRI, MARCH 9–FAST FRIDAY (Early Release Dismissal at 2:15pm)
*MARCH 12 & 14–Parent-Teacher Conferences: Parent slips stating your specific date and time (same as in Nov)  will be sent home soon.
There have been quite a few kinders missing school due to illnesses. It's definitely that time of year.  Our tables are cleaned daily with disinfectant wipes and we try to practice good hygiene with our coughs and sneezes.   Thanks for alerting the office and me when your kinders will be absent. I hope that we all feel better soon. Rest and stay healthy!           Mrs. Bohl
***Sorry about the lack of pictures this week.  Can I blame the 2 day week plus the unexpected snow day?  Next week will be better. 🙂