Please refer to the previous postings about the last 3 fun filled days at school.  Here is what we did on the first 2 days of the week.
HOLIDAYS AROUND THE WORLD:  On Monday we visited Canada.
  Clemment Moore was born in Canada so we read The Night before Christmas.
On Tuesday we flew back home to America.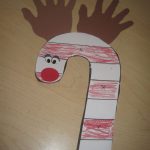 We learned that Rudolph was first drawn for an ad campaign for a local department store. We also realized that many of the things we do during the holidays originated in many of the countries we visited.
5TH GRADE BUDDIES:  We enjoyed spending time with our buddies by making a gingerbread house together….no not a real gingerbread house, just a paper one, but still fun!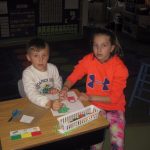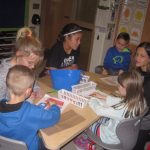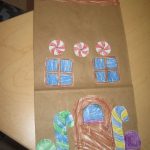 MATH: The kinders sorted objects by looking at various attributes (number of legs on animals vs people, people vs animals, hair vs feathers, and by shapes, colors, size of shapes, etc). The kinders are still working on seeing 10 in teen numbers (10 and 3 more make 13).
HANDWRITING:  We continued to learn how to form partner letters v,w,t.  Partner letters are lower case letters that look similar to upper case letters.
Stay safe as you travel visiting family.  Enjoy the next two weeks with your kinder….making memories together.  If you find you are in need of some activities to do with your kinder you can…..
*practice counting by 1's and 10's to 100
*writing numbers 1-30
*practice identifying popcorn words using your flash cards
*create and write new pattern books or small moment stories
*practice writing first and last name (first letter capital, rest of letters lower case)
*read books together 
*practice the Fluency Packet that was sent home
*go sledding, make a snowman, drink hot chocolate, have fun together!
NOTES FOR MOM AND DAD
*POPCORN WORDS:            REVIEW OF WORDS                                                 Ask your kinder to show you how to play Scramble Them Up.   (Use your letter cards to scramble up the letters in popcorn words…and then put the letters in correct order. Example:  okol  is  look)
*WINTER GEAR: Please send appropriate winter gear with your child each day.  It keeps them warm when playing outside.  An extra pair of socks, mittens or gloves might be a good idea to keep inside their backpacks if their original pair gets wet.  Please take time over break to label your kinder's snow pants and boots if you have not done this.
   Happy (early) Birthday to Makenzie. She will turn 6 on Dec. 28. 
*BACKPACK SNACK:  Please remember each day to pack TWO quick, healthy snacks for your kinder.
*TAKE HOME BOOK PROGRAM:  I am planning to create a schedule over vacation.  Thank you for volunteering and choosing to be part of this learning. If you still would like to be part of this fun volunteer activity, please email me and I will be happy to include you in the schedule. We will begin this program in January.  It is so exciting to see our kinders become readers.
*The JANUARY calendar is posted under CALENDARS at the top of the blog.  A paper copy will be sent home when school resumes.
*The January lunch menu is available to read under the FOOD SERVICE tab on the side bar.
UPCOMING DATES:
*Monday, December 25 – Friday, January 5:  NO SCHOOL, Holiday Break.  School resumes on Monday, January 8!
*Monday, January 8—Back to School; MUSIC; Tristan's birthday celebration
*Tuesday, January 9—ART; Jayce's birthday (Jan 6) celebration
*Wednesday, January 10—STEAM;  LIBRARY Don't forget your book! HOMEWORK DUE….math and literacy
*Thursday, January 11—GYM; If your kinder would like a sack lunch on Friday, an email or note is due today
*Friday, January 12—ART; Fast Friday Dismissal at 12:15pm
*Friday, January 19—Fun Centers Volunteers arrive at 1:40pm for instructions
~~~I would like to wish you a Blessed Christmas and a Happy New Year; hoping that you spend time making family memories that will be remembered fondly.  I look forward to seeing my kinders on January 8.  Thank you for sharing them with me each day! 🙂  Mrs. Bohl