We had an FABULOUS first day together!  Thank you for being so flexible with a rainy start.  We explored our school, shared a bit about ourselves and learned a little about what we will do this year in kindergarten.   
A reminder—-WE TAKE TIME FOR 2 SNACK BREAKS IN OUR DAY.  PLEASE SEND 2 HEALTHY SNACKS WITH YOUR KINDER EACH DAY.  PLEASE PUT THESE SNACKS IN A SMALL FRONT POCKET OF THEIR BACKPACK….NOT INSIDE THEIR LUNCH BOXES.  This can be confusing for the kinders to distinguish between snack food and lunch food. Thanks for your help.
Here are a few pictures of our fun day.
STORYTIME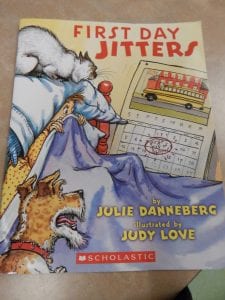 We read this book and drank some special juice to chase away any 'jitters' we may have had.     
ON OUR "PETE THE CAT" SCAVENGER HUNT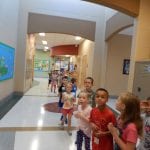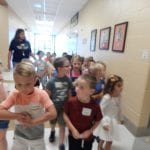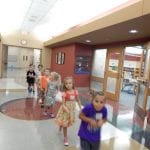 LUNCH TIME
    Our table is the Strawberry Table.
 Mrs. DeGroot watches over us on the playground during lunch recess and helps us  in the lunch room.
SHOW AND TELL—-OUR "ME" BAGS
Thank you so much for sharing your kinders with me.  They are SO SPECIAL!!  I can't wait to spend 180 more days with them.  Just look at these AWESOME kinders!