This morning four Georgetown Township fire fighters came to teach us about fire safety.  
Firefighters Todd, Al, Paul and Mike spoke with our class and Ms. Hutchinson's class about fire safety.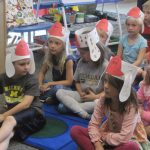 Here are some of the fire safety tips that we learned about today:
Check the smoke detectors in your house to make sure they work properly. 

Talk about a safety plan for your family in case of a fire – where is your meeting spot?

Call 911 immediately! 

Do not play with matches – they are dangerous and can cause fires! 

If a part of your clothing or your body catches on fire, STOP, DROP, and ROLL. 
Many of the kinders already knew these fire safety rules and know that it is good to "not be scared but be prepared".
The firefighters also showed us of what they looked like wearing their heavy uniforms.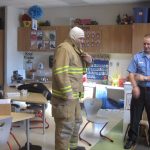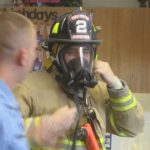 After our time in the classroom, we were able to go outside and look at all of the tools the fire fighters keep and use on the fire truck. They even sprayed water from the big hose. Pretty cool stuff!!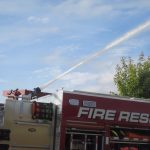 If you would like to meet these fire fighters and see fire trucks up close, stop by the Georgetown Fire Station #1, located on the corner of 14th Ave., and 44th Street from 6:30-8:30pm on Thursday,Oct 5 for their FIRE PREVENTION OPEN HOUSE.  There will be popcorn, the children will be able to sit inside a fire truck and the firefighters will be there to answer questions. 
Thank you, Georgetown Township Firefighters, for a great visit AND for the fire safety treat bags!