Today we celebrated Martin Luther King Jr. Day.  
We are ALL special and unique.  To help understand this concept better I first showed the kinders two gifts. One was plain and the other was wrapped with colorful paper.  I asked the kinders which gift they would rather receive.  Almost all of the kinders said "The one with the pretty paper."  We opened the pretty decorated gift and found old rocks inside.  We opened the plain gift and found some Skittles.  We talked about how we quickly judge people by what they look like on the outside….what clothes they wear, what brand of shoes they have, etc.  We learned that Martin Luther King wanted us to look on the inside of a person…how kind they are, how they stand up for others, etc.
Martin Luther King, Jr. often spoke about wanting people to get along and worked hard to change laws (rules) that were not fair.  Throughout the day we read books, made friendship bracelets, found popcorn words within a simple book about Dr. King and looked at a newspaper, completed a "He had a dream" worksheet and talked about his initials  MLK.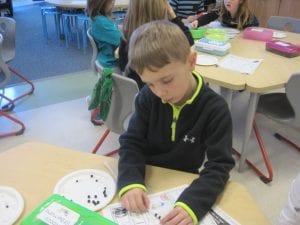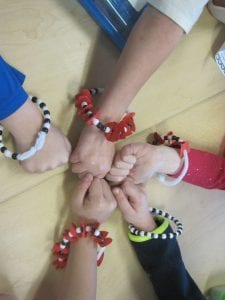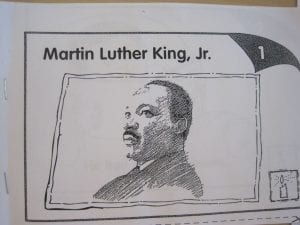 I love that we can together celebrate our uniqueness and friendship!  It is so heart warming to see the kinders fill each other's buckets unselfishly and generously each day.  I really love my kinders and I am so proud of them! 🙂