Well, we made it!  It is officially SPRING BREAK!  The kinders have been anxiously counting down the days this week.  Take a peek at what happened this week in kindergarten.
SCIENCE:  We began our learning about SOIL by using our schema and listed facts we already knew about soil.  Some of the facts were:  Soil is brown, Soil is messy.  Soil is another name for dirt.  Plants and flowers grow in it.  Worms live in it.  Plants grow in it. Soil can turn into mud. Soil can have holes in it.  We read an informational book that helped us learn more about what soil is.  Then we drew pictures of what we think soil looks like and added it them to our chart.  We also worked together to write out what we think the word means.  This week your kinder brought home a yellow paper with an attached baggie.  Please take a few minutes during spring break to scoop some soil into the baggie, seal it shut and return the baggie by Wednesday, April 12.  We are going to be investigating their soil very closely.  The kinders and I can't wait to "dig" into learning about soil.  🙂
MATH:  The kinders showed  their knowledge of number partners by playing FROGS ON THE LOG.  For example: We laid 6 frogs on a log.  Then we said, "4  frogs sitting on a log.  How many frogs hopped off the log?"  The kinders had fun closing their eyes while their friends removed frogs and opening their eyes to figure out the answer. We continued to play this game by changing the number of frogs sitting on the log and how many hopped off. A great way to practice number partners. The kinders drew Tiny Tumblers on Math Mountains to also practice this skill.  They are becoming great mathematicians!
MYSTERY GUEST READER:  Mrs. Estefan's class joined us on Tuesday morning to welcome our guest reader.  It was fun to teach them our Mystery Guest Reader song and they taught us their song prior to seeing Dr. Nick Ceglarek, our school superintendent, walk into our room.  Before reading his book with us we watched this short video to give us some background information about the author. Malcom Mitchell is a wide receiver with the Super Bowl champions,the New England Patriots.  We enjoyed listening to Dr. Ceglarek read The Magician's Hat. This story encouraged us to check out books at a library because by reading books we can become anything we want to be.  After reading the last page in the book "What do you do want to be?", Dr. Ceglarek asked the kinders to answer that question. Their answers included: a policeman, a doctor, a teacher, an artist, a baseball player and more.  Mr. Mitchell enjoys playing football but his greatest accomplishment is becoming an author.  He hopes that his story and his writing will  inspire children to read.   Thank you so much for reading us this book and visiting with us.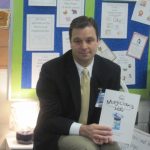 WRITER'S WORKSHOP:  The kinders put their informational skills to the test this week. After reading informational books about wolves and creating a chart of facts we learned,  it was time for each kinder to write their own "All About Wolves" books, including facts of their choice. Before they began writing, the kinders were reminded to include all of the things that good writer uses..capital letters, spaces between words, sentence stoppers and popcorn words. They did this independently without teacher assistance…we call this "on-demand" writing. After some 'fix and fancy' time, the kinders shared their informational writing with friends from Mrs. Estefan's class.  What an awesome job as writers they have become!:)  I will be sharing how well they did with you after spring break.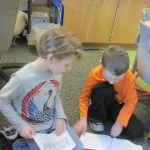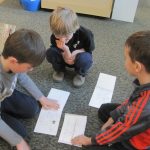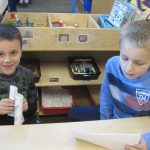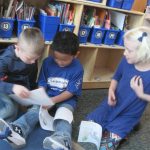 PJ DAY:  What a fabulous, fun day at school.  The kinders were SO excited to wear their jamies and slippers to school again.  The day was filled with fun bedtime related stories and activities like Llama, Llama, Red Pajama,  Ten in the Bed (with a fun song to sing…it stays with you awhile :), 5 Little Monkeys jumping on the Bed, The Napping House and Mooncake.  Enjoy looking through your kinders story pocket that is filled with their work.
 REMINDERS:  
*POPCORN WORDS:   It was a week of review and what a review we did!  The March flash cards were sent home this week so you can add them to your collection.  Keep practicing!  It helps so much!
*TAKE HOME Books and Homework:  Your kinder will not have a book to take home over Spring Break.  They will be taking home a new book to read on Monday, April 10.  Reading books with parent volunteers will resume on Tuesday, April 11. Your kinder did not take home any homework this week.  If you have free time, continue to practice popcorn words, addition & subtraction stories with written partner equations and write various kinds of stories…narrative, informational, how to, and pattern books.
*WINTER GEAR: Please keep in mind that even though the season is spring, some days this week reminded us that winter has just finished.  Please continue to send a hat and mittens with your kinder. Thanks! 
*BACKPACK SNACK:  Please remember to send a daily healthy snack for your child, as we take a moment to refuel each day.  Thank you.
*LUNCH MENU: The April lunch menu can be found under the food service tab.
*MONTHLY CALENDAR:  The April Calendar can be found under CALENDARS at the top of our blog.  It lists birthdays, events, and more.  Please take time to read it.
UPCOMING DATES:
*FRIDAY,MARCH 31- FRIDAY, APRIL 7….Spring Break…NO SCHOOL
*MONDAY, APRIL 10—ART; reading TAKE HOME BOOKS will arrive home again; 
*TUESDAY, APRIL 11—STEAM;  reading TAKE HOME BOOKS; LIBRARY: We will have library so please return your kinder's book
*WEDNESDAY, APRIL 12—GYM; HOMEWORK DUE….math and literacy;  BAGGIE OF SOIL DUE
*THURSDAY, APRIL 13—MUSIC;  reading TAKE HOME books;  EMAIL ME OR SEND A NOTE BY THURSDAY (4/13) IF YOUR KINDER WOULD LIKE A SACK LUNCH.
*FRIDAY, APRIL 14—-ART; "Fast Friday" (Early Release Dismissal at 12:15pm)
*WEDNESDAY, MAY 10…Spring Field Trip to Hemlock Crossing Nature Center &  TimberTown (More information later)
~~~Enjoy your Spring Break!  Take this time to relax and enjoy your time together, whether you are staying home or traveling. Mrs. Bohl  
SCHOOL RESUMES ON MONDAY, APRIL 10!